CHICAGO — After emerging from Tuesday's election with their progressive coalition in tact, the city's most left-leaning alderpersons are now hoping to add to their ranks in the runoff to gain more influence in City Hall, they said.
Most of City Council's progressive caucus retained their seats Tuesday, with only one alderperson in jeopardy of moving to a runoff. With control of City Council and the mayor's office still up for grabs, progressive leaders said the work to grow its coalition is just getting started.
With strength in numbers, they'll be better poised to take on City Council's more conservative wing that also made strides in the election.
"It's now a real fight for a vision for the city," said Ald. Maria Hadden (49th). "It sets the stage for another contentious four years."
Wins – and some disappointments
The city's Democratic Socialist caucus included five alderpeople before the election, four of whom were elected in 2019. Some of the incumbents faced stiff opposition, including from political action committees spending big to oppose their reelection.
Three of those alderpeople — Alds. Jeanette Taylor (20th), Byron Sigcho-Lopez (25th) and Rosanna Rodriguez-Sanchez (33rd) — won their races Tuesday.
Taylor and Rodriguez-Sanchez faced candidates backed by the Fraternal Order of Police, a union that supports more conservative candidates, according to WBEZ. Sigcho-Lopez and Rodriguez-Sanchez's opponents were endorsed by influential Latino congressman and mayoral candidate Jesús "Chuy" Garcia.
The fifth Democratic Socialist on the council, Ald. Daniel La Spata (1st), sits at 49.7 percent of the vote as of Sunday, with closest challenger Sam Royko at 24 percent. With mail-in ballots still to count, a runoff would take place April 4 if La Spata does not exceed 50 percent of the vote.
Ald. Carlos Ramirez-Rosa (35th), the only non-freshman alderperson in the Democratic Socialist caucus, did not face an opponent in Tuesday's election.
Ald. Andre Vasquez (40th), who was kicked out of the Democratic Socialists of America after a vote in favor of Mayor Lori Lightfoot's budget, easily won reelection Tuesday with 78 percent of the vote over two challengers.
Hadden, who is among the City Council's most progressive members but is not a Democratic Socialist, also cruised to reelection with 73 percent of the vote in a three-person race that saw a local political action committee organize against her campaign.
Ald. Matt Martin (47th), also among the most left-leaning alderpeople, went uncontested in his reelection bid.
The progressive incumbents' election night victories are evidence of the coalition's commitment to organizing and the popularity of its platform, the alderpeople said.
"We did what we promised," said Taylor, who defeated two challengers to avoid a runoff. "We kept our word, we organized with the community and we were very informative about what was going on in City Council, which usually, you know, it's all hush-hush."
The most left-wing coalition in City Council could still add to its ranks in the runoffs. But, on the whole, Democratic Socialist-backed challengers did not fare well on Election Day.
Of the five non-incumbent candidates endorsed by the Chicago Democratic Socialists of America, four failed to advance to a runoff, according to unofficial election results. That does not include 50th Ward candidate Mueze Bawany, whose endorsement was rescinded by the socialist group before his Election Day loss to Ald. Debra Silverstein.
Uptown resident Angela Clay, endorsed by the Democratic Socialists, was the top vote-getter in the 46th Ward race and will face former congressional aide Kim Walz in a runoff.
Democratic Socialists also faltered in the 11th and 48th ward races, among others. But other progressives have made it into the runoff, including in the 5th and 10th wards, Vasquez said.
"I think it's probable the progressive caucus grows," Vasquez said.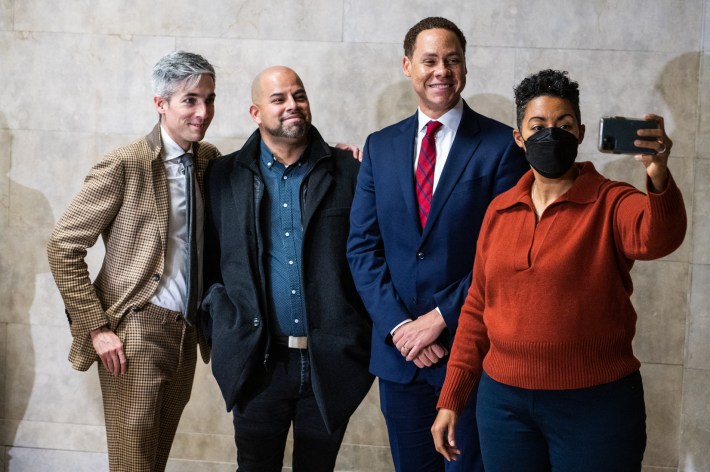 Other factions make strides
While the left-most incumbents mostly won reelection Tuesday, "so did other incumbents like the conservatives on the Northwest Side," said Dick Simpson, former North Side alderperson and professor emeritus at University of Illinois-Chicago.
Incumbents endorsed by the Fraternal Order of Police won races in the 13th, 15th, 38th, 39th and 41st wards. Ald. James Gardiner (45th), also backed by the police union, could avoid a runoff as mail-in ballots are tallied.
Bennett Lawson was endorsed by the police union in his uncontested race to replace outgoing Lakeview Ald. Tom Tunney (44th). Police officers Peter Chico and Anthony Ciaravino advanced to runoffs in the 10th and 11th ward races, respectively.
The conservative caucus and the left-most caucus arguably had the best election nights of any political faction in the city, Simpson said. The more moderate caucus, which lost members to a wave of retirements, fared less well.
"The division in the new City Council will be most stark between the progressive group and the conservative Democrats," Simpson said. "It'll become more polarized."
The mayoral runoff further points to such polarization, featuring the Fraternal Order of Police-backed Paul Vallas, and Brandon Johnson, supported by the Chicago Teachers Union and considered to be one of the most progressive candidates of the nine who ran for mayor.
Despite who wins the mayor's race, they are likely to face formidable opposition because of the victories the left and right wings of City Council scored on Tuesday, Simpson said.
"We don't know quite what the [City Council] balance will be. What it won't be is a rubber stamp council," he said. "No matter who becomes mayor, City Council is going to be split between progressive and conservative factions."
Progressives' next steps
Progressives have a laundry list of goals they'd like to accomplish in the next City Council.
Those include the passage of the Bring Chicago Home ordinance, a homelessness prevention measure as well as the police reform bill known as "Treatment Not Trauma." The revival of the city's Department of Environment is also a priority, multiple returning alderpeople said.
"We were already working toward that as a goal, albeit more slowly than I think was necessary or appropriate," Martin said of the Department of Energy, which was disbanded in 2012. "But I think at the end of the day, we can't afford not to do this."
Vasquez and Rodriguez-Sanchez said they want to institute more training and onboarding for the incoming progressive alderpeople.
Training could include best practices on transparency and expanding democracy by offering community participation in ward processes, Rodriguez-Sanchez said.
"Making sure that every progressive alder that comes in knows how to handle participatory budgeting," Rodriguez-Sanchez said. "That they commit to a community driven zoning process and to make sure that we are making the most out of the ward superintendent position, for example."
The success of these policy goals hangs on the makeup of the City Council and mayor's office, which won't be settled until April 4.
To that end, the city's left-wing caucus wont be shy in its efforts to elect mayoral candidate Johnson and other progressives still fighting for City Council seats.
"We have to make sure that Paul Vallas is not mayor," Vasquez said. "But we have to get ourselves organized for that potential reality."
Click here to support Block Club with a tax-deductible donation. 
Thanks for subscribing to Block Club Chicago, an independent, 501(c)(3), journalist-run newsroom. Every dime we make funds reporting from Chicago's neighborhoods. Click here to support Block Club with a tax-deductible donation.
Listen to "It's All Good: A Block Club Chicago Podcast":
Chi,Feeds,News,Region: Chicago,City: Chicago
via Block Club Chicago https://ift.tt/jeMOTWw
March 6, 2023 at 09:47AM