Tune in to our live interview series with the candidates vying for Chicago's top job: mayor. Our interviews will be hosted by Tribune contributing columnist and ABC7 political analyst Laura Washington. Click here to learn more.
CHICAGO — No sitting alderman has ever been elected mayor of Chicago — but Ald. Roderick Sawyer (6th) hopes to change that.
Sawyer, the son of former Chicago mayor Eugene Sawyer, is making his bid for mayor after more than a decade representing South Side neighborhoods in City Council.
In a livestreamed conversation Friday with Laura Washington, a Chicago Tribune columnist and Block Club Chicago's board president, Sawyer billed himself as the "regular guy" candidate — an affable, consensus-building local leader who has lived on the North and South sides and has a proven track record as alderman.
But Sawyer also acknowledged, and touted, his family's political legacy as he sat under a portrait of his father during the conversation. 
"He's always behind me," Sawyer said of his father, who took over as mayor after the sudden death of Harold Washington. Eugene Sawyer served two years before losing in an election to Richard M. Daley. 
Eugene Sawyer's demeanor and commitment to public service made him a hero to his son, Roderick Sawyer said. Roderick Swayer wants to continue that, but he pushed back heavily when asked if he should be considered part of another Chicago political dynasty. 
"Dynasty sounds too authoritarian. I'm a man of the people," Sawyer said.
Watch the interview:
Sawyer has represented parts of Englewood, Chatham, Grand Crossing and Park Manor on the South Side for 11 years in City Council.
During that time, Sawyer served as a founding member of the council's Progressive Caucus and chairman of the Black Caucus. He has also spearheaded a push for the city to consider reparations and started a subcommittee to explore the issue. 
That effort has faced nearly insurmountable obstacles from Mayor Lori Lightfoot's administration — and one of Sawyer's many criticisms of that leadership is that the mayor has a combative personality and is unable to build strong relationships inside City Hall, he said.
"I got rebuffed as soon as I brought it to the mayor. She told me it was nothing but a stunt," Sawyer said. 
Sawyer does not support the city paying financial remuneration to the descendants of enslaved people, saying that it is a federal issue that would be too costly for the city to take on. But he'll continue to push the city more investment in disenfranchised neighborhoods. 
"A lot of people think of [reparations] as just a check. They remember the 40 acres and a mule concept," Sawyer said. "That's not what we're talking about. On a local level, we're talking about the repair of Black people. We're talking about what has been ingrained in us, not just from being enslaved, but Jim Crow, redlining, all of the things we've been through over the years."
Sawyer, who has trailed significantly in recent mayoral polls but said he is committed to staying in the race, was sharply critical of Lightfoot on other issues, as well. 
Asked how he would ensure investment on the South and West sides includes input from neighbors, Sawyer didn't hold back, arguing the mayor's Invest South/West program — which has promised $2 billion in funding across 10 community areas in the city — has ignored the very residents and constituents it is supposed to support. 
"My easy answer is, take what the last administration did and do the opposite," Sawyer said. 
Sawyer said Invest South/West operates through reimbursable grants, meaning money has to be spent before city dollars flow back into the communities and only certain small businesses will get reimbursed. He criticized the mayor for not including local leaders — including him — in the process.
"I could have told you that 90 percent of the people they chose were not going to get the money, and I happen to have been right, every single time," Sawyer said. "I was not asked. … We don't have that kind of collaboration with the current administration."
Sawyer said he has the personal skills to ensure citywide programs support underserved communities, and he rejected the idea the mayor couldn't be expected to communicate individually and inclusively with 50 aldermen.
"That's a false narrative. I will tell you that right now," Sawyer said. "In addition to working with two mayors, I've lived with one. You can make that connection if you really want to make that connection."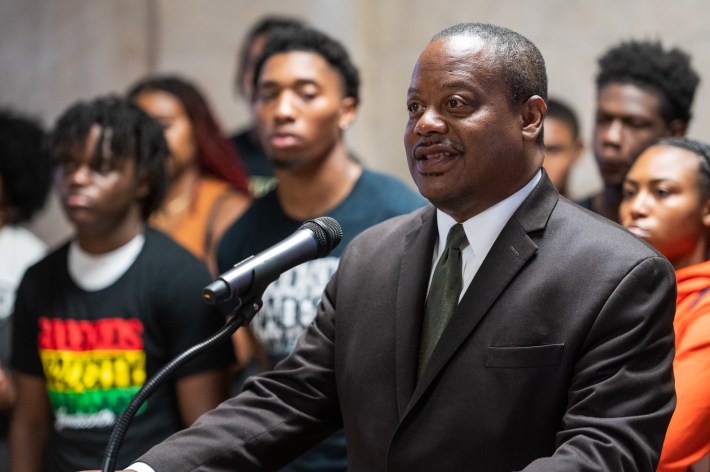 Sawyer said his main focus as mayor would be "intentionality," or seeking to intentionally focus on equity citywide. 
A longtime Park Manor resident, Sawyer also lived in Lincoln Park while attending DePaul University.
The experience living on opposite ends of the city helped shaped Sawyer's views on the vast inequities in Chicago. He said his house in Park Manor looked exactly like a Lincoln Park brownstone, but it was worth $200,000 when he refinanced rather than the $2 million it might be worth in a different neighborhood, he said. 
"That's what I want to change. I want to level that playing field," Sawyer said. "We just lacked the person that has the intentional will to do this, because they've not seen these areas to the extent that I've seen them, because I live in one."
Sawyer also said he wants to reform the city's TIF system to ensure funds don't only go toward gentrifying areas like Fulton Market, but also to areas like Englewood where the are hundreds of vacant lots ready to be developed.
Sawyer doesn't support the Bring Chicago Home ordinance, which seeks to add a real estate transfer tax to devote to reducing homelessness. He said a similar effort could be accomplished with existing city money if the mayor had the political will. 
Sawyer also proposed combining the city's teacher pension fund with the state's pension fund because Chicago residents already pay state income tax, which funds every pension in Illinois except those in Chicago. On the issue of school closures, Sawyer spoke in depth about four schools in a two-block radius near where he grew up, saying they were built so close together because of segregation, and the buildings were outdated.  
"Some of these schools really did need to be closed," Sawyer said. "But the responsible plan is, what do we do with them once we close them? Don't close them unilaterally."
Sawyer also touted his work to establish local police district councils, which Chicagoans will vote on in this election for the first time.
Sawyer said he opposes dibs, the local practice of reserving a parking spot with furniture after snowstorms.
The alderman said he is a big "foodie."
"You can tell by my girth," he joked.
Asked about his favorite spots to eat, he mentioned Ricobene's, 252 W. 26th St., the South Side mainstay known for king-sized breaded steak sandwiches. 
The conversation with Sawyer is the latest in Block Club's series of livestreamed talks with all nine mayoral candidates as the Feb. 28 election approaches. Block Club has hosted conversations with Ja'Mal Green and Kam Buckner, and Washington will speak Ald. Sophia King (4th) at 2 p.m. Monday.
If no candidate receives at least 50 percent of the vote, the top two candidates will go to a runoff April 4.
Subscribe to Block Club Chicago, an independent, 501(c)(3), journalist-run newsroom. Every dime we make funds reporting from Chicago's neighborhoods.
Click here to support Block Club with a tax-deductible donation. 
Thanks for subscribing to Block Club Chicago, an independent, 501(c)(3), journalist-run newsroom. Every dime we make funds reporting from Chicago's neighborhoods. Click here to support Block Club with a tax-deductible donation.
Listen to "The Ballot: A Block Club Chicago Podcast":
Chi,Feeds,News,Region: Chicago,City: Chicago
via Block Club Chicago https://ift.tt/KhnTMv7
February 6, 2023 at 09:43AM