DOWNTOWN — Developers have pitched $1 billion in renovations along LaSalle Street as part of an initiative to turn the financial district into a residential corridor.
The city's Revitalize Lasalle initiative, announced in September, will award incentives to developers who convert vacant office buildings into apartments and condos. It's part of an effort to bring new life to a part of the city that's seen less traffic due to pandemic changes.
The program's goal is to add more than 1,000 residential units to the area by offering developers tax-increment financing dollars and other incentives to repurpose historical buildings along LaSalle Street. The aim is to make 300 of the units affordable; those units would be available to households earning up to 60 percent of the area's median income: $43,800 for one person or $62,520 for a family of four.
The program comes at the same time as the state is selling the Thompson Center to Google — a move that's sparked interest in developers who expect more people to move Downtown to work for the tech giant.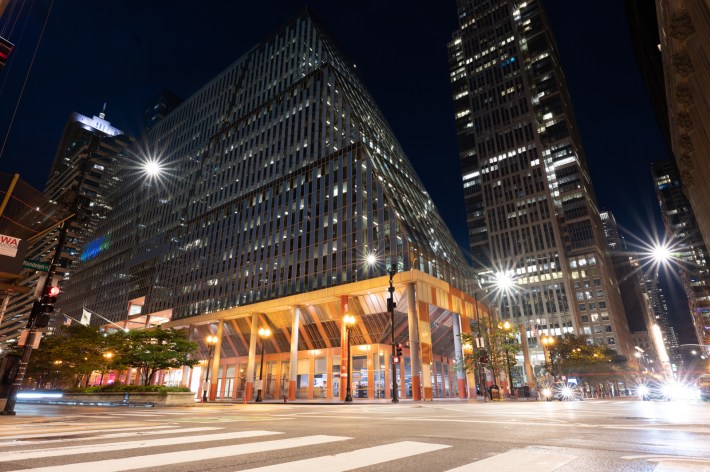 Credit: Colin Boyle/Block Club ChicagoThe Thompson Center in Downtown Chicago on June 30, 2021.
Developers submitted nine proposal for seven sites along the LaSalle Street corridor as part of the initiative.
Deputy Mayor Samir Mayekar, speaking in September, didn't say how much money would be allocated or how many projects will be chosen. The LaSalle/Central TIF District had about $197 million in its coffers at the end of 2021, according to an annual report.
Other subsidies could be available through tax credits geared for affordable housing and historic conversions.
Mayekar previously said he expected some projects to be "moving forward" in 2023.
Here's a look at the pitches:
30 N. LaSalle St.
The proposal that would create the most residential units is being pitched for 30 N. LaSalle St. If funded, the project would create 432 units, 30 percent of them affordable. It also calls for ground-floor retail and added green space along Washington and LaSalle streets.
170 W. Washington St.
The smallest proposal was for 170 W. Washington St., where one developer team pitched four residential units, with one that would be affordable.
135 S. Lasalle St.
The most expensive conversion was pitched for 135 S. LaSalle, the former home to Bank of America.
For $258 million, the proposal would create 430 units, 30 percent of them affordable. The development would also create 80,000 square feet of retail, food and beverage, cultural and event space — and possibly a "fresh-market grocer."
105 W. Adams St.
There are two proposals to revamp 105 W. Adams.
The Reimagine Adams Limited Partnership has proposed creating 247 units at the location — and 75 percent of them would be affordable. The revamp would include a food market and a small Latina-owned business on the ground floor.
MAVEN Development Group is competing for the same building, pitching 423 units with 30 percent affordability.
400 S. LaSalle St.
One proposal is taking a different approach to the initiative: Development firm Urban Resolve is pitching a scholastic esports venue for 400 S. LaSalle St., complete with "225 beds for student housing," a ground-floor food court, a student mental health and wellness center along with a fitness center.
208 S. LaSalle St.
The Prime Group, which is renovating the Thompson Center as part of the Google deal, is double dipping with two proposals submitted for funding. One for 208 S. LaSalle St., where it is suggesting it create 28 units, with 30 percent of them affordable.
A competing bid from another partnership would create 102 units, also with 30 percent of them being affordable.
111 W. Monroe St.
At 111 W. Monroe St., the Prime Group is pitching 349 units, 30 percent of them affordable, with a hotel in the building's first seven floors. Amenities would include a spa, fitness center, rooftop pool and restaurant with basement parking.
Listen to "It's All Good: A Block Club Chicago Podcast":
Ino Saves New
via rk2's favorite articles on Inoreader https://ift.tt/W5f2uR0
January 3, 2023 at 05:45PM