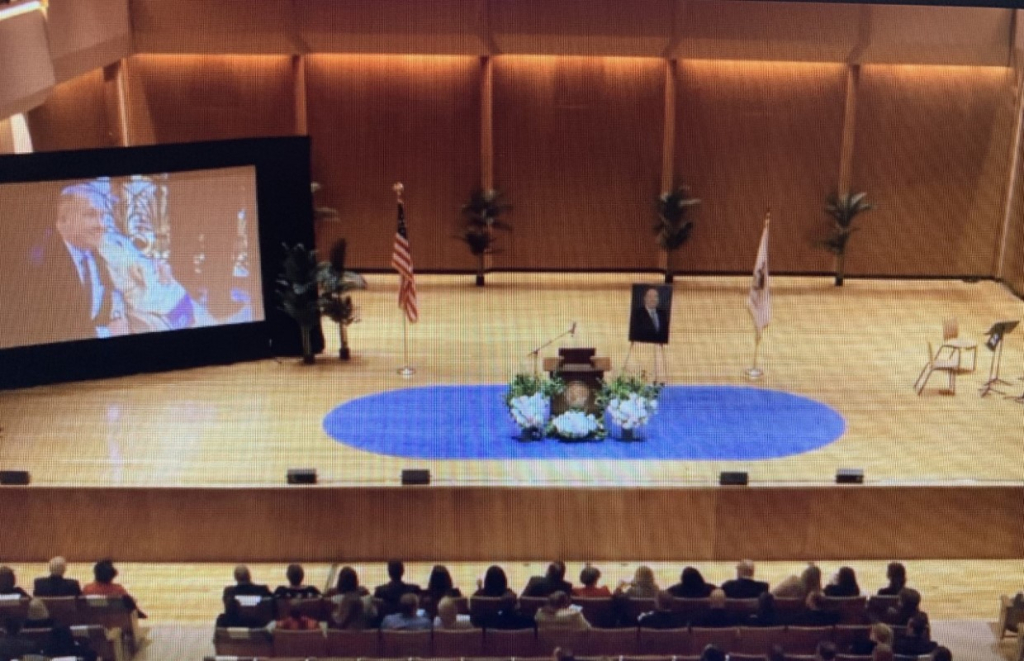 By Dave Dahl
SPRINGFIELD – It took a performance hall on the University of Illinois campus to hold all of the people who wanted to pay their respects to Scott Bennett, the state senator who died of complications from a large, undetected brain tumor Dec. 9.
Almost ninety minutes' worth of speakers paid tribute to a devoted family man, a skilled lawyer, a smart legislator, and someone whose heart prevailed over partisan politics.
"The fact that so many of us are here today to honor Scott's memory is just one symbol of how widely well-regarded he was and how close to him so many of us have felt," said Gov. JB Pritzker. "In many ways, his legacy is in the memories we have of him and the impact he has had on all of us."
Senate President Don Harmon (D-Oak Park) said, though, you could count on Bennett to keep things light. "I can easily imagine Scott looking out at this tremendous crowd and tapping me on the shoulder, leaning in, and saying, 'Uhhh, you know there's no free food, right?'"
But Harmon fought back tears as he began his tribute, leading a later speaker, Illinois Treasurer Mike Frerichs, to playfully chide him for ruining everyone else's resolve.
Bennett, a Champaign Democrat, was 45 and is survived by his wife and two young children.
Dave Dahl can be reached at News@WJBC.com.
Region: Bloomington,Feeds,News,City: Bloomington,Region: Central
via WJBC AM 1230 https://www.wjbc.com
December 19, 2022 at 01:43PM