CHICAGO — Mayor Lori Lightfoot could face up to 10 challengers as she seeks a second term in office.
Monday marked the deadline for candidates for mayor, all 50 City Council seats, treasurer, clerk's office and three-member police district councils to file their nominating petitions other paperwork to the Chicago Board of Election Commissioners.
Mayoral hopefuls needed to collect at least 12,500 signatures, according to the board.
The field features two sitting aldermen, a congressman, state and county elected officials, a former Chicago Public Schools chief, a local businessman and philanthropist, a community activist, a longtime police officer and a political newcomer.
Ald. Ray Lopez (15th), who was the first to challenge Lightfoot, abandoned his mayoral bid last week and instead will seek another term representing the South Side ward.
The ballots might not be finalized for a few weeks, elections board spokesperson Max Bever previously said. Candidates have until Monday to challenge the signatures on an opponent's petition, which could lead to a candidate being booted from a race, Bever said.
Candidates have until Dec. 22 to withdraw from a contest.
The election is Feb. 28. If no candidate gets at least 50 percent of the vote in February, the race will go to an April 4 runoff between the top two finishers. There, whoever gets the most votes wins.
Here's who is vying to be Chicago's next mayor at the moment.
Lori Lightfoot
After months of lead-up and fundraising, the mayor formally launched her reelection bid in June.
Lightfoot was first elected in 2019. Coming through a crowded field to replace former Mayor Rahm Emanuel, Lightfoot prevailed in a runoff over Cook County Board President Toni Preckwinkle to become the city's first Black woman and first openly gay mayor.
Lightfoot's brash leadership style has dogged her during her first term in office. She's battled with the police and teachers unions and has opted to go it alone on major political decisions, shutting out some alderpeople from the governing process.
But in a campaign launch video and accompanying news release, Lightfoot said she's "led city through the unprecedented challenges of a global pandemic with tough, fair leadership."
Lightfoot touted the city's vaccine distribution program, investment in community-based violence prevention and affordable housing as major accomplishments.
Lightfoot said while she doesn't "look or sound like any other mayor we've ever had before," she's "had to fight to get a seat at the table."
"And, like so many in our city, I've had to fight to have my voice heard. That's why I'll never back down from fighting every day to turn your voice into action," she said.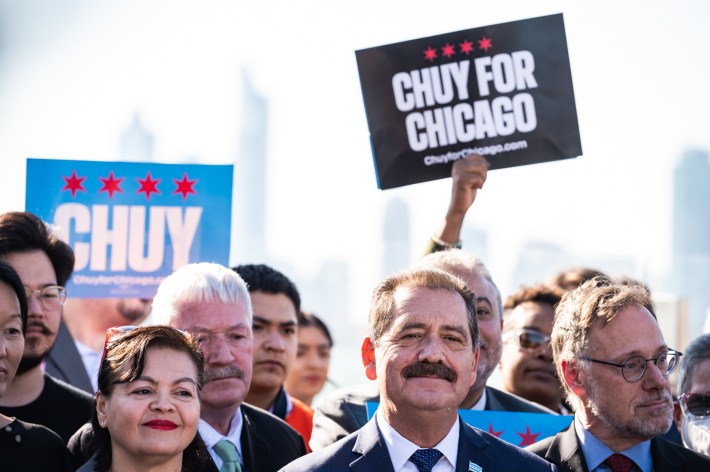 Jesus 'Chuy' García
After weeks of speculation, th representative announced his bid on the 40th anniversary of the day former Mayor Harold Washington made his own campaign announcement.
García was born in Mexico and moved to the United States in 1965. His family lived in Little Village, and García worked with labor activist Rudy Lozano before he was slain. He's long advocated for Latino Americans and pushed for reforms to the country's immigration system, among other progressive policies.
García, a Democrat, was 22nd Ward alderman 1986-1993. He was an ally to Washington during his time in City Council, including toward the end of the infamous Council Wars.
García then served in the Illinois Senate 1993-1999, leaving office after an election defeat. He served on the Cook County Board of Commissioners 2011-2018. In 2019, he was elected to represent parts of Chicago and the suburbs in Illinois' 4th District in the House of Representatives.
"When I walk down 26th Street, I see the hustle and bustle … . I feel at home. I feel proud," García said at his campaign announcement. "But Chicago is at a crossroads. It's not like that for everyone.
"Chicago needs a leader with a vision of our future and the know-how and the empathy to get us there together. From crime to unemployment to the shortage of affordable housing, there is so much we need to build. As we emerge from a glob al pandemic and a racial reckoning that exposed the painful history of inequity in our city. People are still living paycheck-to-paycheck, and folks are still in fear of losing their homes, their livelihoods and, yes, their loved ones."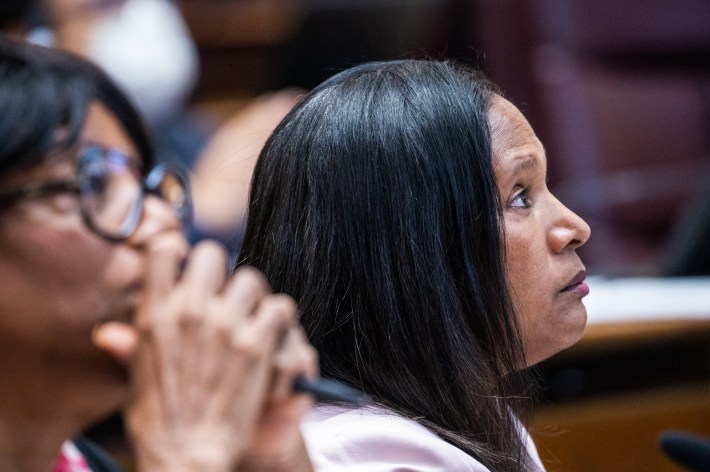 Sophia King
The two-term South Side alderwoman jumped into the race in August.
In a campaign video, King talked about how she will tackle violence in the city.
"Violence is not an abstract problem to me," King saido. "I have seen the pain it causes way too many times. There's no question about it, we have to hold the people who commit violent crimes accountable, and we have to hold our leaders accountable too."
Emanuel appointed King in 2016 to fill William Burns' seat after he abruptly left City Hall. King won a special election in 2017, defeating Ebony Lucas and Gregory Livingston. King won reelection in 2019, defeating Lucas again.
King has been a member of the City Council Progressive Reform Caucus since 2016 and was elected chair of the caucus in June 2020, replacing Ald. Susan Sadlowski Garza (10th).
King has used her role to push for the inclusion of a non-police emergency response program in Lightfoot's 2021 "pandemic" budget. She was also a leading proponent of the Empower Communities for Public Safety community police oversight ordinance, which was approved in July 2021, and the proposed "Anjanette Young Ordinance" to reform the Police Department's home raid protocols.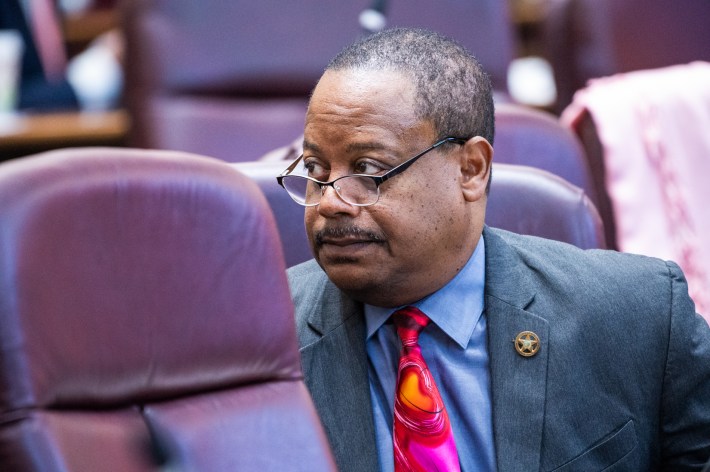 Roderick Sawyer
The South Side alderman, who has represented parts of Chatham, Englewood and West Englewood since 2011, hopes to follow in the footsteps of father, Eugene Sawyer, who served as mayor after Washington's sudden death.
Targeting crime as a top priority, Sawyer also has vowed to fire the police superintendent if elected. He also said he'd boost economic development in the city, increase access to mental health services for youth and would work alongside Chicago Public Schools leaders and the Chicago Teachers Union to improve schools.
Sawyer came to politics by edging out incumbent Freddrenna Lyle, a Richard M. Daley loyalist, by 104 votes in 2011. His father also served as 6th Ward alderman.
Sawyer cruised to reelection in 2015 but faced a tougher road in 2019, when a pair of challengers forced him into a runoff. He ultimately defeated challenger Deborah Foster-Bonner with just over 53 percent of the vote.
Sawyer was a mostly quiet presence in the City Council during his first term but became far more vocal after 2015, especially on policing issues in the wake of the fatal police shooting of 17-year-old Laquan McDonald. He led the Black Caucus to call for the resignation of then-Police Supt. Garry McCarthy.
Sawyer was one of nine alderpeople who banded together in 2013 to found the City Council Progressive Reform Caucus, a group to which he still belongs. He is also a career-long member of the Aldermanic Black Caucus, which he chaired 2015-19.
Kam Buckner
The state representative, whose district stretches from the Gold Coast to the Southeast Side, announced his bid in May.
Buckner is a native South Sider who grew up in Washington Heights and Roseland and graduated from Morgan Park High School.
Buckner formerly served as executive director of World Sport Chicago, the nonprofit that stems from Chicago's failed bid for the 2016 Olympics. He worked for the Cubs in community relations and was on Chicago State University's board.
Buckner was appointed to the House in 2019, as his predecessor Christian Mitchell took on the role of deputy governor. He won a full term in 2020 after running unopposed and serves as chair of the House Black Caucus.
Buckner is running for mayor on what he calls a "four-star" platform, aiming to address public safety, public education, equitable economic development and sustainable budgeting.
Brandon Johnson
The middle school teacher, Chicago Teachers Union organizer and first-term county commissioner joined the race in October.
The Austin resident has taught social studies at Jenner Academy, serving students in Cabrini-Green and Westinghouse College Prep in East Garfield Park, according to a news release.
Johnson was an active CTU organizer under former union President Karen Lewis. He was elected to the county board in 2018 on a platform of expanding public services and safeguarding workers' rights, according to his campaign.
Johnson's experience as an educator will greatly influence his work in City Hall if he is elected, he said.
"Chicago has to live up to this amazing promise and this idea of being a world-class city. But in order for Chicago to be a world class city, it has to include all of our young people in its beauty, its wealth and its power," Johnson said. "We are going to bring a revival to this city."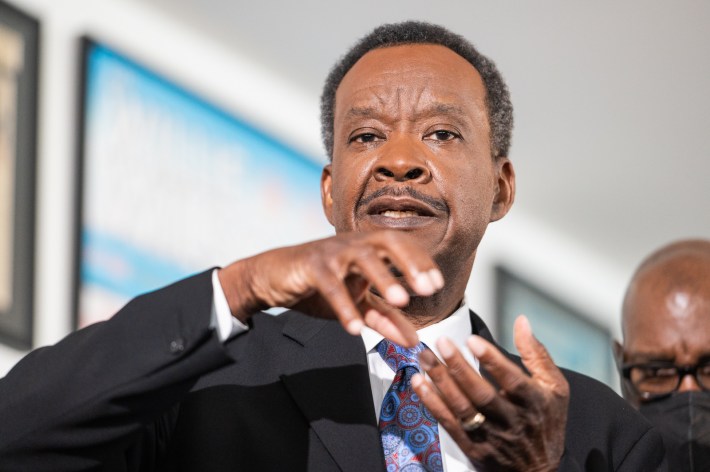 Willie Wilson
The well-known businessman announced his bid for mayor in April, one of the first to throw his hat into the ring.
Wilson made national headlines this year for hosting gas giveaways in Chicago and the suburbs, saying he gave away millions. The giveaways left Chicagoans divided: Some drivers said they appreciated the help as gas prices stay at record highs, while others said the long lines for the giveaways clogged traffic.
But Wilson has a long history of philanthropy. The son of a sharecropper, he grew up in Louisiana and worked from childhood. He moved to Chicago in the '60s, starting as a worker at McDonald's before opening his own franchise. His business empire expanded over the years to medical supplies, and he's made and donated millions.
Wilson lost mayoral elections in 2015 and 2019, getting less than 11 percent of the vote and not advancing to a runoff in either instance. He also made a failed presidential bid in 2016 and a Senate bid in 2020.
"Did you ever read about how Abraham Lincoln ran 21 times before he became president?" Wilson joked in April. "We're gonna win it this time. We learned more. We're persistent."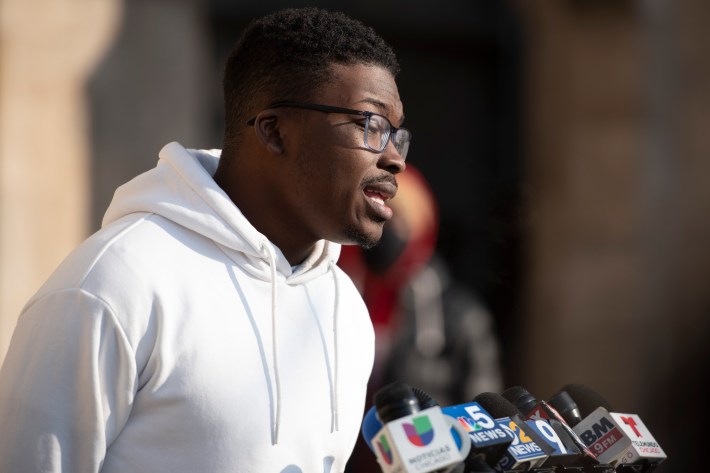 Ja'Mal Green
As the youngest candidate in the field, Green is a fixture as an activist who has led protests against police in the McDonald case and other issues of police misconduct.
Green and fellow activist William Calloway were barred from the Dirksen Federal Building in February when they and seven others showed up to demand federal charges be brought against former officer Jason Van Dyke, who was released after serving three years of a six-year sentence on state charges for killing McDonald.
Green's also frequently offered up reward money to spur arrests of people committing violent crime.
"I spent so many years fighting for a better city for the next generation of Chicagoans and hoping that leaders that I've met, consulted with and brought forward ideas to would start to understand the real underlying problems," Green said. "I'm still at a point where all of my life, I cannot name a time where there was a leader in our city that really did the right thing."
Green announced his bid in June. The father of three also sought the Mayor's Office in 2019 but was not added to the ballot after Wilson successfully challenged his nominating petitions, according to WTTW.
After that, Green focused much of his activism against Chase Bank.
Spurred by a WBEZ/City Bureau investigation about Chase's history of redlining in Black neighborhoods, Green led dozens of demonstrators to branches around the city, calling for the bank to pay $1 billion in reparations to Black residents. Chase dumped Green as a customer and banned him from all bank property, WBEZ reported.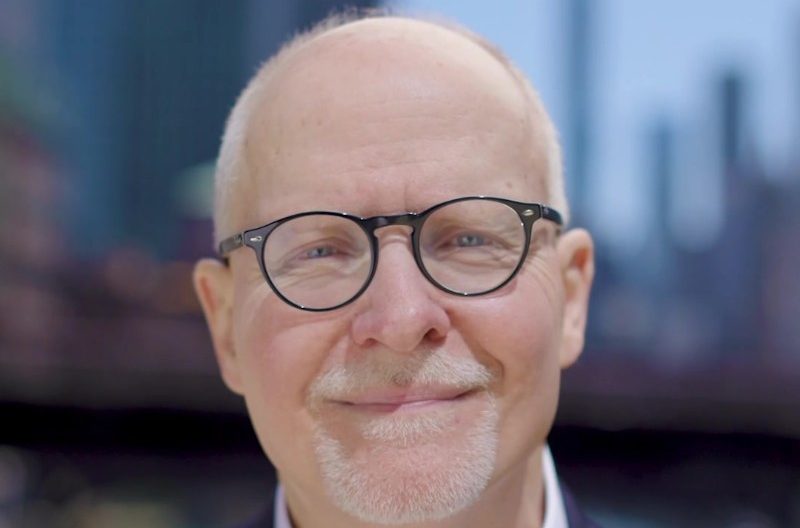 Paul Vallas
The former CPS CEO is making another bid after unsuccessfully running against Lightfoot and a deep crowd of other mayoral hopefuls in 2019.
A Roseland native, Vallas also served as the city's budget director under Mayor Richard M. Daley.
Vallas said Chicagoans from every corner of the city urged him to run for mayor as Chicago suffers from escalating violent crime, "a broken school system fails students and their parents, and a runaway budget sets residents up for higher property taxes."
"But what Chicago suffers from most is a crisis in leadership. It doesn't have to be this way," Vallas said at his announcement in June.
Vallas got 5 percent of the vote in the 2019 mayoral race. He also unsuccessfully ran for governor in 2002 and lieutenant governor in 2014 with then-Gov. Pat Quinn.
Frederick Collins
The longtime Chicago police officer, who declared his candidacy in May, has pinpointed crime as his top issue.
A native West Sider, Collins has been with the Police Department for three decades. He has backed controversial policies such as enforcing the city's youth curfew and implementing stop and frisk laws, which are subject to a years-old reform agreement with the ACLU.
Collins also has said he would replace the police superintendent and call for a 15-year property tax freeze, according to his website.
Collins has faced a checkered past in his police career, including more than 40 misconduct complaints, according to the Invisible Institute. Some of the complaints include excessive force, including one incident involving a child at a West Side school, as well as sexual assault and harassment against women, according to a Reader profile in August. Investigators sustained nine of the complaints against him, meaning they found enough evidence to warrant discipline.
Collins abandoned a previous bid for mayor in 2015.
Johnny Logalbo
Logalbo, a freelance counselor, is making his first bid for political office, according to WBEZ. He wrote on a Facebook page he's running for mayor to "bring the focus more on God."
"I will not be controlled and work for their special interest, I will help the whole city and everyone in it … I see no race or culture I only see human beings created by God who deserve a safe prosperous life," he wrote on his page.
Listen to "It's All Good: A Block Club Chicago Podcast":
Chi,Feeds,News,Region: Chicago,City: Chicago
via Block Club Chicago https://ift.tt/P6ky0MN
November 29, 2022 at 08:11AM