SOUTH SHORE — South Shore residents can access a wealth of housing resources and learn more about new data that will help guide the neighborhood's future at a housing fair this weekend.
The South Shore Housing Fair is 10 a.m.-3 p.m. Saturday at South Shore International College Prep High School, 1955 E. 75th St. The event is hosted by the Neighborhood Network Alliance and Neighborhood Housing Services of Chicago.
Workshops for renters and homeowners, trolley tours of local homes for potential buyers, resources for condos and co-ops, estate planning help and more information from neighborhood groups and businesses will be on hand throughout the day. To register, click here.
Organizers also will unveil the South Shore Housing Data Project, a two-year study of the neighborhood's housing landscape. To read the full South Shore housing report, click here.
With community organizations, banks and other institutions on hand, the fair can help residents "feel seen by the people who wield power and move money in [their] neighborhood," said Tammy McCann-Simpkins, housing and Micro Market Recovery Program coordinator for the Neighborhood Network Alliance.
"We want to bring informative and interactive workshops and share much-needed resources for the residents," McCann-Simpkins said.
The fair will benefit all residents, but it focuses especially on renters, who make up more than three-fourths of South Shore's population, said Val Free, lead steward of the Neighborhood Network Alliance.
"We want to make sure that people who are renting come out, as 76 percent [of South Shore] is renters," Free said. "We'll work with them around homeownership if that's something that they're interested in. We'll definitely talk about renters rights, resources from resident associations to eviction notices …. [and] what it looks like to live in decent, safe and sanitary housing conditions."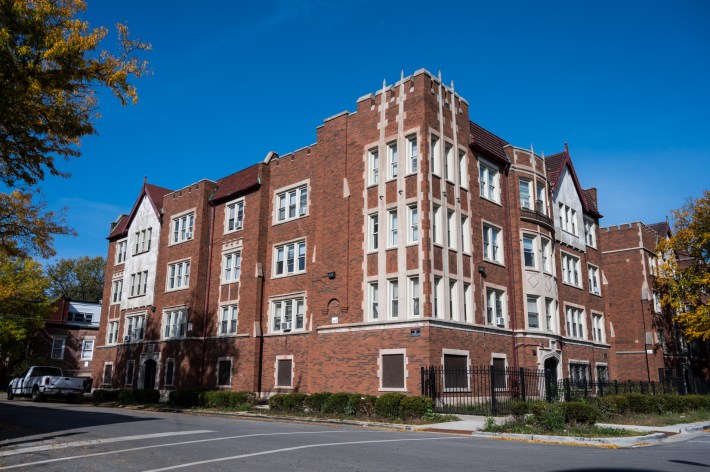 Credit: Colin Boyle/Block Club ChicagoAn apartment building in South Shore on Oct. 14, 2022.
The South Shore Housing Data Project includes five key findings about the neighborhood's housing market:
Despite a density of buildings in South Shore, the neighborhood has high vacancy rates.
Renters, who make up the majority of the neighborhood's population, are financially vulnerable.
South Shore has an opportunity to grow homeownership rates among its residents.
Condos and co-ops in the neighborhood are vulnerable to being taken over by investors due to financial and maintenance issues in the aging buildings.
With numerous housing, economic development and community planning initiatives underway, South Shore residents "have a narrow window of opportunity" to lead the neighborhood's future.
The findings are "something we've been waiting for for some time," McCann-Simpkins said. They'll guide resident-led development in the community as major projects such as the nearby Obama Presidential Center and the Thrive Exchange on 79th Street move forward.
"There's this intentional investment being made in South Shore," McCann-Simpkins said. "It's important that we the constituents have a say in how those resources are being used, and that the powers that be not only know how we feel, but adhere to our feelings and our requests."
Based on the findings, the report recommends 12 next steps, including:
Establishing of a "coordinating council" to develop common goals between existing and future projects in South Shore.
Preserving condos, co-ops and shared ownership housing in the neighborhood.
Creating a "first right of refusal" program that allows tenants an opportunity to buy their building and maintain it as affordable if their landlord decides to sell. Woodlawn residents secured this protection for their community in 2020.
Establishing a South Shore community land trust.
Ending policies that encourage landowners to keep their properties vacant.
The next steps can help neighbors preserve South Shore as an economically diverse community where "you can live your full life cycle," from a first apartment to a first home and a "forever home," McCann-Simpkins said.
"We are like the Martha's Vineyard of Illinois," she said. "We have a lakefront, we have the yacht club, we have the golf course, we have the cultural center. There are so many resources in South Shore, and so many more that need to be here."
The South Shore housing project stems from the work of residents who surveyed, categorized and mapped the conditions of all 8,596 parcels of land in the neighborhood. Students at the University of Chicago's Harris School of Public Policy analyzed the data.
The project is part of the South Side Housing Data Initiative, which produced similar data on Woodlawn in 2019 and Washington Park in 2020.
Subscribe to Block Club Chicago, an independent, 501(c)(3), journalist-run newsroom. Every dime we make funds reporting from Chicago's neighborhoods.
Click here to support Block Club with a tax-deductible donation. 
Thanks for subscribing to Block Club Chicago, an independent, 501(c)(3), journalist-run newsroom. Every dime we make funds reporting from Chicago's neighborhoods. Click here to support Block Club with a tax-deductible donation.
Listen to "It's All Good: A Block Club Chicago Podcast":
Ino Saves New
via rk2's favorite articles on Inoreader https://ift.tt/btoL46R
November 1, 2022 at 04:52PM