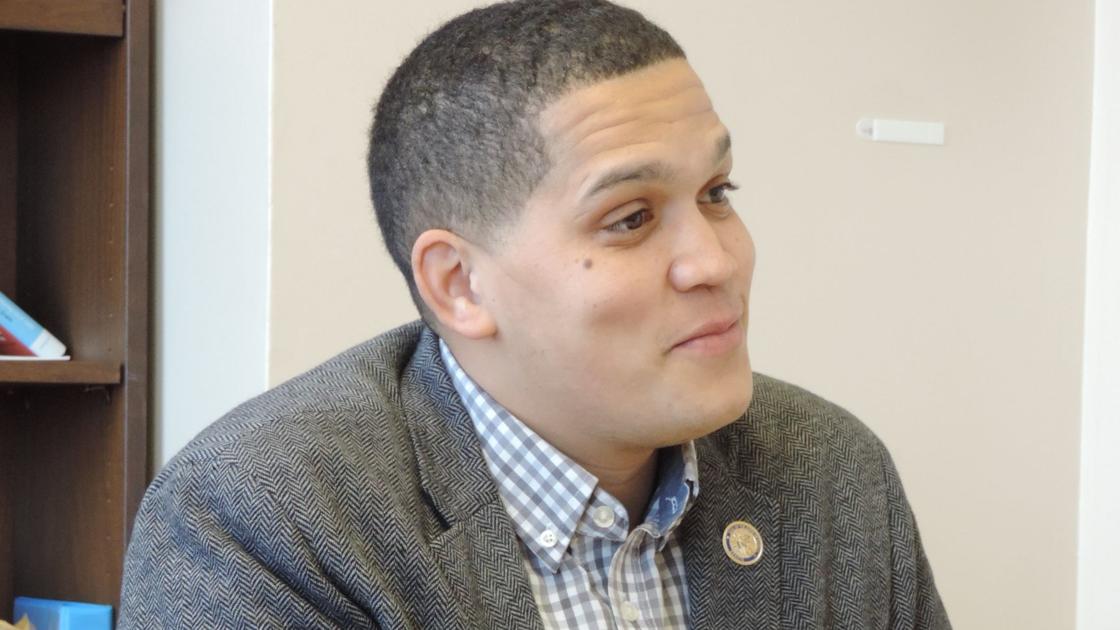 State Sen. Robert Peters (D-13th) won a close primary race against attorney Ken Thomas, after a chaotic election that took place during the coronavirus outbreak. 
"Yesterday, we won the election. But we still have so much more work to do," Peters wrote in a statement on Facebook. (He was not available for an interview because of meetings concerning the coronavirus outbreak.) "We're going to continue to grow this movement, pass progressive policies, and build inclusive and equitable communities that invest in our children and protect those who need it most."
Thomas told the Herald late Wednesday afternoon that he had conceded defeat. "We just got off the phone. We had a nice chat," he said. "I told him he had a good heart, and to keep fighting for working people going forward … I'm looking forward to getting some rest and some sort of vacation, or staycation."
Peters beat Thomas by 52% to 48%, or a little under 1,300 votes. Thomas initially said he was waiting for more than 200,000 early votes to be counted before conceding. But Chicago Board of Elections spokesman Jim Allen clarified Wednesday afternoon that these votes had been added to election tallies Tuesday.
With less than 100,000 mail-in ballots outstanding across the entire city, Thomas had little hope of making up his deficit. 
Peters ran up his largest margins in the 10th Ward, where he won 68 percent of the vote, beating Thomas by nearly 1400 votes. The state senate district covers parts of Jeffery Manor, South Deering and East Side in the ward. It excludes the southern end of the 10th, home to Hegewisch, as well as the industry and parkland around Lake Calumet.
East Side, which has a substantial Hispanic population, is also where Peters won most convincingly — the five precincts in the ward where he accumulated the largest share of the vote were all in that neighborhood. By contrast, most of the precincts where he did the worst (still winning, but by a smaller margin) were across the Calumet River in South Chicago, which has a larger Black population.
The other big boosts for Peters came in the South Loop and downtown: he won over 60 percent of the vote in the parts of his district that include the 2nd, 42nd and 43rd wards. By contrast, Thomas won in the 3rd, 7th, 8th and 20th wards, though by a narrower margin. He also won the part of the 4th Ward in the district, beating Peters 54 to 46 percent.
"I think those areas where we were able to go door-to-door and have face-to-face conversations with folks, we did pretty well," Thomas said. "Where there are a lot of high-rises, we weren't able to spend the money to send as much mail and focus as much on those areas as we were (where) we were able to get on the ground and knock doors."
In the 5th Ward, which Peters won 52% to 48%, he did best in the section of Hyde Park around the University of Chicago, where there tends to be a heavier population of university students. By contrast, Thomas won the parts of the ward in South Shore, beating Peters by more than 40 percentage points in some precincts.
Thomas said that his campaign theme of anti-corruption had been a success. "We ran on a message talking about a broken system, talking about how important it was to work hard to reduce the influence of machine politics, corporate and special-interest money," he said.
"It is clear by the results … that a large number of voters are receptive to that message of ending our broken system."
Peters, appointed to his seat last year in a process some residents protested as undemocratic, emphasized his own worries for the future. "This wasn't a traditional campaign, and these aren't normal times. I would be lying to you if I said I wasn't anxious about the state of our world right now," he wrote in his statement.
"These are uncertain times for everyone, but especially for communities that have already suffered from decades of disinvestment. That's why it's more important than ever to re-imagine what safety and justice looks like."
Turnout for the Democratic primary, which hovered around 30% across the city, was much lower than in 2016, when it hit 53.5%. In the 4th and 5th wards, turnout was 37.9% and 39%, respectively. 
No other primary race in Hyde Park was particularly close. State Reps. Curtis Tarver II (D-25th) and Kambium Buckner (D-26th) were unopposed on the ballot. Buckner was set to face a write-in candidate, Marc Loveless, who died Sunday, March 8.
U.S. Rep. Bobby Rush (D-1st) won his primary, and almost certainly a 15th term in Congress, defeating Robert Emmons Jr., Sarah Gad and Ameena Nuur Matthews. With nearly every precinct reporting, Rush had run up 79 percent of the vote in Chicago, and 72 percent overall. Sarah Gad was in second with 11 percent, Emmons was third with 10 percent and Matthews had 8 percent.
In Chicago, Emmons and Gad did best in Hyde Park, though Rush still beat them both handily there. Emmons won 20 percent of the vote in the 5th Ward, and 13 percent in the 4th.
In the 2nd Congressional District, Rep. Robin Kelly (D), whose constituency includes a small sliver of East Hyde Park, won her primary, beating former postal worker Marcus Lewis. Kelly was up 85% to 15% with almost all precincts in.
In the 20th Ward Democratic Committeeperson's race, State Sen. Mattie Hunter (D-3rd) is leading Chicago police officer and nonprofit worker Jennifer Maddox 54 to 46 percent with most of the election day vote counted. Cook County Board President Toni Preckwinkle and Ald. Leslie Hairston ran unopposed in their races for committeewoman in the 4th and 5th wards, respectively.
Former Vice President Joe Biden won the presidential primary vote in both the 4th and 5th wards easily over Sen. Bernie Sanders (Vt.). With most of the election day vote reporting, he had 62% and 60%, respectively, in the two wards.
And Kim Foxx, who won the Democratic nomination for Cook County State's Attorney with 50% of the vote, did especially well in the 4th and 5th wards. In the 4th, Foxx won 78% of the vote. In the 5th, she won 81%.
Aaron Gettinger contributed reporting
26-Delivered,19-Legal,24-ILGA,010-Inoreader Saves,AllPol
via Hyde Park Herald
March 19, 2020 at 11:29AM