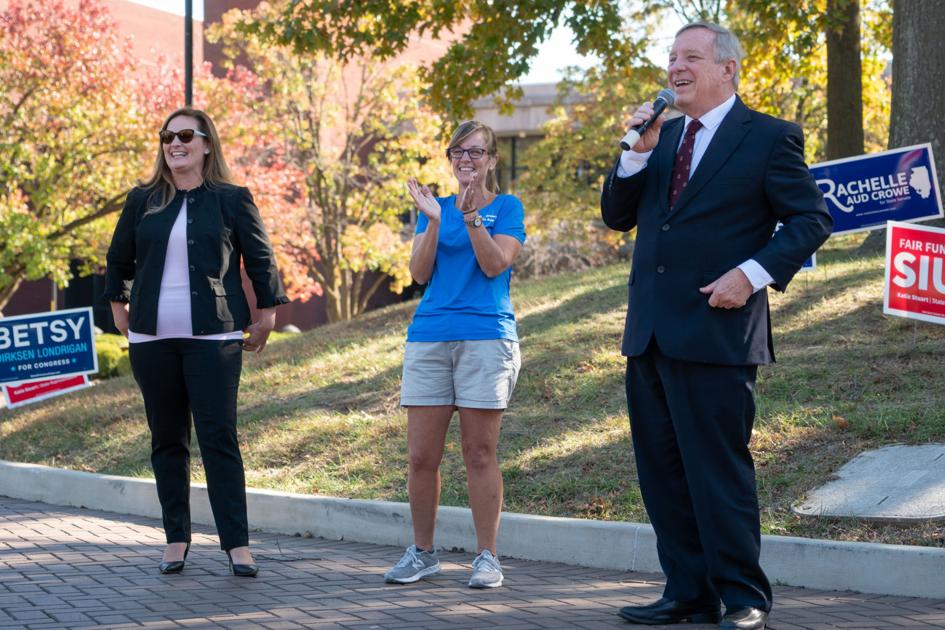 Congressman Dick Durbin, D-Illinois, traveled to SIUE to speak at a get out the vote event hosted by the College Democrats of SIUE Oct 22.
Former SIUE mathematics instructor and current State Rep. Katie Stuart, D-Edwardsville, and Rachelle Aud Crowe, a Madison County prosecutor, were both there alongside Durbin, and both spoke about higher education funding and SIUE and SIUC's funding allocation formula.
"I thought it was a good turnout, especially for a time when most people have class. I think any time a United States senator is on campus that it can draw a lot of people. … Hopefully, they all vote," Vice President of the College Democrats Zack  Nunn, a senior political science major from Granite City, Illinois, said.
Nunn credited the College Democrats' community liaison Jacob Lesinski, a junior cellular biology and genetics student from O'Fallon, Illinois, who opened up the event with his own speech, with Durbin's appearance.
The College Democrats and the election candidates placed election signs behind the speakers, mostly for local politicians like Stuart, Crowe, and Betsy Dirksen Londrigan, who is running for the U.S. House of Representatives in the Illinois 13th district, which includes parts of Edwardsville.
Crowe, who is campaigning for the Illinois 56th district senate seat, started off her speech by talking about Gov. Bruce Rauner, a Republican, and how the state's previous budget crisis affected Edwardsville.
"SIUE had to cut programs. They had to lay off staff, and there were thousands of students across the state who were delayed in getting their [Monetary Award Program] grants," Crowe said. "This election is important. It's important for you to get out there and vote, and to be a voice for SIUE."
Stuart, who is seeking re-election in the Illinois House 112th state district,  began her brief speech by explaining how people could head to the top floor of the Morris University Center, where people are able to vote early and register to vote. She also touched on how the budget impasse affected the campus and used that as a talking point to compliment Durbin before passing the microphone to him.
"We could not have a bigger advocate for our higher education system [at the federal level] than we have in Senator Durbin," Stuart said.
Durbin spoke on a variety of issues and spent his time criticizing President Donald Trump as well as the GOP, touching on Democratic talking points and complimenting the local candidates.
"You wanna see change in Washington? Change congress," Durbin said. "Let's make sure we have Democratic control of the House, and that way in the Senate too. That's what it's all about."
Stuart began her speech by focusing on SIUE, asking for a "Go Cougars!" chant from the crowd.
One side of Stuart's election signs read "Fair funding for SIUE." Elaborating on that, she said she wants to see the Illinois Board of Higher Education conducting a study on the funding allocation split between SIUE and SIUC — a controversial issue on both campuses over the last six months.
"I believe that the system board really showed a bias against the Edwardsville campus, and it's time that we need to live in the current moment. It's time to have an independent, outside group look at the changes that have occurred between the two campuses," Stuart said.
The board of trustees has contracted the Associated Board of Governors to perform their own funding allocation formula study, but Stuart was not convinced the study could be unbiased.
"The board of trustees has shown their true stripes. You know, I have a statistics background: when the tobacco companies did study after study that showed us that tobacco was actually beneficial to our health and not harmful to our health, we know that they had an agenda," Stuart said. "I just worry that the board having their own stake and their own desired outcome … I would rather have an independent study done by an outside entity so that we can actually better trust those results."
Crowe echoed similar thoughts about the funding split between SIUE and SIUC.
"I think the right thing is having an independent commission to do that study and to find out where exactly we are, because we all know SIUE has done amazingly," Crowe said.
00-Pol RT,12-Coll,19-Legal,26-Delivered
Region: Metro East,Local,College
via http://www.alestlelive.com – RSS Results in news/main_campus* of type article https://ift.tt/2I02wAd
November 1, 2018 at 05:56AM