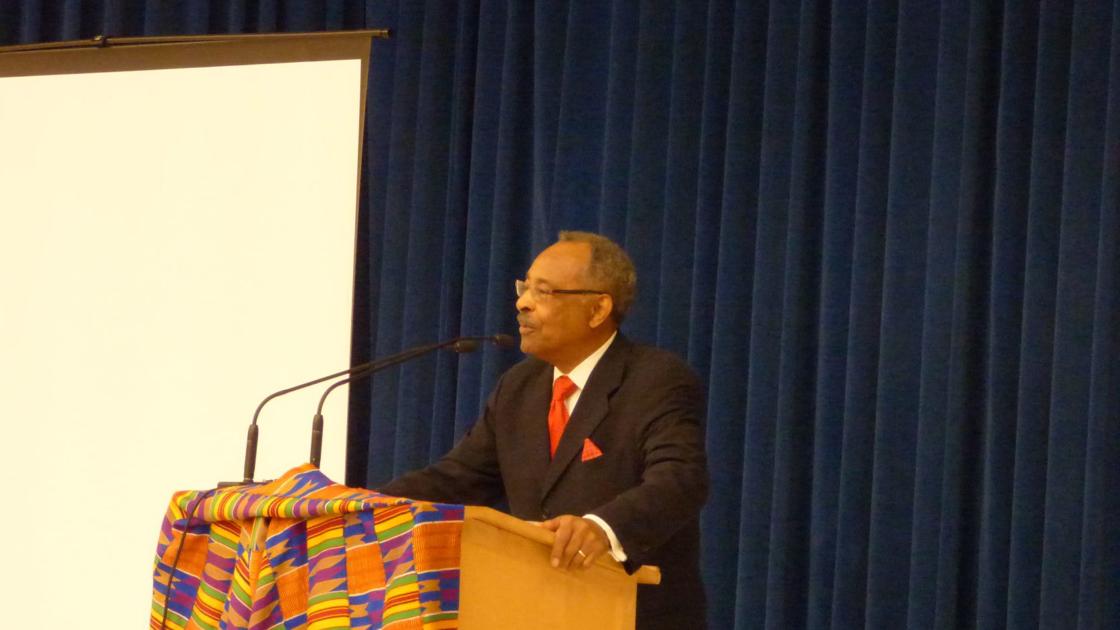 CARBONDALE — The 2018 general election took center stage at the Carbondale Branch NAACP 41st Freedom Fund Banquet Sunday afternoon in Carbondale Civic Center. The theme for the evening was "Defeat Hate, Vote."
Keynote speaker was Roland Burris, SIU alumnus and former U.S. senator and Illinois comptroller. He was the first African-American elected to statewide office in Illinois.
"It's certainly a pleasure to come home," Burris said.
Burris described a Carbondale very different from the one we know today. He came to SIU in 1955 as a freshman to play football. Burris and four of his football buddies from Centralia were recruited to play for the Salukis. Their team had lost two games in four years.
The first day in town, they were going to lunch. The coach pulled out a list of the four restaurants in town that would serve African-Americans.
A year before, Burris and his father participated in integrating the Centralia swimming pool.
"In Centralia, we couldn't swim in the pool, but we could eat anywhere," Burris said.
He joined Alpha Phi Alpha Fraternity, and the organization was marking a big anniversary. Burris said they invited other chapters from St. Louis and Chicago, but they could not stay in Carbondale hotels. They did not accept reservations from African-Americans.
He went to then-SIU President Delyte Morris. Morris said he could do nothing because the students had no proof of discrimination. So, they set out to get proof. The black students, along with a group of Jewish friends, went through Carbondale one business at a time and documented their experiences.
Burris and his friends took the list back to Morris. In May 1959, Morris called and asked to speak to Carbondale Chamber of Commerce. He talked about the relationship between the university and the city, then read down the list.
In October 1959, Burris received a letter from Willie Brown, another African-American SIU student, telling him Carbondale had integrated.
Burris also talked about voting.
"It is one of the cornerstones of the NAACP to get every citizen to vote. I can't stress enough the importance of voting," Burris said.
Carbondale Mayor Mike Henry also spoke at the banquet Sunday. He used part of his time to ask forgiveness for an incident in July concerning the former Attucks School building. He had offered a St. Louis-based mentor group use of the building, but later realized the city still has an active contract on the building with Milton and Corene McDaniel. The building had previously housed the African-American Museum of Southern Illinois, and the McDaniels have a contract with the city in an effort to protect the historic school. Henry asked their forgiveness from the podium.
Henry also clarified his stance on the Brightfields solar project, saying he never said it was a "done deal." The city last week voted to postpone a decision on whether to allow a solar array to be built on an EPA brownfields site on the northeast side of Carbondale, where the former Koppers tie plant had used creosote to process wood products.
Southern Illinois University Interim Provost Meera Komarraju spoke in place of the late Chancellor Carlo Montemagno, who died Oct. 10. She promised SIU would continue Montemagno's goal of inclusive excellence and said one of the ways to accomplish that goal is to build a strong relationship with Carbondale Branch NAACP.
Carbondale Branch NAACP President Linda Flowers talked about the importance of voting. She told the audience they need to elect judges at every level who fairly apply the law, senators and representatives who pass laws to protect rights and school board members concerned with the education of all children.
She challenged the 300 people at the banquet to: Register five people to vote; volunteer five days or five hours through Election Day; or commit to get five people to the polls.
"Your vote is your voice and the voice of all who struggled and died to give you that right," Flowers said.
The chapter honored its three 2018 scholarship winners, Marissa Ivory, Jasmyn Taylor and Atlexus Green.
Flowers said all NAACP branches host a Freedom Fund banquet to raise funds to defend freedom. 
Other branch officers include: Pepper Holder, vice president; M Stalls, secretary; and Bonnie Heidinger, assistant secretary. Diane Hood was chair of the banquet.
Subscribe to Daily Headlines
010-Inoreader Saves,00-Pol RT,19-Legal,26-Delivered
via The Southern
October 15, 2018 at 08:14PM