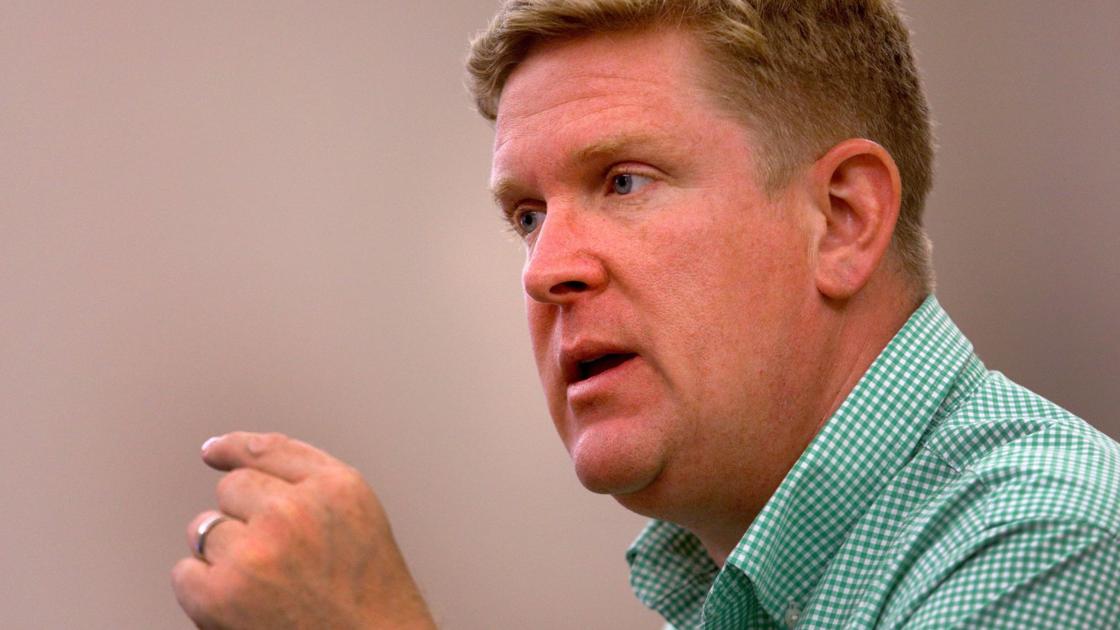 Southern Illinois voters are in an enviable position. Two good candidates — both military veterans and experienced public servants — are vying for the 12th District congressional seat. Voters will find strengths as well as weaknesses in incumbent Republican Rep. Mike Bost and his Democratic challenger, Brendan Kelly, the St. Clair County state's attorney.
On balance, Kelly, 42, is the person best suited to represent all 12th District constituents instead of just those loyal to one party. As a prosecutor, Kelly has pursued justice against Democrats and Republicans without partisan favor. He doesn't promise the world, only pledging to address the district's most pressing infrastructure, veterans affairs and health care needs.
Perhaps most important, Kelly is willing to criticize his own party and challenge its sclerotic leadership, including Minority Leader Nancy Pelosi. Bost marches in lock step with the GOP leadership, which he has supported 96 percent of the time in hundreds of legislative votes.
We backed Bost in 2016, believing his pledge to be a bridge-builder between the parties. Instead, Bost is one of those politicians who mistakes an election win as a mandate only to represent the interests of the party he belongs to. His party's attack ads against Kelly have been relentless and unfairly skew the truth.
Kelly promises to break free of partisan constraints. Whether he will deliver is a gamble voters will have to take; Bost is a sure bet for continued division and hyper-partisanship.
In 2016, Bost pledged to oppose killing Obamacare unless Congress had something better to replace it with — including a mandate for insurance coverage of pre-existing conditions. Then he voted with the Republican majority to kill Obamacare though no replacement was in sight. He put the coverage of thousands of constituents at risk, mistakenly believing that market incentives would magically fill the pre-existing conditions coverage gap.
Bost openly acknowledges that he's a lonely Republican in a region long dominated by the Democratic Party. Why doesn't his voting record reflect that?
Also in 2016, Bost set a 10-year deadline for his party to rein in government spending and balance the federal budget. Then he backed a GOP tax-cut measure that is putting the government $1.5 trillion deeper in the red.
Bost endorses President Donald Trump's trade war because it has helped add a few hundred steel jobs to the district. Meanwhile, thousands of Southern Illinois corn and soybean farmers have seen their export markets evaporate. Bost's solution? A budget-busting, $12 billion government bailout.
Kelly makes no claim to have all the answers. Who would he prefer to replace Pelosi? Can't say. Whom on the other side could he work with? Don't know. We would have preferred specificity.
But the courage he displays to take on his own party's leadership is refreshing and inspiring. Bost's blind party loyalty is exactly what's destroying America's democratic foundations, which is why 12th District voters need a new approach.
010-Inoreader Saves,00-Pol RT,05-Z,19-Legal,22-Talk,26-Delivered
via stltoday.com
October 15, 2018 at 08:14PM