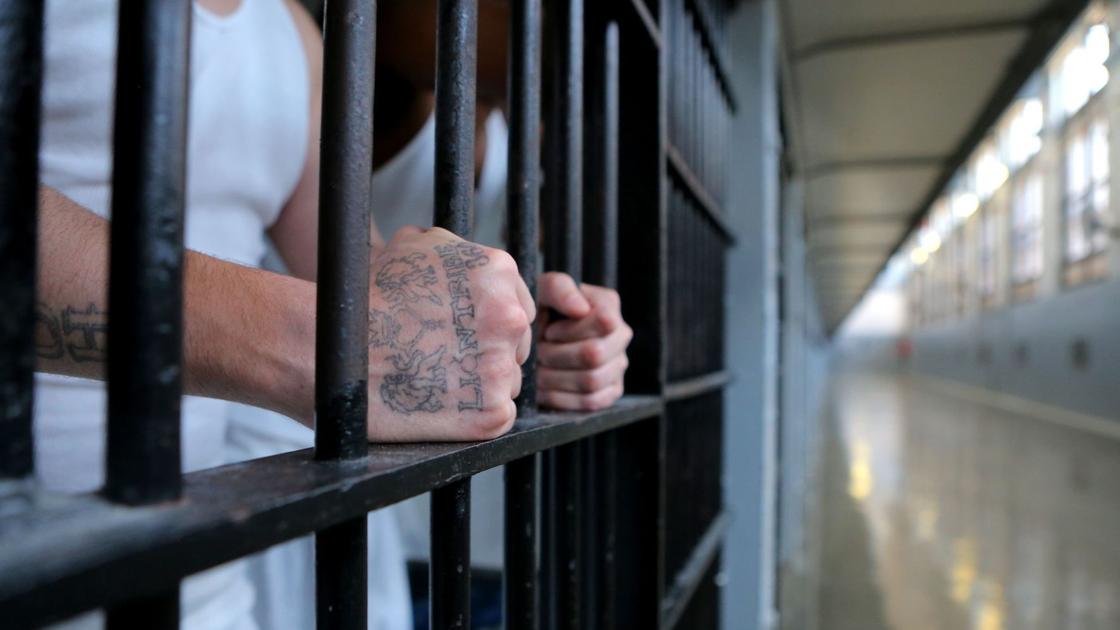 EAST ST. LOUIS • A federal judge has called shared cells in one wing of an Illinois maximum-security prison "inhumane" and banned prison officials from placing a convicted sex offender there with a roommate.
U.S. Magistrate Judge Stephen Williams called cells in the North 1 unit at the Menard Correction Center in Randolph County "shockingly small" in his ruling last week.
"It is obvious that housing two inmates in a metal box where there is barely enough room to use the toilet or get out of the cell will, over any significant period of time, put the inmates at risk of severe mental distress," Williams wrote. "It is obvious that housing violent felons in these conditions over lengthy periods of time will create substantial increased risk of violence between inmates and directed at staff. And it is obvious that allowing inmates out of these cells for approximately 18 hours per week (when not on lockdown and the schedule is operating smoothly) is not enough to alleviate these conditions."
Lindsey Hess, a spokeswoman for the Illinois Department of Corrections said in an email Tuesday that the judge's ruling applies only to the inmate who sued, Gregory J. Turley.
Turley's lawyer, Jay Kanzler, disagreed, saying that other inmates could cite Williams ruling if in similar shared cells. He estimated that there were several hundred inmates in that situation.
Prison officials had argued that the lawsuit should be dismissed because Turley, 57, has been moved to another prison. But Williams said that move probably was prompted by Turley's lawsuit, and that there was nothing that would stop prison officials from returning Turley to a double-cell at Menard.
Williams wrote that the ruling would have limited impact on the prison system, as Turley could share a cell in other prisons or in other wings at Menard, and could even be returned to North 1, but only if housed by himself.
Menard has a capacity of 3,881 and a population of 3,188, according to the Department of Corrections. The prison was constructed in 1878. Both Kanzler and Turley's lawsuit say that the North 1 cells were originally designed for one inmate and are the smallest in the prison system.
In 1991, Turley was convicted of theft, kidnapping, and aggravated criminal sexual assault. His sentence is not clear, as it has been listed at various lengths in court cases, although the prison system lists a projected parole date of 2047. He has filed a series of lawsuits over his time in prison, many of which have been unsuccessful.
In 2008, he filed this suit, alleging, among other things, that he was placed in the North 1 unit with a mentally ill inmate who didn't shower in retaliation for grievances and lawsuits that he had filed. The suit claims he was in North 1 from September 2005 to April 2006 and again from November 2014 to May 2016. On most days Turley spent 23 ½ hours there, the suit says, causing him stress and medical problems.
In court documents, prison officials said inmates were allowed out of cells to go to the exercise yard and the gym, for meals, work, education, religious services and various other activities. They also say that no medical professional has claimed that the cell size harmed Turley or any other inmate.
As part of the case, Williams visited the cell at Menard that Turley once occupied. He found the "cell house" was clean. The cells measure 4'8" wide by 10'8" long, Williams wrote, but only an "L"-shaped space no more than 25″ wide and totaling 20.3 square feet is unencumbered by the bunk bed, sink, toilet or TV stand. "The only real activity that can be performed in this space is standing," he wrote.
Probably the best way to do it, since you don't want to go there as an inmate. 
On a good day, an inmate who goes to church but doesn't have a job can be out of his cell for 4 ½ hours, including meal time, Williams wrote. During lockdowns, inmates are allowed out only to shower once a week.
Although lockdowns lasted longer in the past, Williams wrote that there eight total days in the three months preceding an April 2017 hearing.
He quoted Turley as saying that in the heat and humidity of summer, with inadequate ventilation, it was "akin to living in a bathroom. Another inmate testified it was similar to the odor of an indoor enclosure at a zoo."
Williams cited standards from the American Correctional Association, which say every inmate should have 35 square feet of unencumbered space, with an area to sit and write.
"Nobody's argued that prisoners should be treated well," Kanzler said, but "they should be treated humanely." 
00-Pol RT,26-Delivered,19-Legal
Region: Metro East,Feeds,News,City: St. Louis, MO
via http://www.stltoday.com – RSS Results in news/local/govt-and-politics of type article https://ift.tt/2OBTNcd
October 2, 2018 at 07:22PM