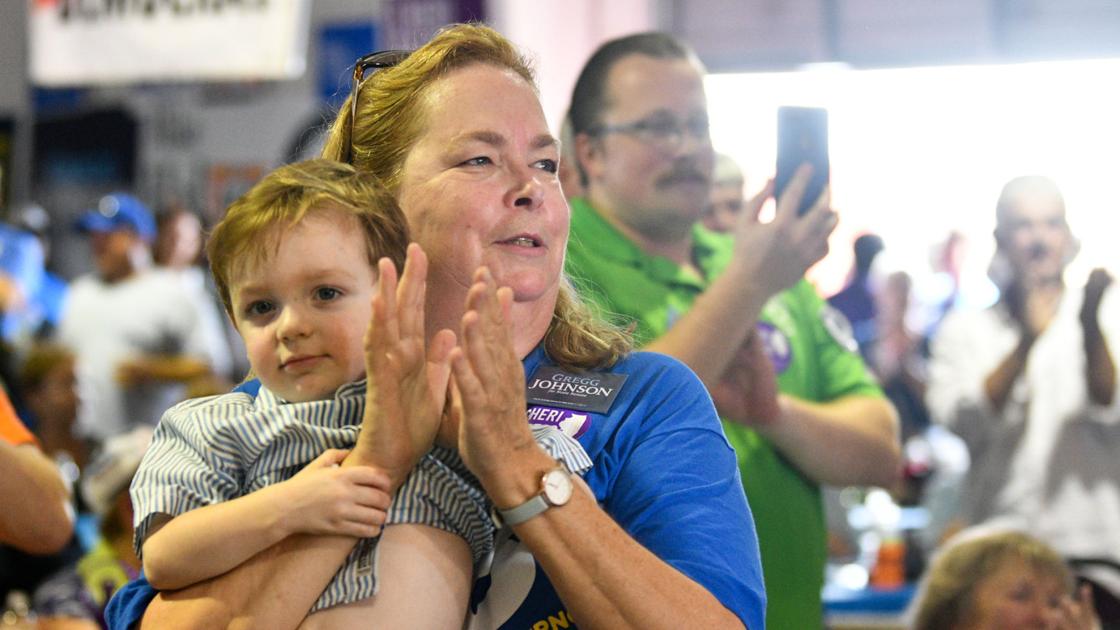 EAST MOLINE — Illinois Democrats showed a united front Monday at the Rock Island County Democrats' 51st annual "Salute to Labor" picnic, warning Gov. Bruce Rauner of the blue wave they say will sweep the state in the November general election. 
Despite downpours that forced an eleventh-hour move from the picnic's traditional location of Illiniwek Park to the Rock Island County Fairgrounds, event organizers estimated more than 1,500 people attended the rally.
For the first time in several years, every statewide candidate was present: Gubernatorial candidate J.B. Pritzker and his running mate Juliana Stratton; Kwame Raoul, candidate for attorney general; Secretary of State Jesse White; Treasurer Michael Frerichs; and Comptroller Susana Mendoza.
Also in attendance was U.S. Rep. Cheri Bustos, D-Moline; U.S. Rep. Dave Loebsack, D-Iowa City, Iowa; state Rep. Mike Halpin, D-Rock Island; Gregg Johnson, candidate for state Senate in the 36th District; and Joan Padilla, candidate for state representative in the 71st District.
The event kicked off with Knox County Democratic party chair Pam Davidson leading the crowd in a rousing sing-along rendition of "Ain't Gonna Let Nobody Turn Me Around," substituting "nobody" with the name of Rauner.
Pritzker approached the podium amid a standing ovation after an introduction by Stratton.
"This is the most powerful statewide ticket this state has ever seen, led by Secretary of State Jesse White," Pritzker said.
"This campaign has been about kitchen-table issues; the issues that are most important to working families all across the state of Illinois. We've had stagnant wages across the state. We are in the bottom third of job creation in the entire nation — all of that under Bruce Rauner.
"It was happening before Bruce Rauner, but he drove it right off a cliff," Pritzker said. "We've got work to do to raise wages in this state, but the best way you can do it is to get rid of the guy who wants to lower wages, and that's Bruce Rauner."
Pritzker accused Rauner of having a hidden agenda to destroy labor unions, lower wages and lower workplace safety.
"(Rauner) thinks if we have low-wage workers in the state, low-wage companies will move to the state and create jobs," Pritzker said. "I don't think you want a governor who wants to attract low-wage paying companies to the state of Illinois. You want a governor who wakes up everyday thinking about how to raise wages in this state."
Rock Island resident Gregory Mayor, 71, said there was a lot at stake for Illinois if Democrats didn't win elections up and down the ballot. 
"There is a lot on the line," Mayor said. "Jobs, wages, union jobs, Social Security and regaining our place in the world that has been lost under this (presidential) administration."
Mayor said if Rauner was re-elected, the "state will go farther into debt and we'll have more problems. (Rauner) has got it out for the teachers; he's got it out for all unions. He's not being governor of the people; he is being governor of the few."
00-Pol RT,26-Delivered
Region: Northern,City: Quad Cities,Region: QC,Local
via qctimes.com – RSS Results in news/local of type article https://ift.tt/2JOUFr7
September 3, 2018 at 06:40PM