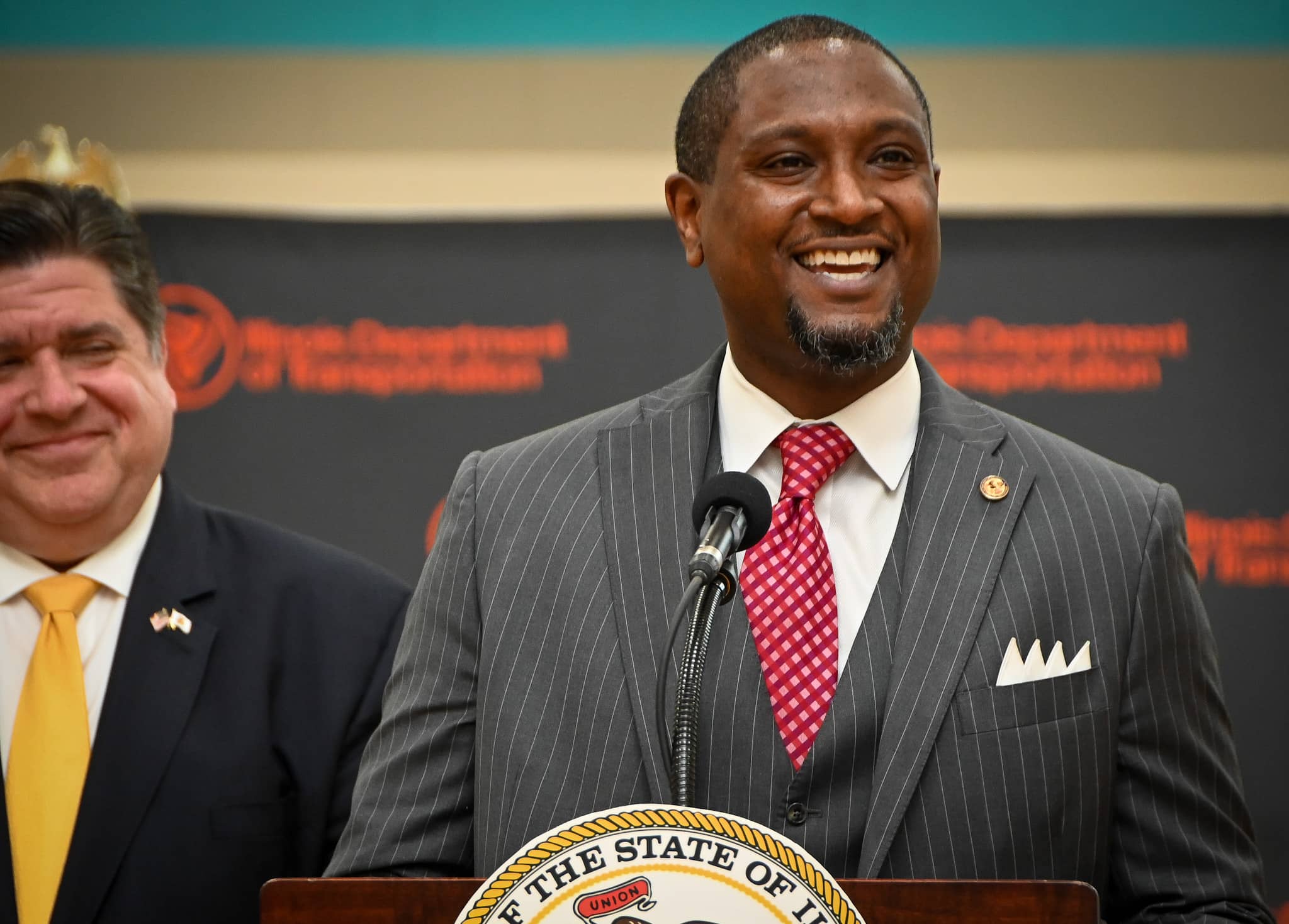 Illinois State Rep. Maurice West, D-Rockford, speaks on Tuesday, April 4, 2023, during a news conference at Cherry Valley Elementary School to discuss plans to replace the Perryville Road bridge and expand Interstate 39. (Photo by Kevin Haas/Rock River Current)
ROCKFORD — Illinois lawmakers have advanced a bill sponsored by state Rep. Maurice West, a Democrat from Rockford, that requires the teaching of Native American history in certain public school courses.
The bill, which was sponsored by state Sen. Suzy Glowiak of Hilton in the state Senate, passed the House on Wednesday with an 81-31 vote. The House was voting to approve amendments made in the Senate, where it was approved 44-8 on May 10. The legislation now goes to Gov. JB Pritzker for his signature before being enacted into law.
The legislation requires certain courses for grades six through 12 include teaching about Native American nations' sovereignty and self-determination with a focus on urban Native Americans, as well as information about discrimination and genocide of Native Americans in North America.
Opponents of the bill had questioned how the curriculum would be developed, and whether the courses could be taught objectively.
"Native American history is Illinois' history. For our students to understand where we have been and where we are going, it is absolutely critical to learn about the experience of Native Americans," state Rep. Maurice West said in a news release Wednesday. "Not only will this legislation help preserve and promote the rich history of Native Americans in Illinois, it will also help our residents understand the important contributions Native Americans make to Illinois in the present day."
The legislation requires the State Board of Education to develop the curriculum in consultation with a Native American community that school districts can choose. Instruction is required to start in the 2024-25 school year.
"This is the culmination of an effort that took many months and was the hope and dream of countless Illinois American Indian residents over many years," Andrew Johnson, executive director of the Native American Chamber of Commerce of Illinois, said in a news release. "We feel this history will now include perspectives from our vantage point through resources that have been properly vetted by leading Native American scholars.
"Additionally, our story will not just be limited to the past but help all students understand the strengths, accomplishments and contributions of Natives up to the present day."
---
This article is by Kevin Haas. Email him at khaas@rockrivercurrent.com or follow him on Twitter at @KevinMHaas or Instagram @thekevinhaas.
Media Feeds All
via Rock River Current https://ift.tt/dFunvyH
May 17, 2023 at 06:03PM