JEFFERSON PARK — The neighborhood's newest residents are being welcomed into their homes with calming, "feel good" artwork that lines the walls of an affordable housing complex.
Veterans, people with disabilities and families began moving into Full Circle Communities at 6009 and 6017 W. Lawrence Ave. last month, company officials said. Construction of the housing development was completed in November.
Colorful line art by painter Kathryn Eli adorn the hallways of both buildings. Her nature artwork repeats landscape motifs and is a way to give a warm welcome to the building's residents as they move in and acclimate to the neighborhood, said Mary Donoghue, project manager for the development.
Each floor has a different color pattern, mood and line arrangement. Nature elements like mountains, the desert, prairies and ocean waves are depicted on the walls.
"We have these prairie-inspired pink buildings in this really nice courtyard setting [so] we wanted to bring that inside through natural art that was warm and welcoming to the community," Donoghue said. "We've got families, individuals and a range of residents so we want them to feel good about the art that they're seeing."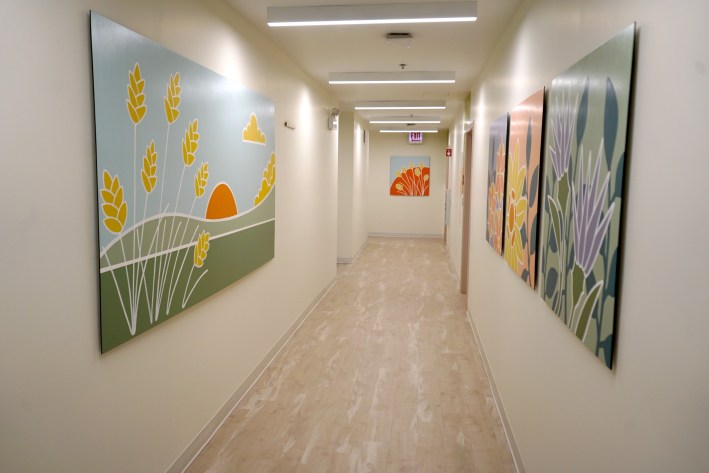 Eli, who grew up in Portage Park and now lives in suburban Elgin, walked through the building late last month to see her finished work installed in both buildings for the first time. With help from John Arena, former alderman and community activist, Eli's 72 panels deck the halls of the building.
Full Circle Communities officials worked with Eli and Arena to solidify a theme and mock up designs that fit the exterior character of the building, Arena said. Once the designs were set, Eli painted the panels in her studio and Arena installed them onsite. All together, the project took about four weeks and wrapped up at the end of May, Arena said.
Eli also painted a large mural around the mailboxes, a four-day project that encapsulates all of the nature themes of the two buildings, she said.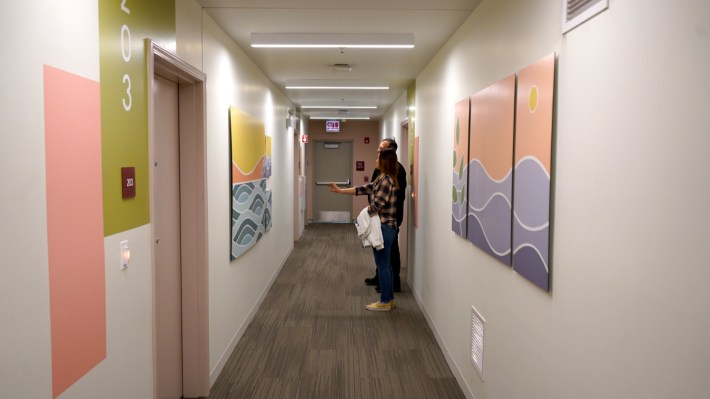 The unifying themes of nature evoke feelings of joy and peace that she hopes others feel when they look at the art, she said.
"I'm full of feelings so I feel joyful, charismatic and also peaceful," Eli said of the artwork. "There's a lot of pieces that I feel like are soothing [or] feel good."
Arena chose Eli because her work complements the design of the buildings. The two have worked together on other Northwest Side art projects.
"The graphic nature of the buildings was my starting point … why don't we find something that brings some natural elements that maintain that bright quality?" Arena said.
For Eli, whose work can be found around the Northwest Side, the nearby suburbs and smaller towns in Illinois, the art project at the housing development was one of her largest projects yet, she said. The quantity and massive composition of the panels were what made the project different from her other work.
"It was really fun because it is creating a story in a way, or at least
different environments in the same world," she said.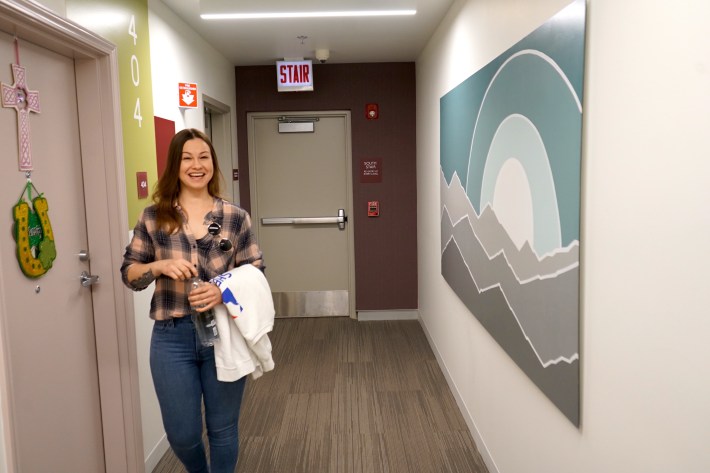 The 48-unit development, which has one-, two- and three-bedroom apartments, is quiet as people trickle in, but 45 units are leased or pre-leased, Donoghue said.
Over 400 people applied to live in the two buildings. Applicants with disabilities and veterans have preference, said Lindsey Haines, senior vice president of Full Circle Communities.
"From there, since we have units affordable to a range of different income levels and also a range of unit sizes, we work with applicants to understand which unit best fits their needs," Haines said in an email.
The development has studio apartments renting for $444-$780 a month, one-bedroom apartments for $475-$1,337, two-bedroom apartments for $570-$1,604 and three-bedroom units for $660-$1,854.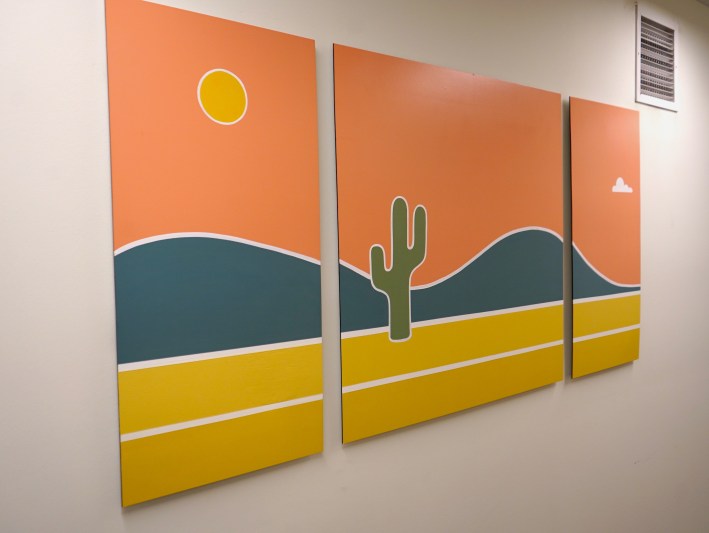 The buildings are designed by Canopy Architecture+Design and include on-site management, a library, computer room, community room and on-site services to help families access health and wellness services, employment services and financial counseling.
There are 47 parking spots, four of which are marked for people with disabilities.
Residents must make between 30-80 percent of the area median income to qualify.
Joshua Wilmoth, president and CEO of Full Circle Communities, has said the development fills a much-needed hole in the community. 
"This long-vacant site has been an eyesore and nuisance, and we are thrilled to revitalize the site with high-quality housing that serves the wide range of families that call Jefferson Park home," Wilmoth said in a previous statement. "We think this is an incredible opportunity to build on our community relationships and continue our year's long work of bringing affordable housing options to Chicago's Northwest Side."
Subscribe to Block Club Chicago, an independent, 501(c)(3), journalist-run newsroom. Every dime we make funds reporting from Chicago's neighborhoods.
Click here to support Block Club with a tax-deductible donation. 
Thanks for subscribing to Block Club Chicago, an independent, 501(c)(3), journalist-run newsroom. Every dime we make funds reporting from Chicago's neighborhoods. Click here to support Block Club with a tax-deductible donation.
Listen to "It's All Good: A Block Club Chicago Podcast":
Chi,Feeds,News,Region: Chicago,City: Chicago
via Block Club Chicago https://ift.tt/APajkz7
May 11, 2023 at 10:10AM