click to enlarge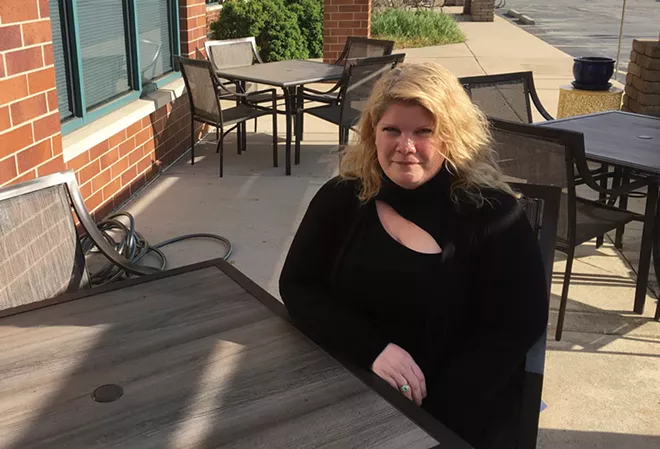 Photo by Don Howard
Kristine Bunch spent more than 16 years in prison after being wrongfully convicted of killing her son. Now she works to help prevent other innocent people from suffering the same fate.
The Illinois Law Enforcement Training and Standards Board has made the state the first in the nation to mandate wrongful conviction awareness and avoidance training at all seven police training academies in the state. The Illinois Innocence Project (IIP) at University of Illinois Springfield will continue to manage the training, which until now had only been offered in Champaign, and there only as an elective.
IIP has two primary goals, according to Marcus Beach, the group's associate director of wrongful conviction awareness and avoidance: to free innocent people and to promote changes in the law. Beach spent 27 years as a member of the Rantoul Police Department and has been training officers since 2004. After his retirement from police work earlier this year he was recruited by University of Illinois Urbana-Champaign Police Training Institute Director Mike Schlosser to design and implement the classes. Beach said that he was surprised by the high number of wrongfully convicted persons in the state. "As a police officer, you only see one side of the process and it's easy to have blind spots about circumstances that can lead to wrongful convictions," he said.
Beach says he makes recruits aware of factors that make wrongful conviction more likely. For instance, he tells recruits to be careful when dealing with eyewitness testimony because perception and memories are especially inaccurate in stressful or unexpected situations. It is vital to corroborate witnesses' statements no matter how sure they are in their recollections. He wants recruits to be skeptical of expert testimony as well, because experts turn supporting facts into convincing narratives. "Coroners, fire marshals and other professionals usually express their conclusions in a way that makes opinions sound like facts."
Recruits who are aware of factors that lead to erroneous assumptions are better at avoiding them. "Everybody, including cops and prosecutors, wants to get it right," he said. "We all lose when an innocent person is behind bars while the criminal is unidentified." Beach says avoidance also means resisting the desire of some new police officers to issue a lot of citations or make a lot of arrests. He tells them it's more important to develop relationships in the community than to make arrests.
Every class includes a presentation by a staff lawyer and an exoneree. Beach says that while there are plenty of exonerees available to talk to recruits, he hopes that more funding will allow IIP to hire more lawyers. "We only have two lawyers and when they are out of the office giving presentations they can't be working on exonerations," he said.
Kristine Bunch is an exoneree who makes presentations for IIP. She spent 16 years in prison for the murder of her three-year-old son in a house fire prosecutors accused her of deliberately setting. The fire was caused by a kerosene heater in the living room. According to Bunch, investigators found some spilled kerosene in the carpet and wrote that "accelerant" had been found, which created a narrative that the fire was deliberately set.
Bunch says the first time she appeared in front of a room of police recruits to speak was nerve-wracking and at the same time an important step in her recovery from imprisonment. "My palms were sweating as the sight of so many cops evoked a lot of negative emotions because of my experience," she said. "Then I realized they're just human beings like me, trapped by their own implicit biases." She says the realization that she could change her mind about the police meant that they could change the way they think about criminal suspects. It has become a centerpiece of her presentations. "I tell them not to go down the road that their internal vibe leads them. Keep an open mind."
IIP has successfully lobbied Illinois lawmakers to establish the nation's first law banning police from lying to children during interrogations. The organization also partnered with the national Innocence Project, Cook County State's Attorney Kim Foxx and the Center on Wrongful Convictions at Northwestern University School of Law to back a 2019 law which limits testimony from jailhouse informants and other incentivized witnesses. Illinois became the first state to require pretrial reliability hearings before jailhouse informant witness testimony may be used in murder, sexual assault and arson cases.
Don Howard is an intern at Illinois Times while completing his master's degree in Public Affairs Reporting at University of Illinois Springfield.  He can be reached at dhoward@illinoistimes.com or 336-455-6966.
Media Feeds All
via Illinois Times – https://ift.tt/PLvMTuF
May 4, 2023 at 04:07AM