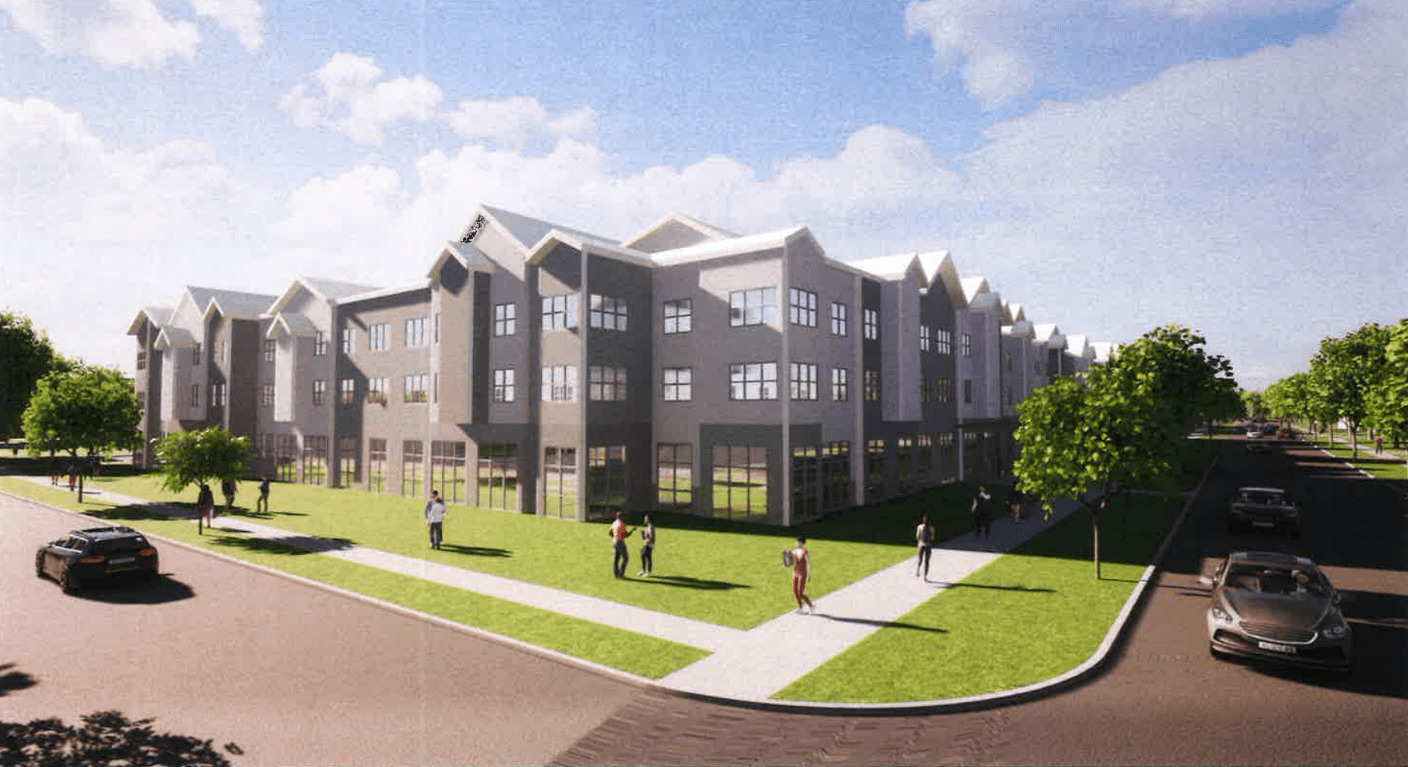 This rendering provided to the city of Rockford by Rockford Housing Development Corporation illustrates plans for a mixed-use early education center along South Avon Street in Rockford. (Image via city of Rockford documents)
ROCKFORD — City Council members on Monday decided to delay a vote on an expansive mix of affordable housing and commercial and educational space in southwest Rockford.
Alderwoman Gabrielle Torina asked council members to delay the vote for 30 days because the 13th Ward where the proposed development is located is without representation after the death of Alderwoman Linda McNeely. McNeely, who represented the ward for 26 years, died last week. She did not have an opportunity to voice her opinion on the proposal.
The proposed development calls for 116 living spaces, an early learning center and a mixed-use building with a greenhouse and culinary education institute at South Avon and Cedar streets near Kent Creek.
Part of the development includes a 21,600-square-foot brick building at 915 Cedar St. that will be renovated to house small storefronts, one-bedroom apartments and a market space for makers and creators. Wisconsin-based developer Gorman & Co. is a partner on that part of the project.
The development is planned for roughly 15 acres of vacant land once occupied by Rockford Gas Light and Coke Co.
Rockford Housing Development Corporation is a nonprofit that formed in the 1980s with the sole purpose of owning Concord Commons, now called Rockford Ridge Apartments, after the U.S. Department of Housing and Urban Development seized the site from its original developers.
RHDC sold the housing complex to Envolve Communities, an Alabama-based property management company, for $6.4 million in June 2020. It's using part of the proceeds of the sale to pay the anticipated $40 million to $47 million cost of this development. Developers plan to use low-income housing tax credits, historic tax credits, U.S. Department of Housing and Urban Development Home Investment Partnership funds and traditional debt.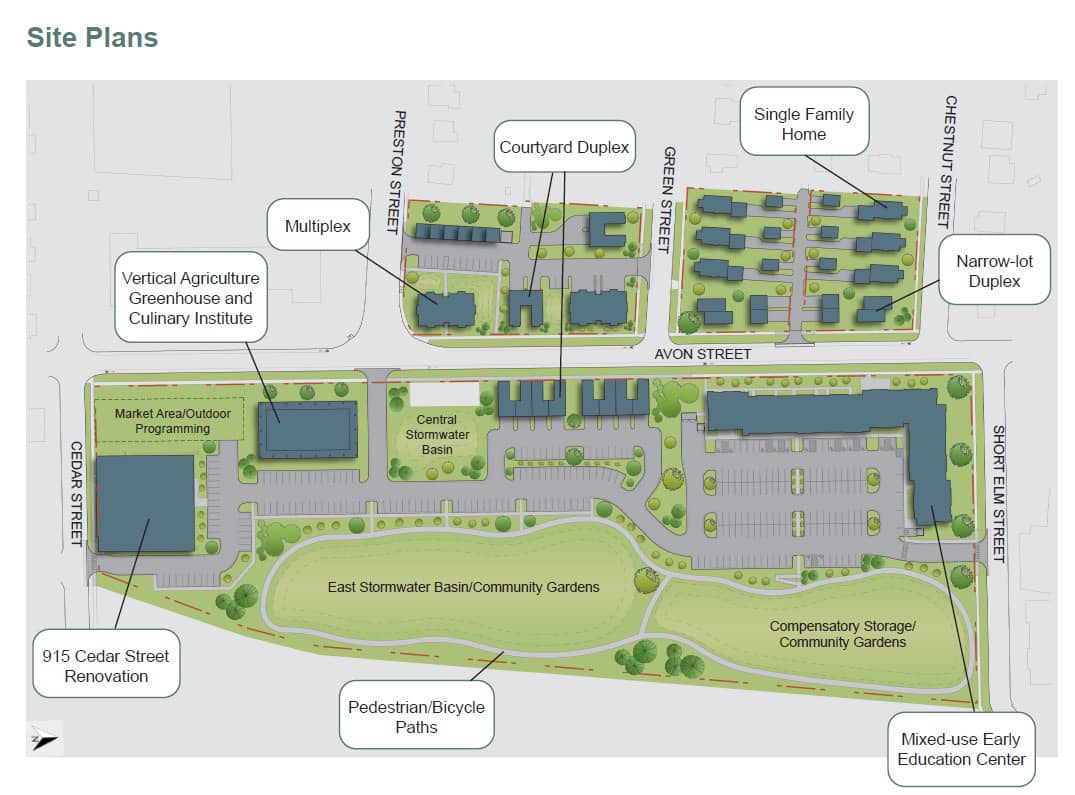 This site plan from Rockford Housing Development Corporation lays out its proposed mixed-use development in south Rockford. (Image provided by Rockford Housing Development Corporation)
The nonprofit said its analysis identified a need for about 5,000 living units for low-income residents, defined as those who make less than 30% of the area median income.
The project is expected to have a variety of housing types available to rent or buy, most of which will be at below-market rates. Plans call for 64 apartments, 10 courtyard duplexes, a six-family building, an eight- to 10-family building, two side-by-side duplexes and six artist live/work spaces. Recreation paths will circle an area left as open green space.
The former Rockford Gas, Light and Coke Co. was demolished in the early 1960s, according to the Rockford Public Library's local history room. The site was subject to an Illinois Environmental Protection Agency environmental cleanup program while under ComEd's ownership, but the IEPA issued letters in 2016 saying the company's environmental cleanup work was complete and no further remediation was required.
RHDC says if its proposal is approved it plans to break ground this summer on the first phase of the work. The project would happen over multiple phases completing in 2027.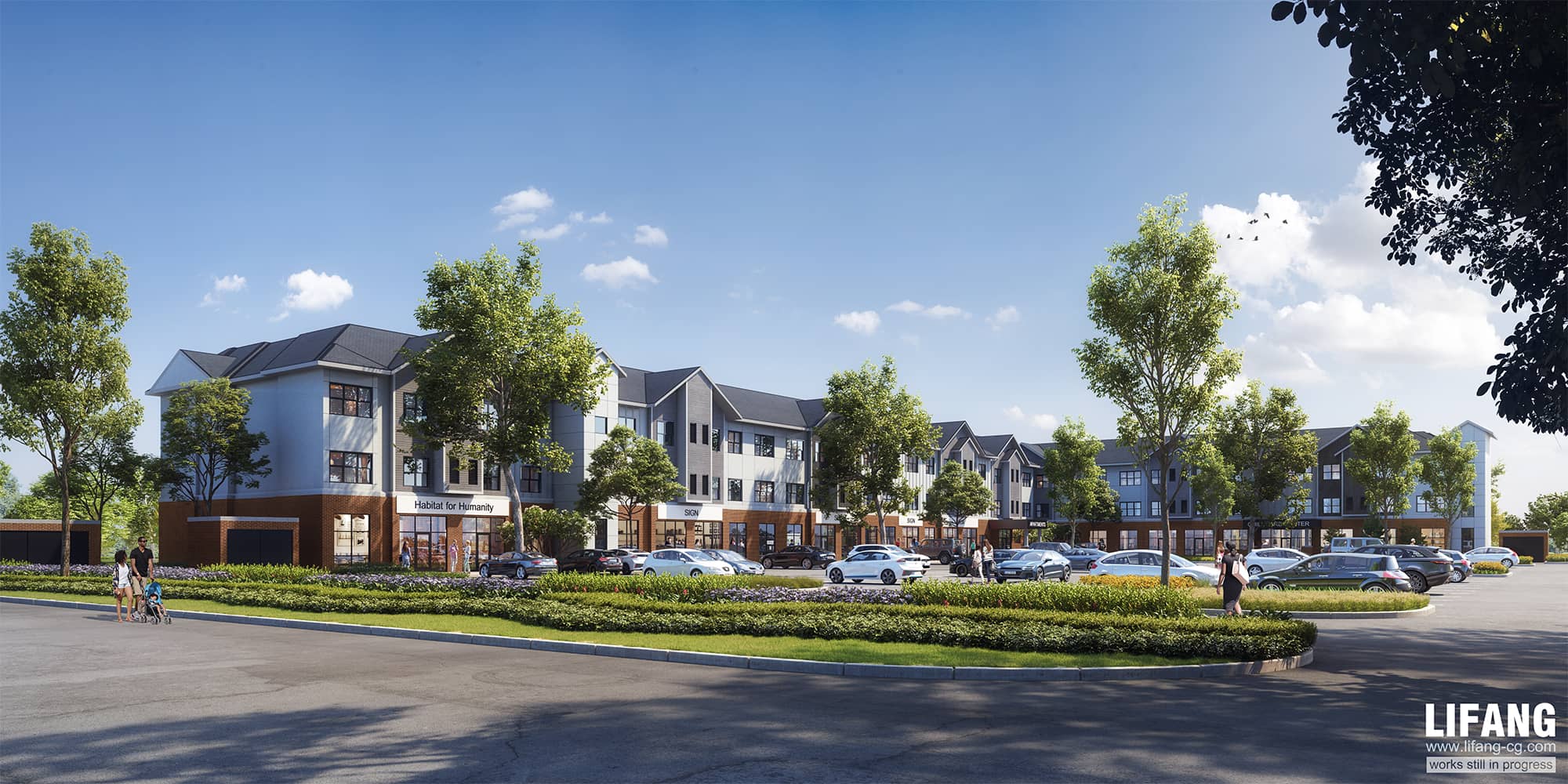 Rockford Housing Development Corporation is planning an expansive project with 116 living units and commercial space near South Avon and Cedar streets on southwest Rockford. (Image provided by Rockford Housing Development Corp.)
---
This article is by Kevin Haas. Email him at khaas@rockrivercurrent.com or follow him on Twitter at @KevinMHaas or Instagram @thekevinhaas
Media Feeds All
via Rock River Current https://ift.tt/EQlYvoq
May 1, 2023 at 06:18PM