CHICAGO (CBS) — A member of the U.S. Advisory Council on Human Trafficking is speaking out about the treatment of foster children by the Illinois Department of Children and Family Services (DCFS). 
Brenda Myers-Powell was outraged to learn DCFS approved sending a teenage sex trafficking victim to live with a man whom court records describe as a habitual criminal. The foster dad was arrested again and charged with promoting prostitution.
"This can't happen anymore," says Myers-Powell. "Look this was a screw up. And people need to be held accountable for this screw up."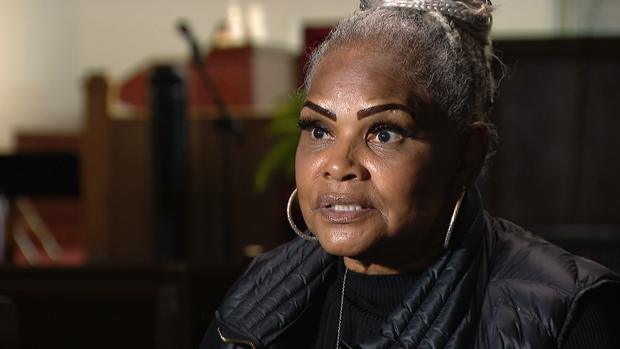 Court records show Erick Johnson, a 24-year-old bachelor, has two robbery convictions and a third conviction for a federal gun charge. For these convictions, he was sentenced to five years in prison. Following those convictions, Johnson had another gun-related arrest and was charged with Domestic Battery for beating another teenage girl.
Myers-Powell says DCFS failed to see all of the glaring red flags before approving him to be a foster dad.
"This is unacceptable. Something needs to be handled," said Myers-Powell. "That was a huge mistake."
In court, DCFS described making Johnson the teen's fictive kin foster dad. A fictive kin is a friend of the child's family. 
Johnson still had to undergo a background check. DCFS approved Johnson as a foster parent in 2022, while he was still under a federal supervised release program for one of his convictions.
In a statement, DCFS said this about approving Johnson to be a fictive kin foster dad: "No barrable convictions were found in this case and the fictive kin placement was therefore approved."
"This was a bad placement. This was bad placement," said Myers-Powell. "It should have been thought out more carefully for the safety of this young lady."
In April 2022, a psychologist hired by DCFS said the teen needed a "Secure Residential Treatment Facility – Sex Trafficking Program." Instead, she had been moved to different placements then to Johnson. A year later, the teen still has not been placed in the appropriate program.
"These kinds of mistakes are life and death for our children," said Myers-Powell.
Shortly after becoming the teen's foster dad, Johnson was arrested again — now accused of running an online prostitution business. He is accused of doing this out of the same apartment where he was supposed to be caring for the foster child.
"This young lady should have been in a facility where she could get the care that she needs." said Myers-Powell, "and this man should have never had access to her." 
When it comes to trafficking and abuse victims, DCFS has a pattern of failing to find them appropriate placements in a timely manner.
In 2021, we investigated the case of a 10-year-old who was repeatedly sexually abused. DCFS had been contacted 13 times about the child being neglected and abused, but they failed to take her into protective custody. She languished while on the radar of DCFS until finally being placed in an appropriate treatment program.
"We got to get some real, real, real solid things to do for these human trafficking victims by adult males," said Myers-Powell.
When we reported on the 10-year-old in 2021, we also sat down with DCFS Director Marc Smith.
"We really try to look at it, as our role is to try to engage those kids and families, and really work to help them get better," said Smith in the 2021 interview.
Smith said in that 2021 interview that he could not talk about the 10-year-old. 
"I can't speak to any individual case," he said. I will say this, we investigate seriously and thoughtfully every allegation of abuse and neglect."
Now two years later, with the 16-year-old not getting the care she needs, has Myers-Powell believing not much has changed.
"We can't keep giving children to traffickers," said Myers-Powell. "It's all gruesome. It really needs to get an overhaul."
Region: Chicago,Local,City: Chicago
via Syndicated Local – CBS Chicago https://ift.tt/UcC1FIv
April 28, 2023 at 11:34PM