click to enlarge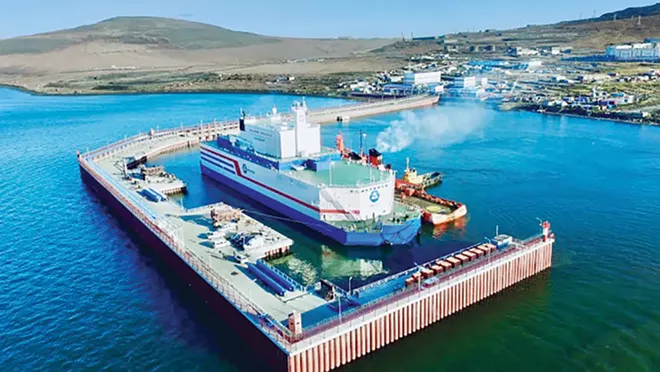 PHOTO BY ROSENERGOATOM
A barge next to the Russian city of Vilyuchinsk holds two Small Modular Nuclear Reactors which provide electricity for the town. It is one of two SMNR powerplants in the world.
In a measure that has already passed the Senate and which Gov. JB Pritzker says he supports, Illinois is about to lift its current moratorium on the construction of nuclear power plants, a law that has been in place since 1987. Under current law, the moratorium may not be lifted until the federal government has established a facility for the disposal of spent nuclear fuel.
Illinois built nuclear power plants aggressively from the 1960s to the 1980s and today, about half of Illinois' electric consumption is produced by nuclear power. However, in 1987 Illinois Gov. James Thompson signed the moratorium. Thompson stated that new technology would allow the burning of high-sulfur coal from Illinois and he wanted to promote its use. The new technology never materialized, but the moratorium remained in place.
State Sen. Sue Rezin, R-Morris, is one of the sponsors of the bill to lift the moratorium, and says that other states and other countries have recognized that nuclear power is an essential component of green energy production. "If we want to remain the leader of nuclear power within the country, we need to signal to researchers and potential nuclear generation companies that Illinois is open to future projects," she said in an email to Illinois Times.
The role of SMNRs

Illinois plans to decommission most coal-fired power plants by 2035. Their absence will create an energy deficit as well as decommissioned coal plants. Proponents of lifting the moratorium point to Small Modular Nuclear Reactors as a way to fill the energy gap. SMNRs are much smaller and simpler than the gigawatt-size nuclear power plants currently in use. Sen. Rezin says that "they can be placed inside the decommissioned plants that are already connected to the electrical grid. This would provide these communities with new good-paying jobs and avoid raising local property taxes to build new infrastructure, which is required for wind and solar projects."
SMNR technology is so new that there are no SMNRs in operation in the United States. Only one American company, NuScale Power Corporation of Portland, Oregon, has a design certified by the Nuclear Regulatory Commission for the construction of SMNRs. Budget overruns and delays are routine in nuclear power plant construction, although the company expects these risks will be greatly reduced with SMNRs. NuScale will not be able to produce real-world data on its design performance until its first SMNR goes online in 2029 or 2030 in Idaho. Moratorium or not, it will be years before an SMNR can be installed and operational in Illinois.
SMNRs also produce waste, but the exact amount is unknown and can only be estimated based on design, since none are in operation in the United States. Last year, The Proceedings of the National Academy of Sciences published a study of SMNR designs, including NuScale's, and concluded that SMNRs create waste which is more expensive to dispose of as well as between nine and 17 times as much waste per megawatt when decommissioned, when compared to conventional nuclear power plants. The authors chide SMNR developers for expressing waste estimates in terms that are misleading.
Sen. Rezin says that "the federal government will continue to take this issue very seriously" because of the Biden administration's commitment to nuclear power, and that "nuclear technology has and is advancing dramatically with some new advanced reactor designs in development which would consume that nuclear waste." She said that Illinois needs to make plans for waste disposal when wind and solar projects are decommissioned as well, and has filed legislation outlining a plan for manufacturers to recycle wind turbine materials and lithium batteries.
Because there is no national repository for spent nuclear fuel, commercial nuclear power plants have to devise ways of storing it themselves. Currently, spent fuel from Illinois nuclear power plants is stored temporarily at the various facilities where it was produced. In 2014 a single improperly configured cask of nuclear waste exploded at the Waste Isolation Pilot Plant near Carlsbad, New Mexico, costing more than $1 billion and halting operations there for nearly three years.
David Kraft, of the Nuclear Energy Information Service in Chicago, cautions that investment in unproven nuclear technologies will come at the expense of proven alternatives like wind and solar.
Don Howard is an intern at Illinois Times while completing his master's degree in Public Affairs Reporting at University of Illinois Springfield. He can be reached at dhoward@illinoistimes.com or 336-455-6966.
Media Feeds All
via Illinois Times – https://ift.tt/83aifKV
April 20, 2023 at 04:10AM