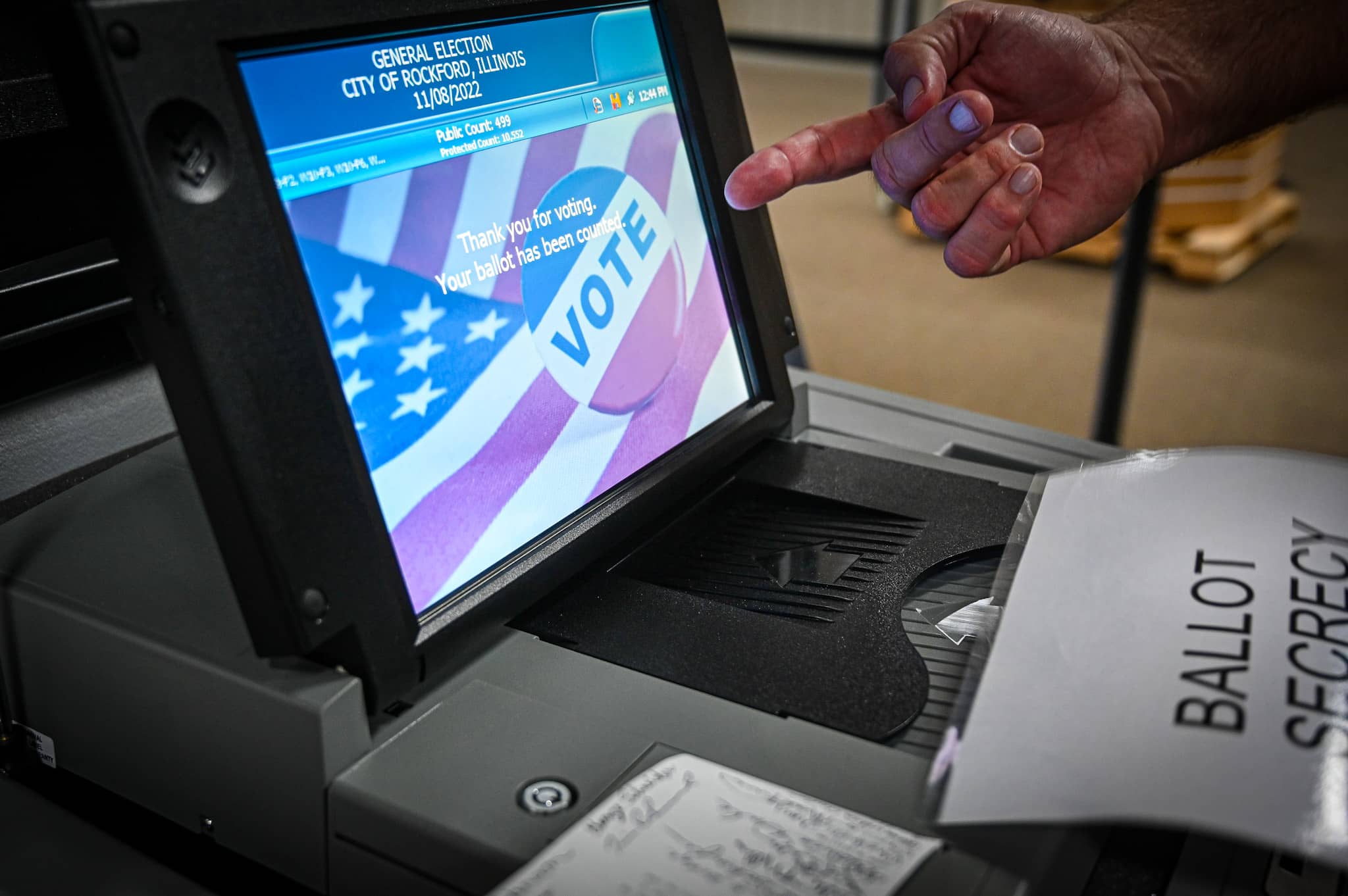 Election Judge Tim Rockhold gestures to a vote tabulating machine that shows Sumeet Tewani's vote was counted on Tuesday, Nov. 8, 2022, at Forest City Church in Rockford. (Photo by Kevin Haas/Rock River Current)
ROCKFORD — Illinois lawmakers are weighing a change to how presidential primaries are conducted in the state that would allow voters to pick more than one candidate, ranking them in order of preference.
It's called ranked choice voting, or instant runoff voting, and it allows voters to cast a ballot for their first choice, second, third and so forth.
Supporters of the change say it gives voters more voice in elections, and it can discourage negative campaigning because candidates have to reach out to as many voters as possible, including those who support their opponent as a first choice.
Opponents say it can create confusion, and it will have high upfront costs to implement the change.
There are bills in the state House and Senate that would allow for ranked voting in presidential primary elections, including House Bill 2807, which is sponsored by state Rep. Maurice West, a Democrat from Rockford. Its counterpart bill in the Senate is SB 1456.
West said ranked choice voting will prevent scenarios like what happened in 2020, when more than 70,000 votes cast for president in the Democratic primary in Illinois were wasted because people voted early and their candidate dropped out of the race.
"Ranked choice voting will ensure that every vote counts. … Your vote will not be wasted," West said Wednesday during an educational forum on the measure. "It's all about having a more representative voting system that better captures the preferences of each voter."
There are 63 jurisdictions that use ranked choice voting across the country, according to FairVote, an organization pushing to implement the change. It was used in the Democratic presidential primary in Kansas, Wyoming and Nevada in 2020, and it is used statewide in Maine and Alaska.
"People are doing it on both sides of the aisle, so there's no reason for it to be contentious," West said.
How it works
Under West's proposal, a candidate in the Democratic primary must receive at least 15% of the votes to earn delegates at the national convention when the party's presidential candidate is chosen.
Say, for example, there are four candidates in the race and one receives 13% of the vote. In that scenario, the second-place votes from those who selected the last-place candidate would be redistributed before a winner is declared.
If there are multiple candidates below 15%, votes for the last-place candidate would be redistributed first. Then, if there are still candidates below 15%, the process would continue by redistributing votes from the next last-place candidate until all remaining are above 15%.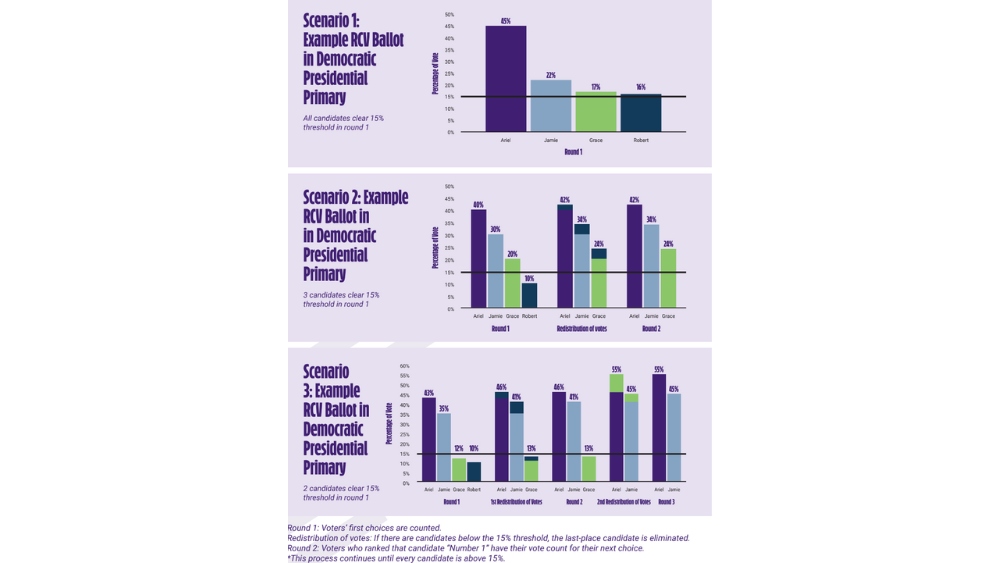 This chart from FairVote Illinois shows potential voting scenarios under
It would be slightly different for the Republican Party, which has a winner-take-all primary in Illinois.
In that case, votes for the last-place candidate would be redistributed until one candidate wins more than 50% of the vote.
(The video below from Fair Vote explains how ranked choice voting looks and why the group feels it is preferential.)
What's next
West's bill was assigned to the House Rules Committee last month, and lawmakers heard testimony from multiple people both for and against the proposal.
Boone County Clerk Julie Bliss told the committee that there would be significant upfront costs for local jurisdictions to implement the change, according to Illinois Capitol News, a nonprofit newsroom that covers the state legislature.
Rebecca Ratliff, statewide organizer with FairVote Illinois, said they're still trying to get a handle on how much implementation would cost. That's because voting systems differ by each of the state's 102 counties.
"We know that about 83% of the Illinois population lives in places that are RCV enabled, where basically the equipment is already ready or it would just take a simple upgrade to make it ready," Ratliff said.
But Brian Pryor, deputy director of election operations at the Illinois State Board of Elections, told the committee those systems require additional components or software, according to Illinois Capitol News. He said there are 16 jurisdictions that would need all new equipment to implement ranked choice.
"That's the biggest hurdle that we have," West said. "We have to make sure all the election authorities are able to adopt ranked choice voting. … The state may have to put some money into updating all the systems to ensure we can do ranked choice voting."
The next presidential primary in Illinois is in March 2024, and Ratliff said Fair Vote Illinois hopes ranked choice can be implemented by then.
---
This article is by Kevin Haas. Email him at khaas@rockrivercurrent.com or follow him on Twitter at @KevinMHaas or Instagram @thekevinhaas
Media Feeds All
via Rock River Current https://ift.tt/LST1Dzi
April 13, 2023 at 06:15AM