Whether it's a Chicago mayor bulldozing Bensenville homes to make way for an expanded O'Hare Airport or Arlington Heights poised to land the Bears football team, equilibrium between the city and suburbs is hard to find.
But both candidates for Chicago mayor show atypical unanimity in desiring a good working relationship between the metropolis and surrounding towns.
Former Chicago Public Schools CEO Paul Vallas and Cook County Commissioner Brandon Johnson, an Elgin native, are in a tumultuous runoff to replace outgoing Mayor Lori Lightfoot.
If elected, "my responsibility as mayor of the city of Chicago will be to the people of Chicago, and I also recognize that regionally, we have an incredible opportunity to undergird the entire economic structure of the region. And this is why serving as a Cook County commissioner puts me in a better position to do that," said Johnson, who has worked as a CPS teacher and Chicago Teachers Union organizer.
Vallas anticipates "a great relationship with the suburbs," noting he worked with leaders across the six counties while CPS chief.
"There's so much that we can do collectively – whether it's on public safety, whether it's on transportation, whether it's on economic development. Chicago is part of a vast metropolitan community and we need to understand that and respect that," Vallas said.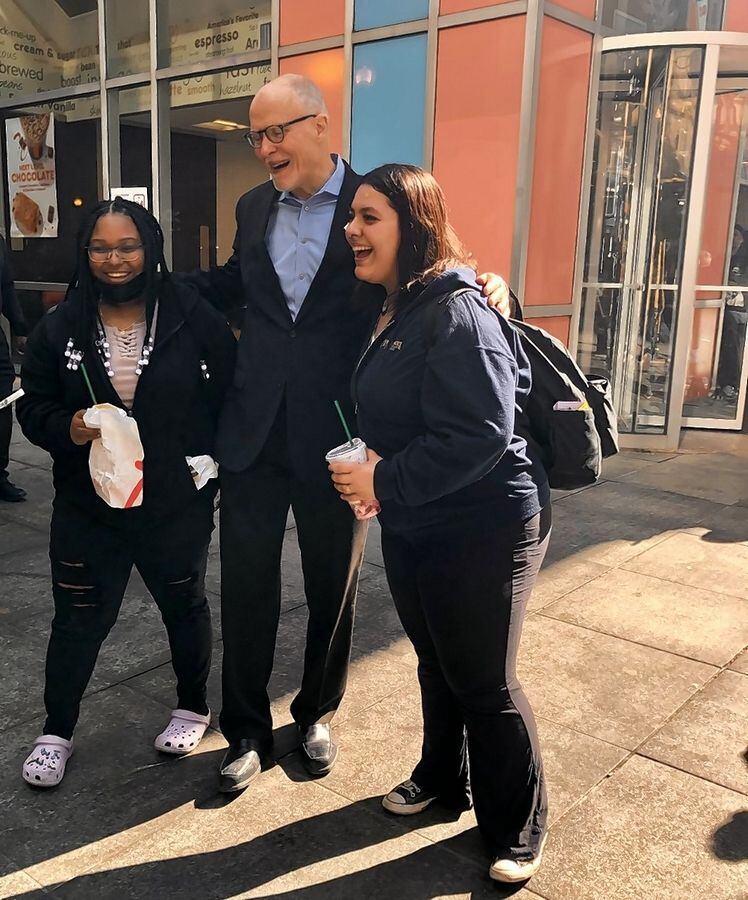 Chicago mayoral candidate Paul Vallas talks with supporters in the Loop March 1. (Marni Pyke/)
While the suburbs can be an afterthought for a Chicago mayor, that's not reciprocated.
Mayor Richard M. Daley's expansion of O'Hare roiled communities surrounding the airport. Court battles ensued and homes in Bensenville were razed for the project.
Mayor Rahm Emanuel was accused of luring corporations such as Mondelez International in Deerfield and McDonald's in Oak Brook to the city, meaning lost jobs and property taxes.
"At the end of the day, where Chicago goes, the suburbs go and vice versa, and I think we have to appreciate that," Vallas said on March 1.
"I've known many of the suburban mayors over the years, not to mention the superintendents. I anticipate a great working relationship with them."
As commissioner, Johnson – an Elgin High School alum – represents Chicago and nearby suburbs such as Forest Park, Oak Park and Bellwood. That experience lends itself to being a collaborative mayor with Cook communities, he said Thursday.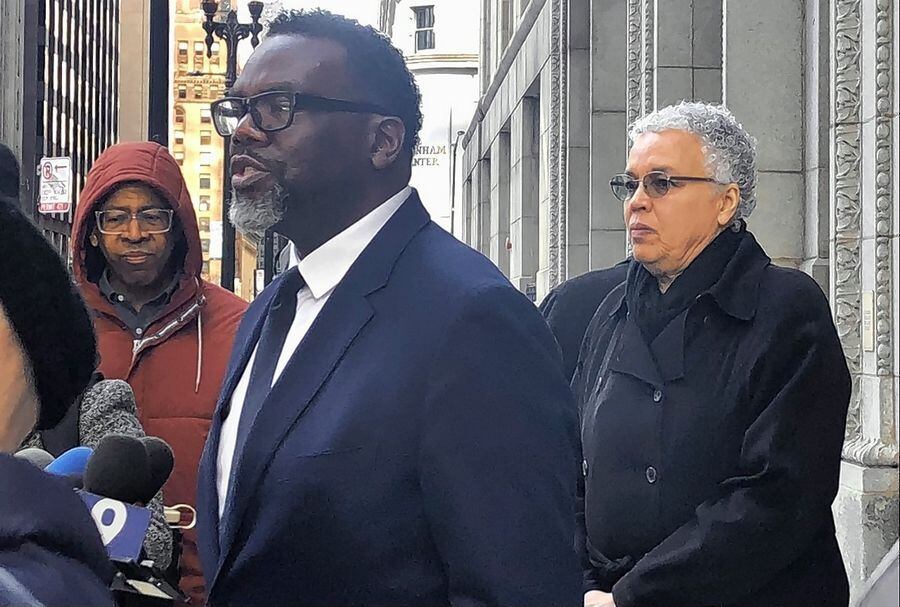 Chicago mayoral candidate Brandon Johnson speaks about Cook County Board Chair Toni Preckwinkle's endorsement outside City Hall. (Marni Pyke/)
"Now, stretching beyond Cook County, because of my upbringing, my ties to the region outside of Cook County, there are relationships that can be built" with the collar counties to provide economic benefit to the metro area, he explained.
Bears stadium
One sore point for Chicago voters in the Feb. 28 election was the pending exodus of the Chicago Bears from Soldier Field to a new stadium in the vacated Arlington Park.
The organization closed on purchasing the property in February, but financing is a sticking point. Team owners would pay for the stadium but insist they need funding assistance for infrastructure to support thousands coming to games and a planned commercial complex.
Legislation giving the Bears property tax breaks is pending in Springfield, but there's no consensus yet.
As mayor, "I'm going to sit down and have a conversation with the Bears, but obviously we have some real infrastructure priorities in the city we need to address," Vallas said. "Doing billion-dollar stadium subsidies is not high on my list and certainly not something I consider to be a priority."
Johnson wants the Bears to stay. "Who doesn't remember the '85 Bears? One of the greatest teams of all time?"
If elected, he plans to meet with the ownership and seek common ground although "I also recognize that I have a fiduciary responsibility to protect the interests of the taxpayers."
Roots
Johnson may be running for Chicago mayor, but his roots are in the suburbs. He grew up in a family of 10 in Elgin and jokes how having one bathroom sharpened his negotiating skills.
"I'm very proud of the working-class upbringing I experienced in Elgin," he said. "And I'm very much proud of the diversity that I benefited from. Growing up in Elgin, it wasn't just that we had multiple cultures, but we had multiple cultures in one neighborhood.
"Chicago is a global city, but it's quite stratified. I grew up around Black folks, white folks, Asians, Mexicans, Puerto Ricans. It was an incredible, dynamic upbringing that really prepared me for this moment."
He remembers "performances at the Hemmens (Cultural Center), trips to the Gail Borden Library," and playing Little League Baseball where his Pirates team made it to the Hamm's Tournament. "It didn't work out that well for us … but it was an honor to be there."
Johnson, who also has degrees from Aurora University, gave a shoutout to retired Elgin High School teacher Gordon Whiting, who "made social studies come alive for me."
He moved to Chicago while in his 20s and lives in the Austin community with his wife and three children.
Vallas, meanwhile, hails from Chicago's Roseland neighborhood on the South Side. His grandparents were Greek immigrants.
"Given the fact that my family is 100% Greek, we had to open up a restaurant because the Greek gene mandates that we open up a restaurant," Vallas told the Chicago Sun-Times. "We joked that my dad wanted to spend more time with his family, so he opened the restaurant so we were working together seven days a week."
When he graduated from Fenger Academy High School, Vallas attended Moraine Valley Community College in the South suburbs and Western Illinois University.
Vallas was Chicago's budget director before taking over at CPS, where he worked from 1995 to 2001. He has managed school systems in Philadelphia, New Orleans and Connecticut.
Vallas lives in the Bridgeport neighborhood with his wife. His son, Mark, died in 2018 as a result of opioid abuse and his other adult sons, Gus and Paul Jr., are public safety first responders.
"We're really a family of public servants," Vallas told the Sun-Times, noting his circle includes veterans, teachers and firefighters.
Tax plans
Johnson's original budget plan for the city calls for "tax fairness and economic justice" that he says would eliminate the deficit without raising property taxes. Items included a controversial Metra city surcharge expected to raise $40 million from suburbanites, a head tax on large companies that perform 50% or more of work in Chicago, and a hotel accommodations tax.
The Metra tax has been eliminated, Johnson said, because the plan "is a living document."
"If there's a particular revenue idea that people don't want, that's why I'm demonstrating now that 'look, we can eliminate that one, but you're going to have to help me find that amount of money so we can reduce the economic stresses that are forcing families out.'"
He blames Vallas for the city's financial straits and warns his opponent would raise property taxes.
Vallas has retorted that Johnson "still has to explain his so-called tax-the-rich plan that doesn't look like a tax-the-rich plan to me when you're talking about head taxes or taxes on small businesses … or you're talking about things like raising the hotel-motel tax on an industry that's been pummeled by COVID-19. That's not a tax-the-rich plan," he said. "That's a 'let's destroy Chicago's economy plan.'"
Media Feeds All
via Shaw Media Local https://ift.tt/sZxgQUI
March 12, 2023 at 01:05PM