Sign up here for the 2023 IARF Advocacy Day! Please make sure to choose a Legislative Champion from your agency who will be responsible for scheduling meetings in Springfield with legislators – IARF is here for any assistance needed! **Note: Please ensure to list the champion as the registration contact during sign up and then add all attendees for the organization.
Event Information
IARF Advocacy Day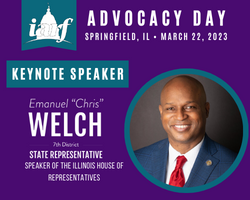 March 22, 2023
Morning Sessions: 10:00 am – 12:00 pm 
Memorial Learning Center (MLC) Room 2A 2nd Floor – 228 West Miller Street – Springfield, IL 62702 (Parking & Driving Directions) – Light snacks and beverages will be served
Afternoon Advocacy: 12:00 pm – 3:00 pm
Illinois State Capitol – 401 S. 2nd Street – Springfield, IL 62701
Shuttle Service from MLC to the Statehouse will be provided during the afternoon!
via IARF https://web.iarf.org
March 10, 2023 at 11:13AM