OLD IRVING PARK — Despite multiple investigations into his conduct and media scrutiny, Ald. Jim Gardiner (45th) has not stopped intimidating those who oppose him, his challengers say.
Megan Mathias, an attorney and Old Irving Park resident running against Gardiner, held a press conference Wednesday calling out the alderman's recent behavior while campaigning.
Over the weekend, the alderman approached volunteers with the United Northwest Side political group, who were distributing door knockers blasting Gardiner and his record. Gardiner, who was with his kids in a stroller, began filming the group, said one volunteer who asked to be anonymous for fear of retaliation.
When volunteers got closer and asked why he was filming, the alderman said, "Please get away from me. My kids are here. You're threatening me," according to a video shared with Block Club.
"It was incredibly creepy to be out, canvassing and look up and see him there filming us," the volunteer said.
Late last year, video surfaced of the alderman confronting candidate Marija Tomic's campaign volunteers as they gathered signatures from Norwood Park residents. The incident, caught on video, is being probed by the city's top watchdog after the Chicago Board of Ethics unanimously voted for the investigation.
Mathias' volunteers said they have not encountered any harassment, but said some constituents said they're afraid to put up signs for Gardiner's opponents, fearing retaliation.
Mathias owns her own law firm and has represented victims of domestic violence and sexual violence, which includes stalking and harassment, she said.
"I've spent the majority of my 20-year career as an attorney fighting bullies," Mathias said. "I'm running to put a stop to this abuse of power and this harassment of our neighbors and our residents and to put a stop to that kind of leadership the impact on our neighborhood."
At the press conference, Mathias referenced the trouble Gardiner has faced since he took office in 2019.
He faces multiple lawsuits and scandals after allegations he withheld ward services from critics, used foul language to describe women and retaliated against critics. The FBI, the Chicago Board of Ethics, the Circuit Court Clerk's Office and the Office of the Inspector General have launched investigations into Gardiner's conduct.
Some constituents and council members have called on Gardiner to resign amid the controversies. The alderman had order of protection taken out against him in 2017 by a former girlfriend.
Gardiner, who was previously the 45th Ward Committee person for the Cook County Democratic Party, was stripped of all his committees and formally reprimanded by the party in 2021 following the accusations.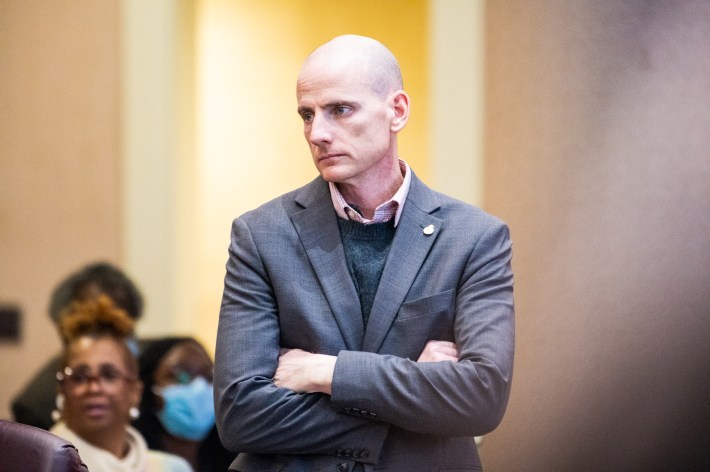 Credit: Colin Boyle/Block Club ChicagoAld. James M. Gardiner (45th) at a City Council meeting on Feb. 1, 2023.
Northwest Side resident Barbara Murphy also shared her experience with Gardiner at the news conference.
In 2021, CBS 2 reported that Gardiner rejected a parking permit request from Murphy after she criticized him on Facebook. He denied this claim, but documents showed he could have requested the parking permit if he wanted to, according to CBS 2.
"We have neighbors that are afraid to put signs up because of retaliation," Murphy said Wednesday. "I really hope folks consider that Alderman Gardiner does have a history of abuse of power and retaliation against folks that don't agree with him before they vote."
In depositions made public last month, a former staffer said the alderman went out of his way to silence opponents and obsessed over critical comments on his ward's Facebook page.
Texts between Gardiner and his former aide from 2019 also revealed how he used his aldermanic influence to send city inspectors after critics, including business owners.
Gardiner denied this in his own deposition. His campaign claims he is the victim of a "multi-layered campaign of political harassment, misinformation and intimidation by people unwilling to accept the defeat of the previous administration four years ago."
Gardiner and his campaign did not respond to requests for comment about Mathias' recent statements and recent harassment allegations. He previously said he is a "dedicated public servant committed to making Chicago work for all of its residents."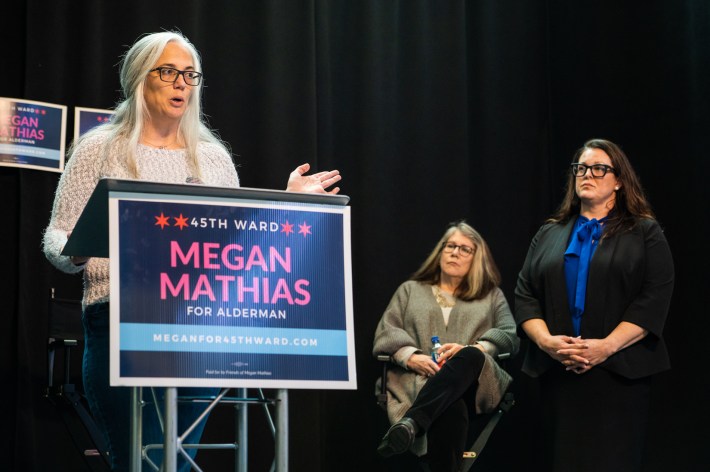 Credit: Colin Boyle/Block Club ChicagoBarbara Murphy speaks as Megan Mathias, 45th Ward aldermanic candidate, called out Ald. James M. Gardiner (45th)'s alleged abuse of power and retaliation tactics on Feb. 15, 2023.
Mathias, who was endorsed this week by the Tribune's editorial board, said she is committed to serving all constituents of the ward and wants residents to feel empowered to speak freely — whether or not she agrees with them.
"Gardiner's behavior should not be tolerated," Mathias said. "We're here to call attention to it … We also call upon the individuals and organizations that have supported him to stand with the victims of his harassment and unequivocally condemn Gardiner's behavior."
Mathias is one of five challengers hoping to unseat the embattled alderman Feb. 28. The other candidates are Ana Santoyo, a longtime activist and library page; longtime organizer and historian Susanna Ernst; financial consultant Tomic and business owner and community organizer James Suh.
Other candidates also have spoken out about his scandals and alleged retaliation tactics, with some saying he's not fit for office.
The candidates squared off at a debate earlier this month, where the alderman defended his record.
If no candidate receives at least 50 percent of the vote, the top two finishers will go to a runoff April 4. Early voting has already begun.
Subscribe to Block Club Chicago, an independent, 501(c)(3), journalist-run newsroom. Every dime we make funds reporting from Chicago's neighborhoods.
Click here to support Block Club with a tax-deductible donation. 
Thanks for subscribing to Block Club Chicago, an independent, 501(c)(3), journalist-run newsroom. Every dime we make funds reporting from Chicago's neighborhoods. Click here to support Block Club with a tax-deductible donation.
Listen to "It's All Good: A Block Club Chicago Podcast":
Ino Saves New
via rk2's favorite articles on Inoreader https://ift.tt/7sMlS3A
February 16, 2023 at 10:40PM