CHICAGO — As Chicagoans face the daunting prospect of selecting from nine candidates in this month's mayoral race, a North Side alderperson wants to explore changing how the city votes in local elections.
Ald. Matt Martin (47th) introduced a resolution to City Council last week calling for a hearing to discuss an increasingly popular idea: ranked choice voting.
Ranked choice voting allows voters to list candidates in order of preference, instead of selecting just one potential winner.
Candidates still must receive 50 percent of the vote to win the election under the system. But if they fall short of that threshold, the candidate in last place is eliminated, with voters' additional choices then redistributed to other candidates.
The process continues until one candidate gets more than 50 percent of the vote and wins the election.
"If no one has a majority, then the candidate with the fewest first choice votes is eliminated," said Andrew Szilva, director of Fair Vote Illinois, a nonprofit which advocates for ranked choice voting in the state. "And anyone who voted for them as their first choice, has their vote goes to their next choice instead. And then we recount the votes."
Ranked choice voting has grown in popularity in recent years in many cities and a few states. New York, San Francisco, Minneapolis and suburban Evanston use the system in their local elections.
There could be numerous benefits to adopting the system in Chicago, especially because the city often sees heavily contested mayoral and aldermanic races, Martin said.
In addition to the crowded mayoral field, some wards have almost a dozen aldermanic candidates.
Under ranked choice voting, Chicagoans can think less about voting strategically, where they may prefer one candidate but vote for another they believe has a greater chance of winning, Martin said.
"They can vote for the person, rank them their number one, who they are most excited about. But then if there's a different person who they would also be excited about, albeit a little less, they can list them as number two," said Martin, who is unopposed in the Feb. 28 election. "So we'd have fewer situations at the end of the day of folks who aren't excited about the only choice they have at the ballot box."
Supporters say ranked choice voting could also help the city avoid runoff elections, potentially saving millions of dollars.
Reform For Illinois executive director Alisa Kaplan, whose group has advocated for ranked choice voting across the state, said it is a more democratic way to elect local leaders. She cited the first round of the 2019 Chicago mayoral election, when Lori Lightfoot and Toni Preckwinkle received only about 33 percent of the vote to advance to a runoff.
"That means that more than 60 percent of the voters didn't vote for them. Maybe they would have chosen them as second or third choice votes if they had had the opportunity, but we just don't know, we don't have that information," Kaplan said. "So you get the possibility … that you're going to get an undemocratic result, you're going to get a winner who doesn't actually represent what the majority wants."
Lightfoot beat Preckwinkle in the runoff, garnering nearly 74 percent of that vote.
Other benefits of ranked choice voting include expanding the diversity of candidates who run and are taken seriously as contenders, Kaplan said.
"Because women, people of color are often considered less conventionally winning candidates, they might be more outsider candidates, or they might start out with less political connections or less money, that people might not see them as automatic front runners," Kaplan said. "And with rank choice voting … they have more freedom to still express their preferences for a candidate like that, because they won't be worried that 'Well, if that candidate doesn't win, my vote is wasted.'"
Kaplan and Szilva said there would be some upfront costs if Chicago adopts ranked choice voting, including software upgrades and educational campaigns for voters and election staff. But both argue in the long run, the system would save the city — and candidates — money.
The current system of voting Kaplan said, is "not only expensive, but it's burdensome, it's burdensome on candidates who have to essentially run two elections, and that can make things more expensive and God knows our campaigns are expensive enough."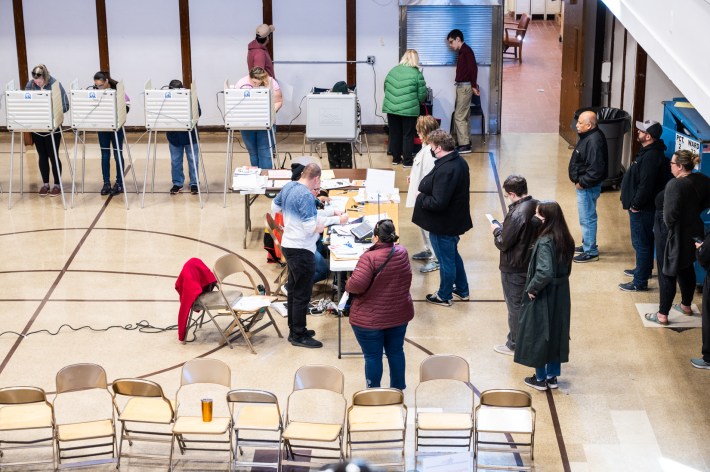 Martin's resolution was swiftly sent to the City Council's Rules Committee, where ordinances and other measures are often diverted to hold them up or kill them entirely.
But Martin said he's optimistic the resolution can move forward and reach the full City Council to at least start a conversation about the issue.
He said a subject matter hearing is just the first step in the process, where alderpeople and the public can hear from experts about how ranked choice voting could work in Chicago.
"There's not one way to do ranked choice voting, and it's important to have experts who have looked at different cities and how they've adopted ranked choice voting to weigh in with their opinion," Martin said. "Early in the next term, we can talk about what an actual ordinance looks like. But let's not put the cart before the horse. Let's start with a fulsome conversation in the committee."
Subscribe to Block Club Chicago, an independent, 501(c)(3), journalist-run newsroom. Every dime we make funds reporting from Chicago's neighborhoods.
Click here to support Block Club with a tax-deductible donation. 
Thanks for subscribing to Block Club Chicago, an independent, 501(c)(3), journalist-run newsroom. Every dime we make funds reporting from Chicago's neighborhoods. Click here to support Block Club with a tax-deductible donation.
Listen to "The Ballot: A Block Club Chicago Podcast":
Ino Saves New
via rk2's favorite articles on Inoreader https://ift.tt/scGwXny
February 6, 2023 at 09:33AM