WEST LAWN — A Far Southwest Side alderperson who came into office with backing from Mike Madigan is facing a reelection battle against an organizer who recently worked in the former House speaker's sphere of influence.
Ald. Silvana Tabares (23rd) and Eddie Guillen will face off for the 23rd Ward City Council seat representing parts of West Lawn, Garfield Ridge and Archer Heights. 
Tabares was the handpicked successor in 2018 for former Ald. Michael Zalewski, backed by Madigan and Zalewski himself as he retired from office. Guillen briefly worked for Madigan's powerful 13th Ward Democrats and was chief of staff for Rep. Angelica Guerrero-Cuellar, who took Madigan's House seat, the Tribune reported.
The election is Feb. 28.
Here's more information on each candidate: 
Eddie Guillen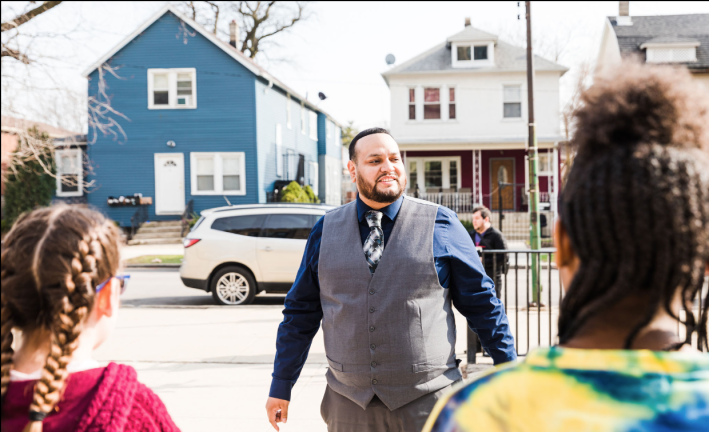 Guillen joined the race in November. He grew up in the ward and has lived in West Lawn for the past 16 years with his wife, who he met while attending Hubbard High School. 
Guillen founded his business Magic Uplifting Inc., 4120 W. 63rd St., about eight years ago. The company provides lighting, photo booths and other decorations for events.
Through Guillen's volunteer work with various nonprofits and his role working with Guerrero-Cuellar, Guillen said he's gained a solid understanding of how state and federal funding is distributed. If elected, he plans to continue collaborating with legislators and local organizations to bring more resources to the ward. 
In the past eight years, his company has donated thousands of book bags with school supplies and holiday gifts to families in the community, according to his website. Guillen has also helped organize community cleanups, youth events and a snow removal program for seniors, he said. 
One of Guillen's top priorities is providing his constituents more opportunities to participate in city government, he said. 
If elected, Guillen plans to extend the ward office's hours past 5 p.m. and will host monthly meetings on weekends so people who work can still be engaged in the community. 
"A lot of the people I've been talking to, they've lost trust in government and they're angry because they feel like politicians say the same things over and over," Guillen said. "We need to have a more transparent ward office that consistently provides our constituents with services." 
Guillen plans to create a program where ward residents can access free services for snow removal, grafitti removal and tree trimming, he said. He also wants to attract more economic development to the ward and provide more programs for young people, including vocational training. 
"To combat the issues we have in our community, we have to start block by block with a neighbor-centered approach," Guillen said. "That starts with communicating with your neighbors, getting people registered to vote and making sure they know the resources the city has available so that we can all stand united." 
Guillen told the Tribune his ties to Madigan and his allies did not influence his decision to run for the seat. Guerrero-Cuellar is the lone donor to Guillen's campaign so far, giving nearly $22,000 since August, campaign finance records show.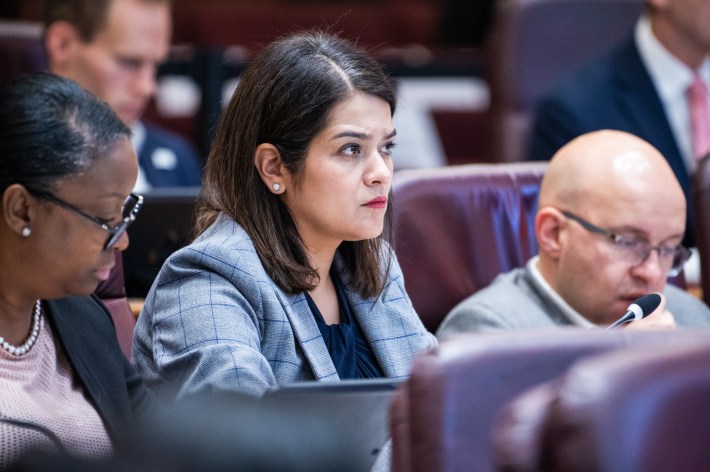 Silvana Tabares
Tabares became alderperson in July 2018 when then-Mayor Rahm Emanuel appointed her to Zalewski's seat with support from Madigan, with who she's since fallen out.
She easily won a full term in 2019 against private investigator Paulino Villarreal, garnering more than 76 percent of the vote and securing backing from the Chicago Teachers Union, among other labor organizations.
Tabares said her top priorities are making sure property taxes are affordable and improving public safety by supporting the police, while continuing to provide reliable city services to constituents. 
Her office has also started cleaning up viaducts that have been "neglected for decades" and commissioning new murals, she said. She plans to continue these efforts to beautify the neighborhood if reelected. A Southwest Side mom criticized that move in August, saying the power wash dispersed chips of toxic lead paint in the area, the Sun-Times reported.
As a full-time alderperson, Tabares said she frequently interacts with her constituents and hosts weekly events, she said. She was one of 17 city council members to refuse a raise in 2022.
"We want to make sure residents are getting what they pay taxes for by delivering services like trash collection and fixing infrastructure issues in the ward, that's our number one," Tabares said. "And then just being their advocate at city hall, standing up for public safety and for seniors." 
Tabares has fervently supported Chicago police. She joined three other alderpeople to back ordinances that would have scrapped the city's police oversight agency and made it harder for the department to cancel days off for officers.
The Fraternal Order of Police gave Tabares' campaign nearly $60,000 in 2022, campaign records show.
Tabares said she maintains a good relationship with the commander of the ward's police district by frequently attending meetings about safety in the ward so she can address constituents' concerns and questions. It's important police have access to technology and other resources, she said. 
"I'm proud to have used my district's infrastructure funds to invest in cameras that have been so useful in deterring drag racers and identifying violent offenders in the ward," Tabares said. "We just want to make sure our police department is well-staffed and make sure we're doing everything we can to recruit and retain police officers."  
Tabares said she's proud to have supported seniors throughout her time as alderperson, by voting against increasing property taxes for the elderly and ensuring they could access COVID-19 vaccines in the ward. 
She has also has supported property tax relief for small businesses and hopes to attract more businesses to the ward if reelected, she said. 
"We really want to work out a system where we're encouraging businesses to open in wards like ours that are located on the edge of the city, so that we can make ourselves more competitive with the surrounding suburbs," Tabares said. 
Tabares was born in Little Village and grew up in Brighton Park. She lives in Garfield Ridge with her husband and son, according to her website.
Prior to representing the 23rd Ward, Tabares served as state representative of the 21st district from 2013-2018. In this role, she helped pass legislation that provided more funding for public school and greater support for first responders, according to her website.
Subscribe to Block Club Chicago, an independent, 501(c)(3), journalist-run newsroom. Every dime we make funds reporting from Chicago's neighborhoods.
Click here to support Block Club with a tax-deductible donation. 
Thanks for subscribing to Block Club Chicago, an independent, 501(c)(3), journalist-run newsroom. Every dime we make funds reporting from Chicago's neighborhoods. Click here to support Block Club with a tax-deductible donation.
Listen to "It's All Good: A Block Club Chicago Podcast":
Chi,Feeds,News,Region: Chicago,City: Chicago
via Block Club Chicago https://ift.tt/F6Az7Kb
January 25, 2023 at 08:13AM