CHICAGO (CBS) — Mayor Lori Lightfoot stood by her record and touted her triumphs at the first televised Chicago mayoral debate – while other candidates questioned her claims and said her policies had failed, particularly when it comes to crime.
Mayor Lightfoot and her eight opponents – community activist Ja'Mal Green, Ald. Sophia King (4th), state Rep. Kam Buckner (D-Chicago), businessman Willie Wilson, former Chicago Public Schools Chief Executive Officer Paul Vallas, U.S. Rep. Jesus "Chuy" Garcia (D-Illinois), Ald. Roderick Sawyer (6th), and Cook County Commissioner Brandon Johnson (1st) – all took part in the debate.
ABC 7, the League of Women Voters, and Univision Chicago sponsored the debate. ABC 7 anchor Judy Hsu moderated, and was joined by station political reporter Craig Wall, and Univision Chicago anchor Enrique Rodriguez.
With little more than a month until the mayoral election, this was the time for each candidate to show Chicago voters why they deserve the city's top job. They didn't hold back – pointing fingers on what each candidate hasn't done.
Mayor Lightfoot was not the only target of such criticism. Rep. Garcia's record in Washington also came up.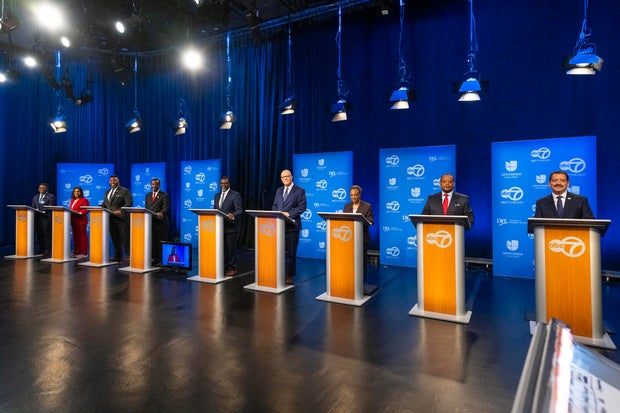 The crisis of crime in Chicago
The first three questions to candidates were unsurprisingly all about public safety on the streets and the Chicago Transit Authority system. Leading off the debate, Wall noted that murders and shootings have declined in the past year, but are still up from three years ago – and carjackings and random attacks are also a major concern. He asked the candidates their top priority in making people safer.
The candidates had a variety of perspectives when it came to the best way to fight and prevent crime. Green said he would focus on the root causes and conditions that lead to crime by investing in neighborhoods, fostering the development of thriving business cores, and providing young people with apprenticeships and other opportunities. Johnson also said tough-on-crime policies have failed, and called for investment in youth employment and mental health services.
King said the number one request from constituents in her South Side ward is a stronger police presence. Buckner called for allowing police officers to do their jobs, but in a "constitutional way," while Wilson called for taking the "handcuffs" off policing and expanding the officer retirement age. Vallas called for a return to a community policing strategy with officers on every beat and on CTA platforms and trains. Garcia called for a focus on building stronger trust between community residents and police.
Lightfoot said her administration had made tremendous progress in fighting crime – while acknowledging there is work to be done.
"Of course, my primary goal is to make sure that Chicago is the safest big city in the country – and we've made progress year over year, ending down 14 percent in homicides, 20 percent in shootings," Lightfoot said. "But I recognize that people in the city don't feel safe, so we've got to keep working on the strategy that we know is making progress – taking guns out of the hands of criminals; holding violent, dangerous people accountable; and making sure that we hire more police."
Green was the first to take the mayor to task for her claims about progress in fighting crime.
"I'm trying to figure out – how do we continue to allow the mayor to lie about the numbers? We are not down when it comes to before her administration started. The year before last, it was a 25-year high," Green said. "So of course, we're going to have some sort of a decrease. We've had 700-plus homicides for three years in a row under the mayor, and she has not been connected to the neighborhoods or to what's going on on the ground."
A question about reliable access to transportation led to many of the candidates launching into polemics about crime on the transit system. Wilson called for armed security on the CTA – "bus, 'L,' whole nine yards."
"This particular administration now, she feels safe – the mayor feels safe – and the people are afraid," said Wilson. "If you've got 91 police officers guiding her, what about the people?"
"The truth of the matter is if you have a transportation that the workers don't feel safe, the riders don't feel safe – it means that we have to make sure that we're providing critical investments," added Johnson. "To be a real world-class city, you have to have a transportation system that works for everyone."
Vallas said the CTA has failed across the board when it comes to everything from access to hygiene. He also emphasized that ridership per day is down about half a million.
"Don't blame it on COVID. Blame it on crime. Blame it on the perception that the CTA is unsafe," Vallas said. He added that the private security guards now deployed on the CTA are insufficient – and more police officers should be brought onto the CTA instead.
"Mr. Vallas clearly hasn't ridden the CTA, or the bus or the rail in a very long time – because we do have uniformed officers on the CTA – bus and rail – and we've increased them steadily over the course of the last year, which is why we're seeing violent crime go down," Lightfoot fired back at that comment.
The candidates were also asked about crime specifically targeting workers such as food vendors and U.S. Postal Service carriers on the job, and the crisis of youth mental health.  
The migrant influx
Another hot topic was the influx of migrants to Chicago. The city is set to receive $20 million from the State of Illinois to support asylum seekers and fund emergency services – less than half of the sum for which Mayor Lightfoot asked. Candidates were asked how they would get more financial support for migrants without impacting residents.
Specifically addressed was a plan to house migrants at the old Wadsworth Elementary School in Woodlawn – which CBS 2's Lauren Victory has been covering extensively, and which has drawn consternation from some neighbors who say they were not consulted in the process before the plan was called a done deal.
Sawyer emphasized he believed the issue was that Woodlawn residents "felt there was no engagement with them," not that they did not want to assist migrants as he believes all Chicagoans do.
"They just felt that if they're going to be spending this type of money here for the residents that were coming from the South, they also should be doing something, at least, to identify and work with the local residents," Sawyer said.
Garcia noted that in Congress, he has been working to obtain work authorizations that asylum seekers need. He also said in 1985, he stood with the late Mayor Harold Washington as the mayor declared Chicago the first welcoming city.
"Part of the problem in Chicago has been that local communities have not been engaged, and that will always cause friction," Garcia said. "I vow to continue working to reimburse municipalities across the country that are receiving these migrants."
King noted that her 4th Ward was one of the first to welcome migrants into the city – but also welcomed people experiencing homelessness during the height of the COVID-19 pandemic. She emphasized a need to welcome everyone, across the board.
But it was Vallas who drew a rebuke from Mayor Lightfoot for his remarks on the matter.
"The first thing is to stop baiting other governors and stop grandstanding. I mean, you can't basically grandstand and say, 'We're a sanctuary city – we're inviting everybody in,' and then not have a plan when people do come in," Vallas said.
He reached back to his time as Chicago Public Schools CEO – from 1995 until 2001 – saying he and then-Chicago School Board President Gery Chico gladly accepted all children regardless of background or origin, supported their families, and provided services for them. But he said they did it "in kind of a natural way, without having press conferences and without basically making them the focus."
"We can comfortably integrate individuals who come back into the city. But when you're grandstanding, you're promoting, you're going into communities, and you're suddenly just dictating to them that you're going to provide these shelters, you know, we have to have a plan, first of all, and we have to integrate them into the services," Vallas said.
Lightfoot fired back: "I think I just heard Paul Vallas say that we should not call out racist, xenophobic practices of governors like Greg Abbott, who are treating migrants like freight. That may be your idea of a welcoming city. It's not my idea, and it's not the idea of people across the city who understand that we've got to stand up and live our values every single day."
Keeping and attracting businesses
The candidates also sparred over affordable housing – responding to a question from Hsu noting that rent is up 10 percent on average, and many have been priced out of their homes. Vallas called for capping individual property taxes as a way to prevent rent from rising, while Green called for a 10-year tax break for those who develop city-owned vacant land within a year – as well as the development of a public bank. Lightfoot touted her administration's $1 billion commitment to affordable housing, which she said was the largest in the history of the city.
When Mayor Lightfoot touted her success in bringing businesses to the city and keeping them afloat, many of her opponents were quick to say the opposite has been happening.
"Chicago is a great destination for businesses. In the last two years alone, we've seen almost 300 businesses make pro-Chicago decisions – either relocating here from elsewhere – companies like Kellogg and others; national brands – or substantially expanding their footprint in Chicago," Lightfoot said. "This is a great place to come, because we've got great workers, we've got a very diverse economy – and people know that they've got me as a mayor who is pro-Chicago business."
But Garcia said crime is driving business away.
"Because of Chicago's violence problem and crime, many businesses are going to other cities across the South," he said. "We can stop the bleeding by making Chicago a safer city."
Buckner said Chicago is "bleeding businesses."
"We saw it with Boeing. We're seeing it with the Bears. We've seen it with mom-and-pop shops around this city. We need real leadership that can inspire people and have real conversations with business owners about why to be here. We need stability, civility, and predictability in this space," he said. "We also need safety. As I said earlier, I represent the Magnificent Mile in the General Assembly – and the mayor told the shop owners there that it was their fault that what happened to them in 2020 happened."
Vallas also said safety is a major problem, and also said property tax reassessments to the tune of 50, 60, or 70 percent increases have been devastating.
The candidates were also questioned on then opioid crisis, and ways to budget for city needs and whether they would raise taxes.
The future of the Bears
In a lighting round, the candidates were asked what, if anything, they would do to try to keep the Bears in Chicago. Just this week, new Bears President and Chief Executive Officer Kevin Warren made it clear he's ready to lead the team's move out of the city and into a new stadium in Arlington Heights.
"We're not done yet. We're not letting the Bears go. We're going to fight, fight, fight to keep them at Soldier Field," Mayor Lightfoot said "We've got a plan that we presented. I think they're interested. We're going to keep talking."
"We definitely need to keep the Bears here, and they haven't signed that deal yet," said King, whose ward includes Soldier Field. But King said even if the Bears move, they need state funds – which Buckner said is something that should not happen.
But some of the candidates were less than sanguine about the Bears staying in Chicago even being a possibility at this point.
"I think the Arlington deal is too profitable. We blew it. We had an opportunity to negotiate with them. We didn't," Vallas said. "You can't insult them and then bring them back to the negotiating table."
"I'm a fan," said Sawyer. "But unless you can put 20,000 to 30,000 additional people in those stands, I don't think it can work – sorry."
The election is coming up on Feb. 28.
Region: Chicago,Local,City: Chicago
via Syndicated Local – CBS Chicago https://ift.tt/DFsjNwq
January 19, 2023 at 10:08PM