The village of Oswego's newest residential development will include a 480-unit apartment complex, up to 164 single family homes, and a future Metra commuter rail station.
The Village Board approved a development agreement for Tuscany Station in a 5-1 vote at a Jan. 10. Trustee Brian Thomas cast the lone no vote.
Initial plans for the backwards L-shaped, 100 acre parcel at the southwest corner of Orchard Road and Tuscany Trail were first presented to the village in 2014. The project is now being developed by Abby Properties, LLC. of Yorkville.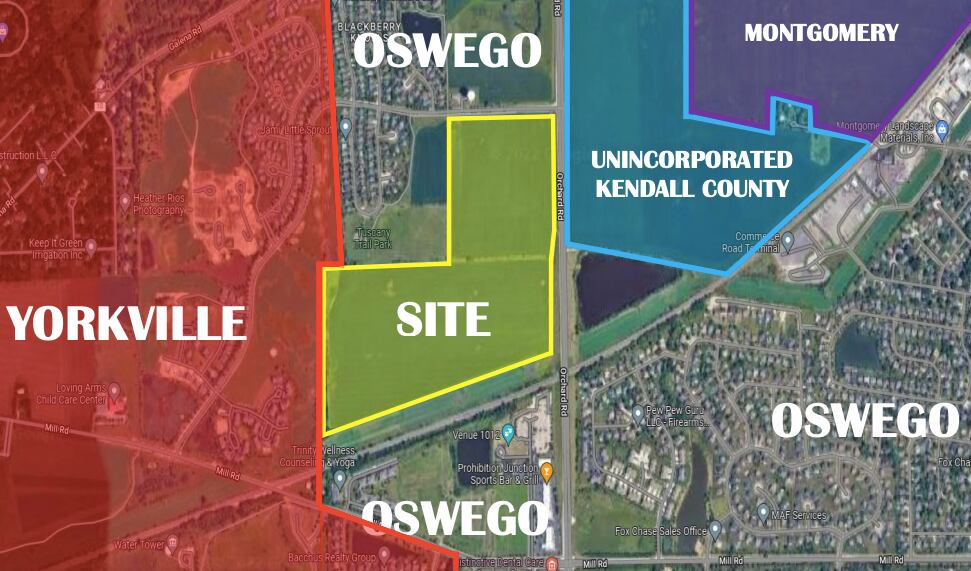 Site map for Tuscany Station, a residential development and possible future Metra commuter rail station at the southwest corner of Orchard Road and Tuscany Trail in Oswego. (Photo Provided by the Village of Os/)
Apartments will comprise the first phase of the project.
Developers will construct 13 three-story apartment buildings on 39 acres in the northwest portion of the lot that will house 156 one-bedroom units and 324 two-bedroom units.
Attorney Vince Rosanova, representing the developers, told the board that rents will range from $1,600 to $1,800 per month for one-bedroom units, and $2,100 to $2,400 for two-bedroom units. He said the target income range for renters will be between $57,000 to $87,000.
Plans also designate 7.8 acres for commercial use in the northeast corner of the site along Orchard Road, 18.78 acres of village property on the southern portion for a parking lot to serve a Metra station, 2.2 acres for a park and 30-acres to the west for future single-family residential development.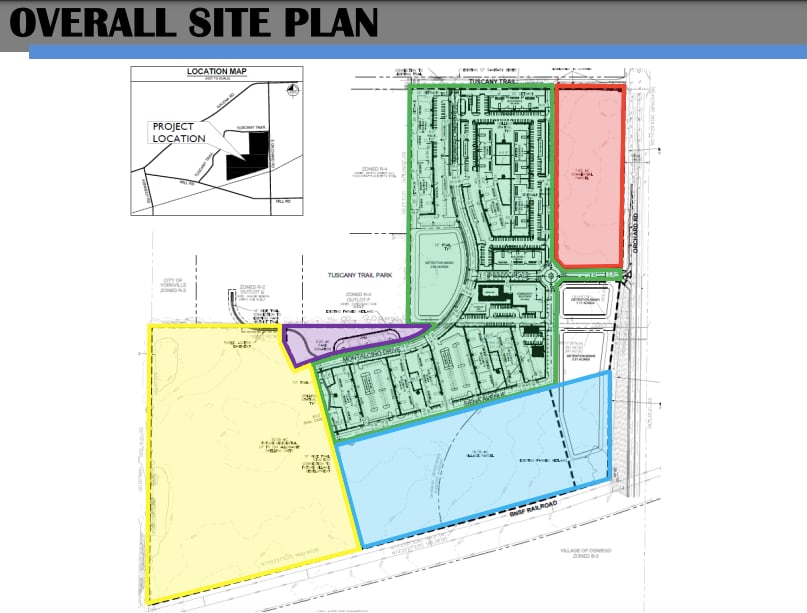 Site plan for Tuscany Station development. Green signifies apartments, the red section will be commercial business, purple signifies park land, the blue section is village owned property and the yellow is future single-family development. (Photo Provided by the Village of Os/)
The land is currently zoned M-1 (manufacturing) and R-1 (single-family residential), and developers requested rezoning the land to R-4 (general residential) and B-3 (commercial), to allow for the proposed developments.
The rezoning was approved in the same vote as the development agreement Jan. 10.
Board member Kit Kuhrt questioned how many single family homes will be constructed in the development.
Village Administrator Dan Di Santo said the final, approved development agreement includes only the apartment and commercial phase of development and the single-family home portion will be completed in a later phase.
While developers will have to come back for board approval to begin the next phase of construction, the plan approved by the board calls for up to 164 single-family homes.
Rosanova said he expects the first phase of development to begin promptly, starting construction in the spring and having the first buildings and clubhouse built by fall.
Village trustee James Marter II asked about the intended timeline for the future phases of construction.
Developers expect apartments to fill up quickly once they're built, and Rosanova said he assumes developers will be back before the board in the next 12 to 18 months seeking approval for the singe-family homes.
Di Santo said under a previous agreement, the village acquired a 15-acre parcel at the southeast corner of the site for a future Metra site for $2.45 million to be reimbursed through impact fee credits once the land was developed.
Developers have increased the village's lot size to 18.78 acres, which will allow for the construction of up to 1,582 parking spaces, to better align with the future Metra plans and provide additional parking for the village's Venue 1012 outdoor entertainment facility to the south.
Di Santo said the additional 4.78 acres will come at no cost to the village and the $2.45 debt will be paid with just a portion of the estimated $6 million in total impact fees the project would generate for the village.
Developers will construct a traffic signal at the corner of Tuscany Trail and Orchard Road, and a stormwater management area for the village's parcel as part of their development, at no cost to the village.
Rosanova said for the commercial development they are already in conversation with a restaurant, and they will be looking to bring in a small grocer and pharmacy.
The 2.2 acres of park space include a dog park, a small park that will add to the existing Oswegoland Park District owned Tuscany Trail Park, pickle ball courts and plenty of walking and bike paths.
Access to the apartments will be through two streets extending south off of Tuscany Trail called Montalcino Drive to the west and Siena Avenue to the east.
Another access drive called Pienza Place will extend west off of Orchard Road. Access at Pienza Place will be right-turn-only when entering Tuscany Station and exiting onto Orchard Road.
A roundabout will be constructed near the center of the first phase of development at what will be the intersection of Pienza Place and Siena Avenue.
A clubhouse will be centrally located on the site with indoor and outdoor pools, a playground, fitness center, pet care center and more amenities.
Kuhrt said with all the development that's going on in Montgomery, with warehouses reopening and others being built there will be a growing need for apartments in the area.
"I believe there's going to be a need for housing and this development here is going to be perfect for it," Kuhrt said.
After the vote, trustee Brian Thomas clashed with Jennifer Jones-Sinnot, a board member, and Village President Troy Parlier.
"This is going to be on you as a board," Thomas said, referring to the project and pointing an index finger outwards. "As I told you before I don't want any ill-will for what your decisions are, I want this to be one of the best decisions Oswego has ever made, but these developments are too fast and too soon.
"What's the urgency for putting these through right now?" Thomas continued. "I don't get it. Why can't we hit the pause button?"
"Brian, you made a motion back in 2020 when I wasn't even on this board and you supported Tuscany," Jones-Sinnot said. "I do not like the fact that you've sat there on numerous occasions and pointed your finger at us. We're all adults."
Jones-Sinnot said she has been very involved with the community as she lives on the same side of the village. She said she has spent years hearing the needs of residents and believes people in Oswego are ready for more development and more options.
"I'm not going to put a road block on Orchard Road and not let other people come into this community and experience everything that's here," Jones-Sinnot said. "This is the best hidden community there is."
"I certainly do apologize," Thomas said to Jones-Sinnot. "I should not have done that, it was out of my character."
Parlier said he thinks Tuscany Station will be outstanding for Oswego, emphasizing the revenue it will bring to the school district and village, before addressing Thomas' comments.
"In 2020, Brian, you not only made the motion for this, but you voted yes," Parlier said. "That was you, so you need to go back in the memory banks."
Media Feeds All
via Shaw Media Local https://ift.tt/LPvdzNa
January 16, 2023 at 05:08AM