click to enlarge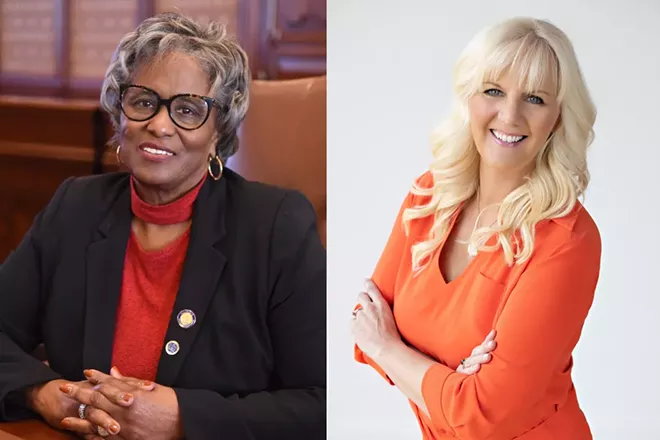 State Sen. Doris Turner, left, and state Rep. Sandy Hamilton, right, who were both appointed to their current positions, are competing for a seat representing the newly reconfigured 48th Senate District.
It's less than a week before the Nov. 8 general election, and state Sen. Doris Turner is pushing back against political ads questioning her honesty and ethics.
The Springfield Democrat's campaign is airing an ad that says state Rep. Sandy Hamilton, R-Springfield, is "lying to you." It says Turner "helped the FBI" put a state employee in jail for crimes in cases that Hamilton's ads have said involved unethical behavior by Turner.
The Turner campaign ad says Hamilton, who is challenging Turner for a four-year term in the newly configured 48th Senate District, wants to "distract you from the fact that she's funded by an anti-abortion extremist who traveled the country working to ban abortion, even in cases of rape or incest."
The candidates are accusing each other of lying, misleading and distorting the other's stances, voting records and decisions as Illinois' most expensive state legislative race this campaign cycle nears its end.
Turner's ads responding to Hamilton's accusations of unethical conduct were followed by another pro-Hamilton ad, this one responding to Turner's response. "You know Doris Turner is lying because her lips are moving," the ad's narrator says.
More than $5 million has been raised so far in the race, with Turner taking in $3.8 million and Hamilton receiving $1.5 million at last count. Much of the candidates' money has come from leaders of their parties and the parties' allies – labor unions for Turner and corporate interests for Hamilton.
"This is a lot of money for a state Senate race," said Alisa Kaplan, executive director of the nonpartisan group Reform for Illinois, which analyzes and summarizes campaign contributions for its Sunshine Database.
"What you're seeing is that Democrats are flush with money, and they're willing to spend it to protect their supermajority," Kaplan told Illinois Times. "The Republicans are trying to grab any seat that they can."
A recent poll by the political newsletter Capitol Fax found Turner and Hamilton's race to be a "dead heat" and "basically anyone's guess."
Both candidates were appointed to their current positions to fill vacancies in 2021, Turner in February and Hamilton in December. The job pays at least $72,906 to represent a district that is home to about 217,000 people. The new district includes most of Springfield on the west, most of Decatur on the east and rural areas in Sangamon, Christian and Macon counties.
Turner, 69, is a retired employee of the Illinois Department of Public Health. She served 10 years on the Sangamon County Board and almost 10 years on the Springfield City Council before her Senate appointment. She is married and the mother of two sons and a daughter, all grown.
Hamilton, 55, is a real estate agent, small-business owner and previously was a volleyball coach and standout high school and college volleyball player at University of Illinois Urbana-Champaign. She is married and the mother of three sons.
Hamilton said she is running to promote lower taxes, a better environment for small businesses and law enforcement, and increased funding for mental health. Turner said she wants to continue to serve the community and has a "record of accomplishment throughout this community."
Campaign mailers from both sides are filling mailboxes throughout the district, and evening TV viewers are seeing back-to-back attack ads in the race, which has been called a toss-up based on previous votes for Democratic and Republican candidates for president, governor and U.S. Senate.
The Turner ad in which she said she worked with the FBI referred to the case of Homewood resident Quinshaunta Golden, former chief of staff for IDPH between 2003 and 2008. Golden was sentenced to an eight-year federal prison term in 2015 after her conviction for taking bribes and kickbacks related to $13 million in grant and contract funds awarded at her discretion and for obstructing justice in a grand jury investigation.
Hamilton criticized Turner in ads for approving hundreds of thousands of grant dollars for nonprofits operated by Leon Dingle Jr. and his wife, Karin, both of Chicago, who later were convicted and sentenced to six and three years in federal prison, respectively.
Turner, who hasn't been charged with any crimes in this or any other cases, testified that she approved the money for the Dingles on orders from Golden, her boss. Instead of the intended purpose of $3.4 million in grants to raise awareness of cancer and HIV in minority communities, the Dingles spent the money on luxury cars, homes, gifts and membership at a yacht club.
In a phone interview, Turner wouldn't comment specifically about other statements by Hamilton's campaign, including allegations that the FBI caught Turner "covering up" a payroll fraud scheme for which her husband, Cecil, and other former Illinois Secretary of State employees were convicted and served time in federal prison.
Doris Turner also wouldn't comment on a case highlighted by Hamilton in which the Illinois executive inspector general in 2014 said Turner "violated her duty" by failing to adequately monitor $110,000 in state grants to the now-closed Tower of Refuge nonprofit in Springfield.
Turner's campaign manager, Dana Stoerger, said Turner cooperated with "all of the investigations."
Turner wouldn't comment on ads by Hamilton's campaigns pointing out late property tax payment fees paid by Doris and Cecil Turner between 1998 and 2019 and liens for unpaid income taxes that eventually were paid.
Turner said Hamilton doesn't want to talk about her own "anti-choice, union-busting" record.
"Instead, she's running these misleading attack ads, which is basically on track with what we've been seeing from extreme, right-wing conservatives throughout the state," Turner said. "These ads try to attribute the illegal activities of bad actors to me."
Turner said she has a "record of accomplishment throughout this entire community" and "championed ethics reform, imposing term limits on legislative leaders and banning ex-legislators from becoming lobbyists right after they leave office."
In her 20 months in the state Senate, she said she has fought for access to affordable health care and prescription drugs and protected the rights of labor unions. She said she "brought back hundreds of millions of dollars to this community – to Springfield, to Decatur."
Turner said she played a key role on the County Board in establishing the current site of the Sangamon County Department of Public Health on Springfield's east side.
Hamilton said her campaign's ads are responding to Turner's distortion of Hamilton's voting record.
"I didn't want to go negative," Hamilton said. "I'm not going to just sit there and take it."
Hamilton said she stands by the content of her ads.
Hamilton said Turner's ads incorrectly portray her as anti-union and willing to jeopardize public employee pensions and senior citizens' access to prescription drugs.
The Turner campaign ad that says Hamilton receives campaign funds from an "anti-abortion extremist" refers to Illinois Senate Minority Leader Dan McConchie, R-Hawthorn Woods.
The ad refers to McConchie's work before being elected to the Senate, when he was a vice president for Washington, D.C.-based Americans United for Life. The ad cites McConchie's support for passage of a Mississippi abortion ban after 20 weeks of pregnancy that was passed and enacted in 2014.
That was before Mississippi's 15-week abortion ban was enacted in 2018. The 2018 law became the basis for the U.S. Supreme Court's June 24 decision to overturn Roe v. Wade.
Hamilton said she is against abortion except to preserve the health of the mother and in cases of rape or incest. A spokeswoman for McConchie wouldn't outline McConchie's views on abortion.
Media Feeds All
via Illinois Times – https://ift.tt/cz3CX6y
November 3, 2022 at 04:18AM