SPRINGFIELD, Ill. – The mother of 17th District Congresswoman Cheri Bustos has died.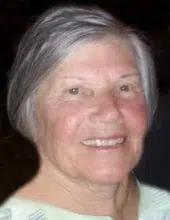 (Butler Funeral Homes)
Ann Callahan was 89 when, according to an obituary from the Congresswoman's office, she passed away Sunday at her Springfield home.
Bustos is one of Ann and Gene Callahan's three children. Gene Callahan was longtime chief of staff to former U.S. Senator Alan Dixon.
Ann Callahan is described in the obituary as "a perpetual optimist who saw the good in everyone."
A former longtime employee of a preschool and later a hospital social worker, Callahan was also described as "nice to EVERYONE," not "a gossip or petty," and if anyone was rude or mean, she would "tell her kids they could learn from that person how not to be."
Bustos' office says the Congresswoman was with her mother when she passed away.
CLICK HERE to read the full obituary. Memorial donations are being accepted by the Springfield Parks Foundation for a bench to be named in Callahan's honor. CLICK HERE to donate, indicating you want the contribution to go to the Ann Callahan bench
Ino Saves New
via rk2's favorite articles on Inoreader https://ift.tt/jCw8sM0
October 31, 2022 at 07:49PM