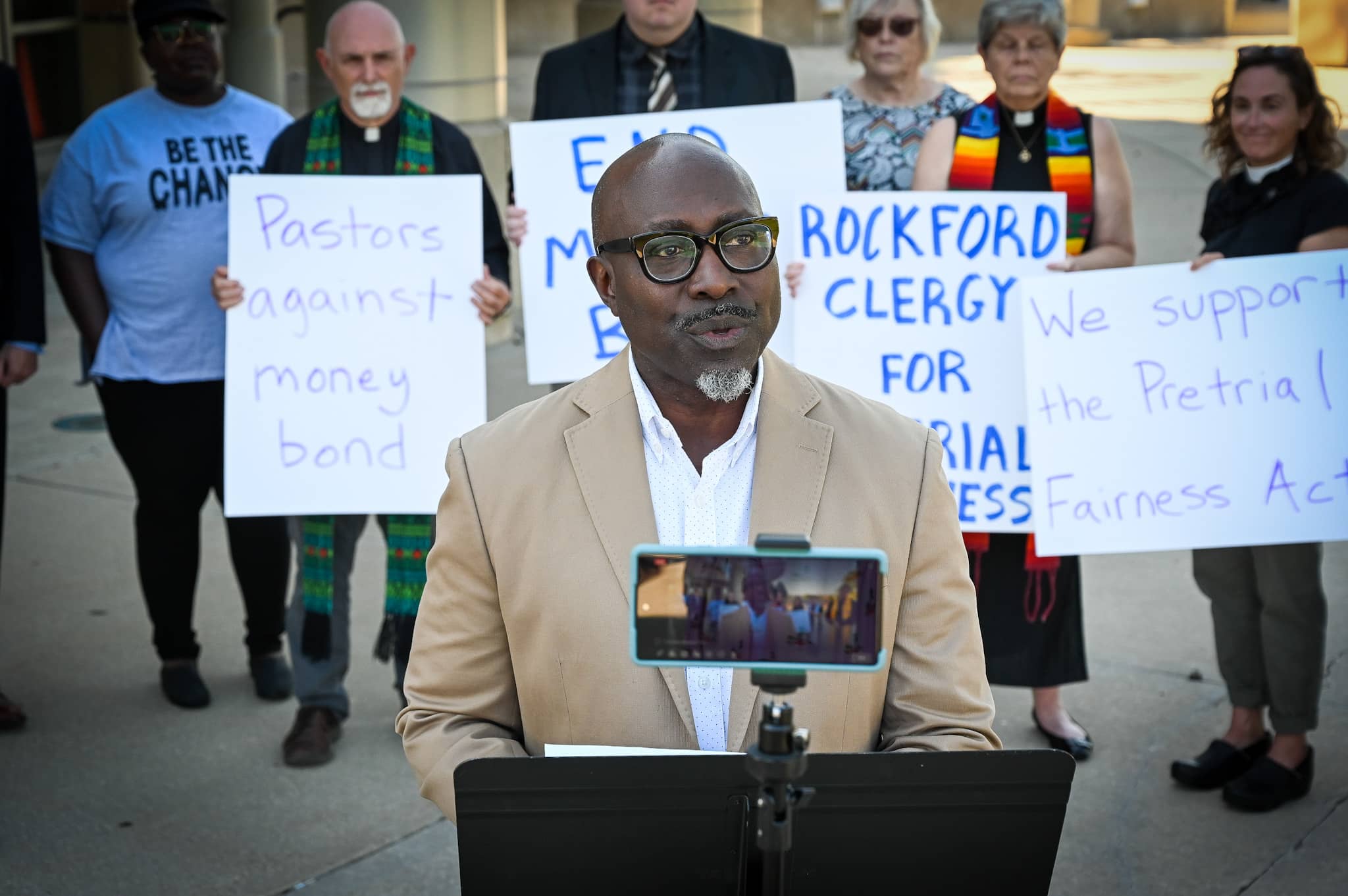 ROCKFORD — Clergy members joined with Democratic state Rep. Maurice West on Monday to voice their support for the end of cash bail in Illinois.
The SAFE-T Act, which abolishes cash bail in Illinois starting Jan. 1, has become a boiling political talking point in the runup to the November election. Critics of the act have said it will result in the release of hundreds of dangerous criminals, hinder police officers' ability to do their job and put the public in danger.
On Monday, about a dozen clergy members and other advocates for the law stood outside the Winnebago County Criminal Justice Center to combat what they said was misinformation designed to stoke fear about the law.
"Right now, fear and ignorance are working against our democracy," said the Rev. K. Edward Copeland, pastor of New Zion Baptist Church and a former defense attorney. "Some of these forces are counting on fear and ignorance and the effectiveness of telling lies over and over and over again."
"I'm concerned about some of the ways people are starting to play political games with our truth, liberty and justice to make political points because it's usually the people who look like me who lose."
Once the law goes into effect, a defendant can only be jailed pretrial if they're charged with specific types of felonies and if prosecutors prove to a judge that the defendant is a flight risk or poses a threat to someone in the community.
Republicans have criticized that change, saying it would create an unreasonable standard for pretrial detention and make dozens of crimes "nondetainable" before trial. Proponents gathered Monday said it is a more equitable and fair system than the one that exists now, where they said some defendants can pay bail and remain free before trial while poor people who are accused of crimes remain locked up.
"Please remember that today, in the here and now, someone can commit murder and post bail and be right back out in the community," West said. "While at the same time there are those who are considered to be low-risk defendants who remain in jail because they don't have the money."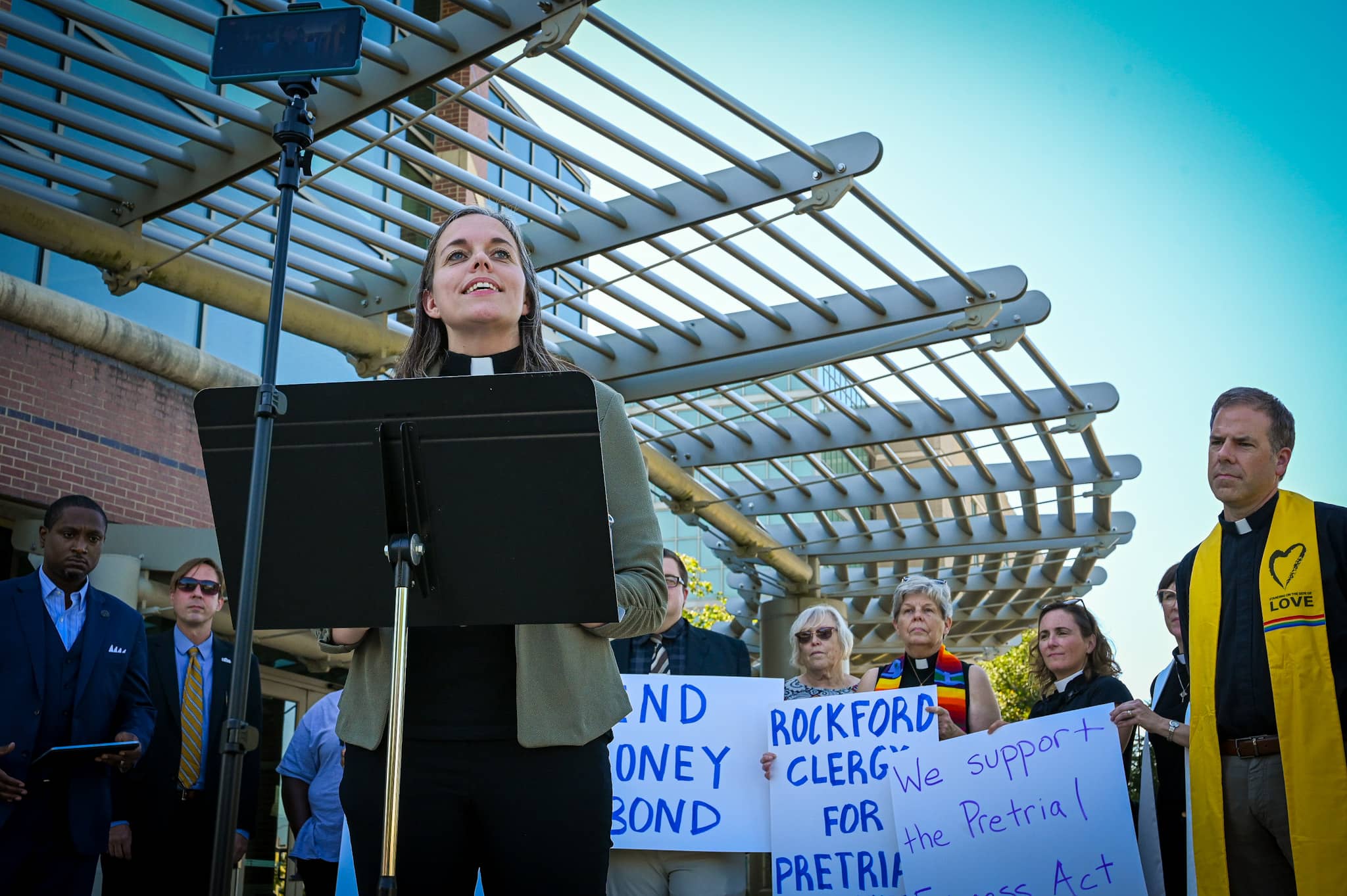 Clergy members also pushed back against critics who said the bill was rushed through. Those critics have pointed to the fact that the law was passed in the predawn hours of a lame-duck session of the state's General Assembly. But Copeland and others said the law has been in the works for years. It was crafted with input from victims' advocates and after five years of study by a commission of the Illinois Supreme Court.
"I live here in Rockford and I have two little kids. I would never advocate for something I thought would put my family in danger," said the Rev. Violet Johnicker, pastor of Brooke Road United Methodist Church. "So when I tell you that I'm in favor of the Pretrail Fairness Act, ending money bond and reducing the number of people in our jails it's because I've studied this and I know this is the right thing for my community and my state."
The clergy members decided to show their support for the act on Monday both because of the statewide debate and because of discussion here locally. Last week, State's Attorney J. Hanley wrote in an op-ed to the Register Star that roughly 400 criminal defendants will walk free Jan. 1. That line was repeated in a proposal by Republican Winnebago County Board member John F. Sweeney, who has presented a resolution calling for the repeal of the act.
"The Winnebago County Board believes that this law puts the public in danger by allowing dangerous criminals to be free of incarceration, and will discourage victim cooperation with law enforcement due to fear of retaliation by offenders immediately released back into society," Sweeney's resolution reads.
Sweeney's proposal says that the act places entire categories of crimes such as aggravated batteries, robberies, burglaries, hate crimes, aggravated DUIs, vehicular homicides and more as ineligible for detention. That has been a common criticism spread across social media memes and other outlets.
"That's just simply a falsehood," said Ben Ruddell, director of criminal justice policy at the Illinois American Civil Liberties Union. "That's a lie that's being put out there for political purposes to try to paint the proponents of this as soft on crime."
The act outlines the types of offenses for which someone can be jailed pretrial, and critics have argued that means that if the crime isn't outlined in the bill that it would not be eligible for pretrial jailing. Ruddell said people can still be held on other charges under certain circumstances, such as if they're determined to be a flight risk or already on pretrial release for a previous charge.
"What the people who are putting out those memes are doing is they are taking one out of six provisions and pretending like it can be treated in isolation, but that's not the way this law works," he said.
Proponents of the act also noted that those who could be released come Jan. 1 could be free at any time today if they had the money to post bond.
"Most of the people in jail right now have been accused of a crime – they haven't been convicted of a crime," Copeland said.  "At some point innocent until proven guilty ought to be a reality in these yet-to-be-united states."
The Rev. Matthew Johnson, senior minister at the Unitarian Universalist Church of Rockford, said the law is more fair for both the accused and victims.
"When folks spend time in jail before trial, before they've been convicted, their whole lives are deeply disrupted," he said. "Studies show very clearly they're less likely to be rehabilitated if they did commit a crime, to do the things they need to do in order to make amends to society and get back on the right track."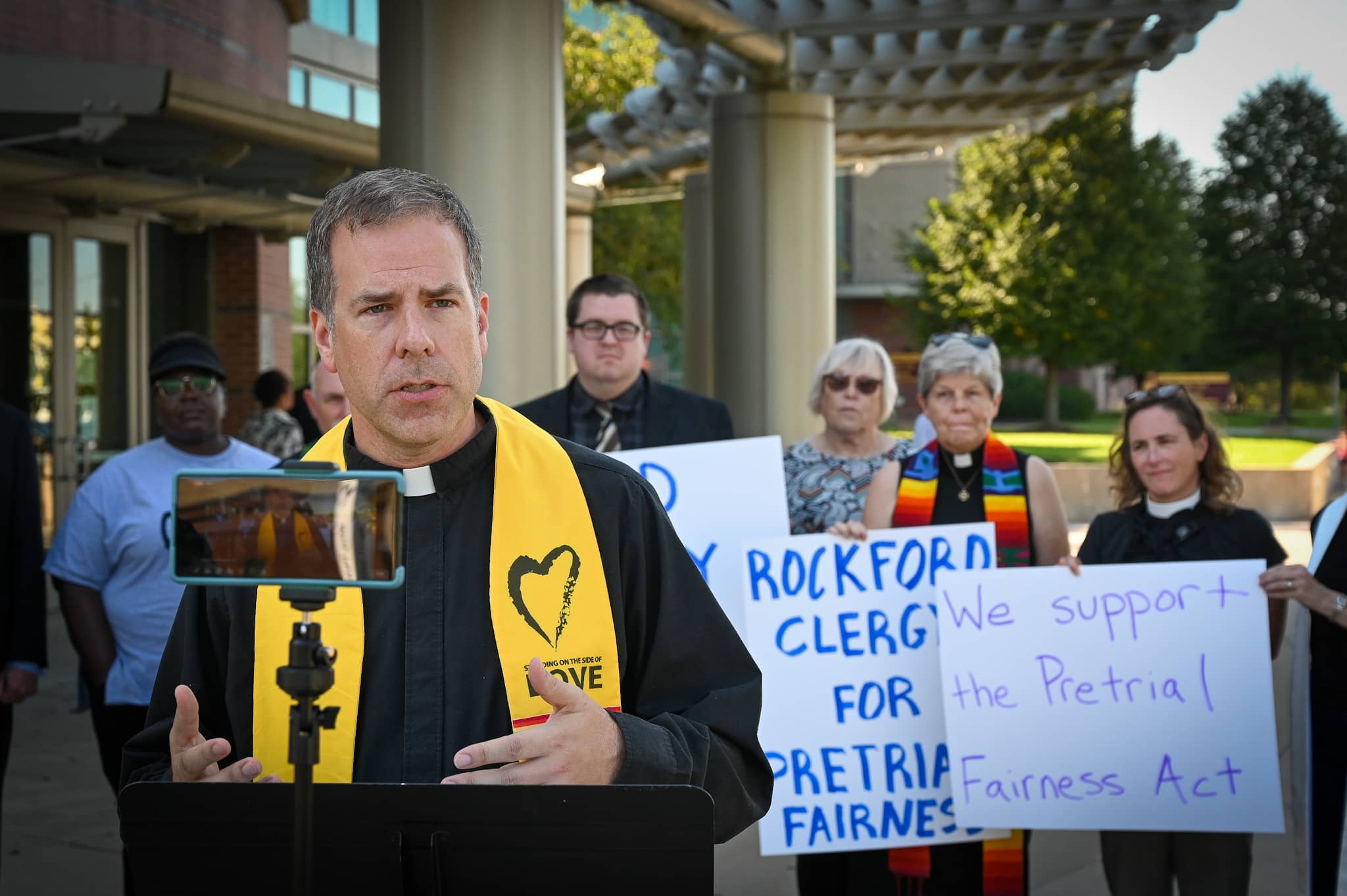 The new law has multiple provisions to protect survivors, he said. He said domestic violence survivors worked hard to craft the bill to provide more protection. Under this bill, no matter how wealthy you are you can be detained if you're judged to be a danger to someone, he said.
"This bill is better for survivors," he said. "It's better for society."
West said that discussions are still ongoing to make sure the law rolls out smoothly on Jan. 1. But critics say more time is needed.
"First, the effective date of the law should be delayed at least six months so it can see the light of scrutiny and debate outside the shadow of a bygone legislative lame duck session," Hanley wrote in his op-ed.
He then called on the state to model its system after New Jersey, where judges can detain a person for any crime under certain criteria.
"Once delayed, our legislature should start over, " Hanley wrote.
Copeland said that while tweaks to the bill will be made as more information and data is gathered, it should not be delayed.
"It's never the right time to do right if right is not what you want to do," Copeland said.
---
This article is by Kevin Haas. Email him at khaas@rockrivercurrent.com or follow him on Twitter at @KevinMHaas  or Instagram at @thekevinhaas
Media Feeds All
via Rock River Current https://ift.tt/cLvTu8m
September 19, 2022 at 07:23PM