SOUTH CHICAGO — An offshore wind farm being proposed for the Southeast Side would be the first in the state — and possibly on the Great Lakes — but residents want to make sure it actually benefits the community before moving forward.
State Rep. Marcus Evans Jr. (D-33rd) and state Sen. Robert Peters (D-13th) touted the potential economic and environmental benefits of a Lake Michigan wind farm during a town hall Wednesday at the South Chicago branch library, 9055 S. Houston Ave.
Evans introduced a bill in January to create a "Rust Belt to Green Belt" fund and direct the Illinois Power Agency to buy power from an offshore wind project.
The 185-page bill wouldn't guarantee the wind farm's construction nor its location on the Southeast Side, but would create a framework for completing the farm by allowing the state to apply for federal infrastructure funds, the legislators said.
"This is just to open the door to the opportunity, not the guarantee of the opportunity," Peters said. "We should take advantage of the door that could be opened here."
The bill would require the Illinois Power Agency to begin seeking wind farm project proposals within 360 days of the bill's passage.
The wind farm's proposed Southeast Side location would be about 15 miles into Lake Michigan from the Illinois International Port District at 3600 E. 95th St.
"The goal is that this is mostly privately funded," said Chris Wissemann, a developer behind the first U.S. offshore wind farm in Rhode Island. The legislation allows the developer of the Lake Michigan project to sell the power that's generated, he said.
"There's money falling out of Washington that we want to have come here" and supplement the private investment, as money from the Inflation Reduction Act and the Infrastructure Investment and Jobs Act could go in to the Rust Belt to Green Belt fund, Wissemann said.
"Earlier this summer, President Biden announced huge federal infrastructure investments in offshore wind," Evans said. "… It's going to the East Coast, it's going to the West Coast, it's going to the Gulf of Mexico. We have an opportunity to kick off offshore wind right here in the Great Lakes … for Illinois to be the leader."
The bill would also set rules for future offshore wind projects, such as requiring developers to submit plans for hiring from underrepresented populations.
Project bids would be graded and scored on a 100-point scale, split between the bid's ability to "create opportunities and investment in underrepresented communities," the project cost and the "viability" of the applicant.
Evans hopes to pass the bill during the state legislature's veto session in November, he said. If that doesn't happen, "we'll refile the bill in the next General Assembly in January and continue to fight," he said.
The time is now to begin preparing Southeast Siders to work on the wind farm project, said Chynna Hampton, equity director for Climate Jobs Illinois. Needed jobs include tradespeople like turbine technicians and electricians, engineers, divers and administrators.
As legislators seek support for the proposal, residents can start training to work on the Obama Presidential Center, the Red and Purple Modernization Project and other major local projects to build their skills, then "come on over to this project and work on the Southeast Side," Hampton said.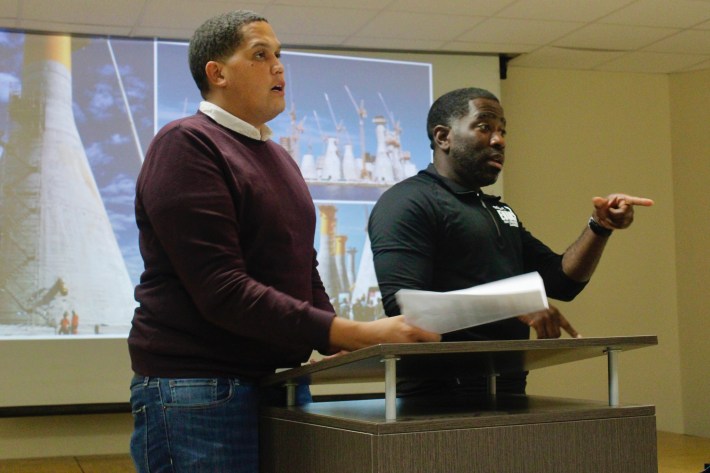 Credit: Maxwell Evans/Block Club ChicagoState Sen. Robert Peters (left) and state Rep. Marcus Evans Jr. chat with residents in front of photos of offshore wind turbines during a community meeting Wednesday at the South Chicago branch library, 9055 S. Houston Ave.
'We Need To Hear From The Community'
As legislators and wind energy experts spoke excitedly about the project, several dozen Southeast Siders had questions.
The promise of union jobs drew skepticism from some residents, who said a history of discrimination in trade unions and a lack of workforce readiness in the community could limit the number of jobs created for locals.
"Right now, if you were to take a poll — how many union people do we have currently in a three-mile radius — [it's] not many," environmental activist Peggy Salazar said. "That means we're going to have to train a whole lot of folks, get a whole lot of people in position, and how are they guaranteed those jobs if they have unions who insist on seniority?"
Cheryl Johnson, executive director of People for Community Recovery in Altgeld Gardens, called on the legislators to give the bill more "teeth" to enforce equity requirements in hiring.
Strict equity requirements and clear paths for trainees and workers to speak out against discrimination are "important if you're going to do these types of big developments in our community," Johnson said.
Neighbors also floated the idea of using the legislation to direct funding to local community groups for job training and recruiting work.
Beyond jobs, Southeast Siders also need help paying their energy bills, a higher quality of education and solutions to address decades of disinvestment and environmental destruction, residents said.
"There's definitely more that can be done, especially because we're not just talking about a one-time project, but actually building this industry [into] an ongoing thing," said Linda Gonzalez of the Peoples Council of Southeast Chicago.
Power from the offshore wind farm would go to the grid and "not necessarily benefit the Southeast Side directly" by lowering energy costs, said Karen Roothaan, a resident of the Bush. She called for a carve-out in the bill to support Southeast Side residents who want rooftop solar energy to supplement the new wind power.
A community benefits agreement, or CBA, would require the project to meet neighbors' specific needs and quality of life issues, said Samuel Corona of the Alliance of the Southeast.
With the bill still in the legislature, residents "have a lot of time to have those conversations" with prospective developers about ensuring community benefits around the project, Evans said.
Wednesday's town hall was just the beginning, Peters said. More meetings will be held, and neighbors and community organizations will have a chance to weigh in, he said.
"While offshore wind is a monumental opportunity for economic development, we have to get it right," Peters said. "In order to get it right, we need to hear from the community directly."
Subscribe to Block Club Chicago, an independent, 501(c)(3), journalist-run newsroom. Every dime we make funds reporting from Chicago's neighborhoods.
Click here to support Block Club with a tax-deductible donation. 
Thanks for subscribing to Block Club Chicago, an independent, 501(c)(3), journalist-run newsroom. Every dime we make funds reporting from Chicago's neighborhoods. Click here to support Block Club with a tax-deductible donation.
Listen to "It's All Good: A Block Club Chicago Podcast":
Ino Saves New
via rk2's favorite articles on Inoreader https://ift.tt/Vem6YgQ
September 8, 2022 at 06:16PM