The 91st District of the Illinois House has been redrawn. It covers parts of McLean, Woodford, Tazewell and Peoria counties. The seat is currently held by Republican Mark Luft of Pekin. Luft is not running for reelection.
Normal Town Councilmember Scott Preston a Republican, announced he is running for the seat in January. Preston is on the boards of McLean County United Way and the Illinois State University (ISU) Alumni Association. He is a Vice-Chair for the McLean County Republican Party.
Democrat Sharon Chung, a McLean County Board member announced her run for the 91st district seat in February. Chung is a musician and music teacher.
Preston defeated Jim Fisher in the Republican Primary 63% to 37%, practically a two to one margin. Coincidentally Chung also defeated her primary opponent, Karla Bailey Smith, by the same margin.
Since the primary Scott and his wife Ali have been focused on the birth pf their first child which is  is quickly approaching.  A baby shower was held for Ali on or about July 10. The pregnancy is complicated by cholestasis.
The Preston's recently attended the wedding of Kate Lorenz and Cameron Kaye as well as a performance by comedian Joe Gatto.
Unfortunately, just this week a close family member of the Preston's was seriously injured in a car accident and as a result they have had to spend more time on family concerns.
After her primary victory in a Facebook post, Chung said, "This morning, as I've received messages and fielded phone calls, I can't help but reflect on how grateful I am for all the support I've gotten during all points on this campaign. From the friends who believed in me even before I believed in myself, to supporters I met late last night as I was leaving the party, I am so humbled by the encouragement and the love."
Chung continued, "I would like to thank Karla Bailey-Smith for running a strong campaign. It's never easy to run against someone you respect and call a friend, but Karla was a formidable opponent, and I hope she doesn't stop fighting for our communities and the things she believes in."
After her loss, Bailey-Smith said in in a Facebook post, "Thank you to everyone who supported me though this amazing adventure of running for State Representative a second time! One takeaway is how good I feel walking 7 miles or so every day. I'm not sure I want to be a new postal worker at my age, but a paid canvasser would be a great fit for me."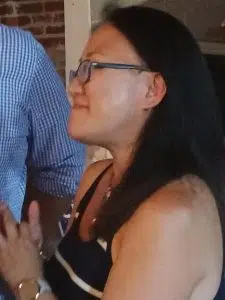 During July Cities 92.9 reviewed a response to a Freedom of Information Act (FOIA) request we filed regarding communications Chung has had with people involving the McLean County Jail. Our review of the information did not find any wrong doing by Chung. In fact the record shows that she has an awareness of protocol, ethics and appearance that surpasses many others involved in government in our county.
Most impressive was her response to an inmate who contacted her. Considering that in the eyes of some, it might not appear to be proper for her to correspond with an inmate, Chung did not respond to the individual directly. Instead she worked with the inmate's family members. This is entirely proper. Family members of inmates as well as the individuals themselves are her constituents too.
Sharon Chung Creates Danger For McLean County Correctional Officers
Apparently July has been the calm before the storm regarding this campaign. But this contest is bound to have it's share of lightning and thunder. It is expected to be a close race and consequently both candidates will receive funding from across the state.
According to The Center for Illinois Politics, Preston currently has $88,000 on hand and Chung has $212,000. Preston received $12,493 in July from the House Republican Majority while Chung received $9,924 from Democrats for the Illinois House.
Ino Saves New
via rk2's favorite articles on Inoreader https://ift.tt/sdWthex
August 5, 2022 at 04:27PM