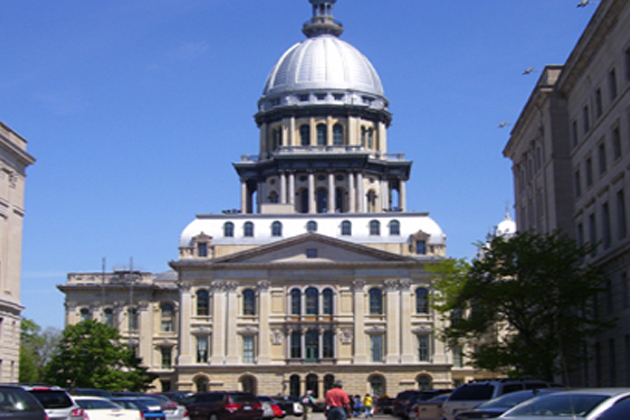 By Dave Dahl
SPRINGFIELD – There's always a project going on somewhere on the state's Capitol Complex in downtown Springfield, and the one about to commence is a doozy.
After the upcoming spring session, senators will convene in the nearby Howlett Building auditorium for 2 ½ years. Life-safety and accessibility upgrades are due.
"Right now, we only have one ADA-accessible entrance," said Capitol architect Andrea Aggertt. "We made a promise to the Department of Justice several years ago that we would work on making sure our statehouse is fully ADA-compliant, so this is one of the steps we are going to take to do so."
People around Springfield no doubt still remember the story of the copper-clad exterior doors which cost the state almost $670,000 during the west wing renovation of a decade ago. Aggertt said for the 133-year-old Capitol, you don't exactly pick out the trappings at Lowe's or Home Depot.
"Obviously, this is our statehouse. We are very proud of it. There are going to be some things that cost more than what a normal office building would, but we are looking at making sure this building is here for future generations to enjoy.
"That may mean a chandelier may cost more than what it would in a traditional office building."
The work in the Senate will not allow sufficient exits for people who work there, thus the relocation.
While that's temporary, security concerns will close the Capitol's north drive forever, costing senators their prime parking permanently.
The work is part of the Rebuild Illinois infrastructure program.
Dave Dahl can be reached at News@WJBC.com.
Region: Bloomington,Feeds,News,City: Bloomington,Region: Central
via WJBC AM 1230 https://www.wjbc.com
December 10, 2021 at 05:55AM