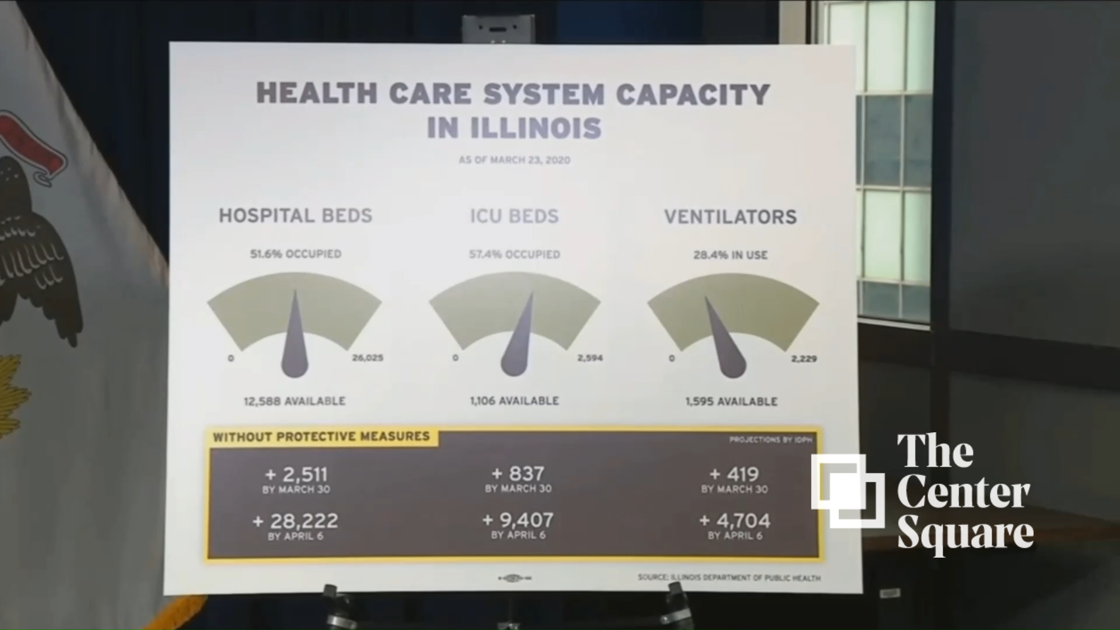 (The Center Square) – Gov. J.B. Pritzker said he would consider extending his emergency stay-at-home order past April 7 if there was an increase in hospital stays from the COVID-19 pandemic.
The governor's comments came after Illinois Department of Public Health officials reported 150 new COVID-19 cases, bringing the total to 1,535 in 32 Illinois counties as of Tuesday afternoon. Health officials also reported four additional deaths bringing the statewide total to 16. The four latest deaths were a Chicago resident in his 50s, two Cook County residents in their 60s and a DuPage County resident in her 90s.
In his daily briefing from Chicago on Tuesday, Pritzker said he would base any decision on extending the order on data.
"I am concerned that we may have to extend that deadline," the governor said. "We have to start to see some movement in the numbers in the right direction or at least a shaping of the curve that looks like we're hitting a good spot in that curve."
Pritzker didn't provide specific numbers to illustrate what that would entail.
"We haven't seen enough data yet to really know when we can bring the restriction off but again watching every day and looking at the data every day," Pritzker said.
An infographic used during Tuesday's briefing from the Illinois Department of Public Health showed that of the 26,025 hospital beds available in Illinois, 12,588 – or 51.6 percent – were occupied. Health officials estimate by March 30 the need for beds would increase by 2,511, and to 28,222 by April 6, exceeding the state's capacity.
"You deserve honesty and transparency on the gravity of our situation and the reason behind the aggressive measures like the stay-at-home order that I put in place," Pritzker said.
For intensive care unit beds, IDPH said there were 2,594, with 1,106, or 57.4 percent occupied. They estimated by March 30 that need will increase by 837, and by April 6 it would hit 9,407, exceeding the state's capacity.
IDPH said of the 2,229 ventilators, 1,595 were available. Public health officials estimate by March 30, there would be an increase of 419 in use and by April 6 a need for 4,704, or double of the state's existing capacity.
The governor said those numbers represented worst-case scenario estimates for if he had not issued a stay-at-home order. That order, which went into effect Saturday. The order closed all non-essential businesses in Illinois through April 7.
Illinois Department of Public Health Director Dr. Ngozi Ezike also couldn't put a timeline on changing that order.
"We have models that we are using, predicting at least in the near future how we expect the cases to increase," Ezike said. "And it's that important information that we're using to talk with our hospitals to figure out the surge capacity and what's necessary."
The governor said his administration is working to bring closed hospitals and nearby hotels online to handle routine medical problems so existing hospitals can handle any influx of COVID-19 cases. COVID-19 is the disease caused by the new coronavirus that emerged in late 2019.
Hospitals across the state are postponing elective surgeries in an effort to free up medical staff for an expected surge in new COVID-19 cases.
Pritzker also announced that Illinois will get 300 ventilators from the federal government in the days ahead. The state will also be ramping up testing with the Illinois National Guard operating the first drive-thru COVID-19 testing site in Chicago.
###
26-Delivered
via The Center Square
March 24, 2020 at 06:37PM