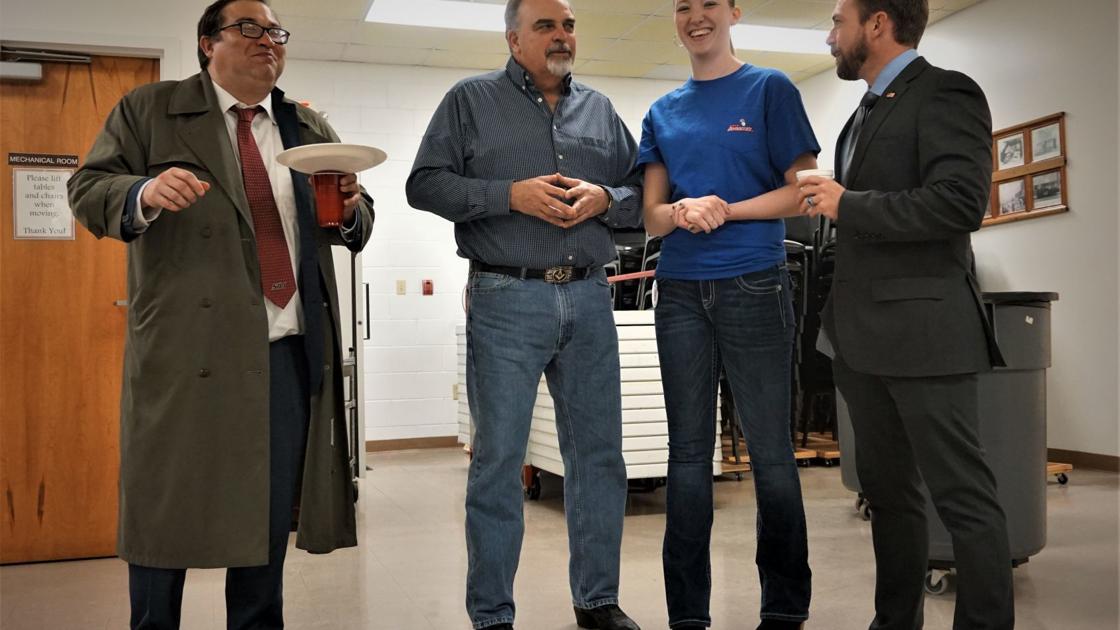 Before the start of Thursday night's Young Democrats of Franklin County event in Christopher, Chairwoman Courtney Young shares a light moment with Democratic congressional candidate Joel Funk, (far right), Franklin County Democratic Organization chairman Jim Eaton and Alex Enyart (far left), who works on Funk's campaign. 
Franklin County Young Democrats Chair Courtney Young passes around a sign-in petition before the state of Thursday's event. 
CHRISTOPHER — Courtney Young tells a small crowd gathered here Thursday that young people are quickly taking over as the largest voting-age bloc in America. On one end of the age spectrum, her audience includes middle-schoolers not yet old enough to vote, and on the other, retirees into their 80s.
"If every young person went out and voted, they could decide an entire election," says Young, chair of the newly created Young Democrats of Franklin County, Illinois. "The issue we have right now is things won't change if you people stay idle, stay in that mindset and don't get out and vote."
She poses this question to the group: "What do we do to get young people interested in politics again?"
It's one that has been on her mind a lot. Last fall, Young, 22, pitched the idea to create a political chapter specifically geared toward Franklin County's young Democratic voters — those in their late teens, 20s and 30s. 
After several months of planning, her idea came to life Thursday evening inside the Christopher Civic Center.
Young grew up in Buckner, home to about 460 people, and graduated from Christopher High School in 2015. She then headed out for college at Stetson University, a college that appealed to her, in part, because it was near her grandparents' home in Florida. She was surprised by how much had changed when she returned to the region in 2018. 
26-Delivered,01-All No Sub,E Trav,02-Pol,19-Legal,24-ILGA,010-Inoreader Saves
via The Southern
February 23, 2020 at 08:49AM