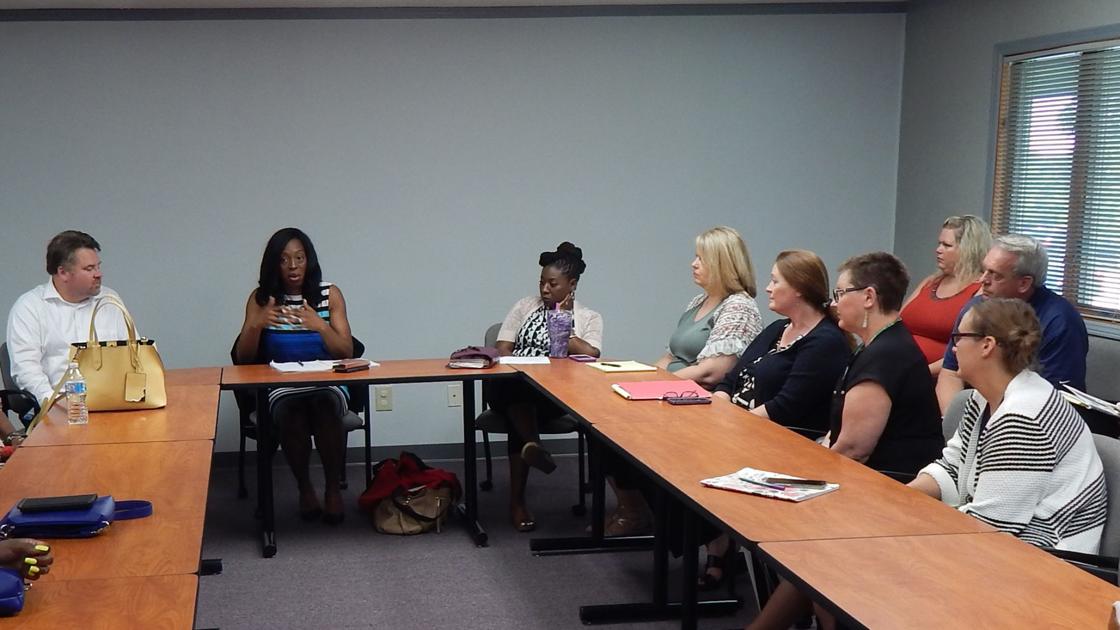 CARBONDALE — As she settles into her new job as Illinois's top public health official, Dr. Ngozi Ezike is traveling across the state, meeting with many of the 97 local health departments she'll oversee.
And Thursday, she made a special point of stopping in Ullin at the Southern Seven Health Department, which covers more land area than any other in the state: all of Alexander, Hardin, Johnson, Massac, Pope, Pulaski, and Union counties.
"I wanted to make sure local health departments and residents of Southern Illinois appreciate that the Illinois Department of Public Health is attentive and listening to their concerns," she told The Southern. "The state is invested and ready to support the southern counties as they continue the great work they're doing."
Ezike also knows that Southern Illinois particularly needs her agency's attention.
The region shows disproportionate rates of cancer and chronic lung, kidney, and heart disease, issues experts attribute to poverty, low education levels and the unavailability of many medical services in rural areas.
"We're talking about extremely long drive times, and even if someone wants to see a specialist, or a dentist even, then a lot don't take Medicaid," said Rhonda Andrews-Ray, director of the Southern Seven Health Department.
Just accessing healthy food can be a challenge, Andrews-Ray pointed out to Ezike, as Alexander, Hardin and Pope counties each have just one grocery store.
Meanwhile, the shrinking population of deep Southern Illinois exacerbates the challenges of taking care of people so geographically widespread.
Alexander County has lost 34% of its population since 2000, Pulaski County about 25% and Hardin County about 16%.
"We're serving an area the size of Delaware, but with less than 1/10th of the population," Andrews-Ray said.
To do that, the South Seven Department takes a unique approach, forming teams of nurses that travel between its different locations.
Continue reading your article with a digital subscription.
Thanks for being a subscriber.
Sorry, your subscription does not include this content.
Please call 866.735.5912 to upgrade your subscription.
"I have some clinics open four days a week, some just three days a week, all the way down to Pope County where we're open just half-a-day a week," Andrews-Ray said.
The minimum wage increase, she said, could be a double-edged sword.
It may help in her struggles to recruit capable nurses, but it will add significant costs for a health department relying on a small tax base and burdened with particularly high travel costs.
Without a major funding bump from the state, Andrews-Ray must now pay minimum wage workers more while give compensating raises to skilled positions, to ensure they remain desirable.
Both she and Ezike agree more funding is part of the solution.
"This year's budget was at least stable, but it's important to note that in the past years with the budget impasse there is still so much that needs rebuilding internally," Ezike said, within IDPH.
Andrews-Ray would love to expand her department's services, many of which help prevent the life-threatening and expensive illnesses that plague Southern Illinois, from vaccinations to STD testing and treatment, to health and nutrition education.
But in light of current trends, she said, the state and the nation need innovative, long-term solutions to rural medicine.
"There have got to be systems that work," she said. "Let's look at other rural areas in the U.S., and see how people are handling things."
One trend the state will be watching, Ezike said, is telemedicine, connecting patients to doctors or mental health specialists over the internet.
"It fits better into some kinds of care than others," Ezike said, "but it could have a role."
Ezike was appointed by Gov. J.B. Pritzker in February. She has been a practicing physician for more than 20 years, she said.
Subscribe to Daily Headlines
Get the latest local news delivered directly to your inbox!
15-Health,19-Legal,26-Delivered,AllPol
Region: Southern,Local,City: Carbondale,Region: Carbondale
via thesouthern.com – RSS Results in news/local of type article https://ift.tt/2NLkVsD
July 11, 2019 at 07:33PM