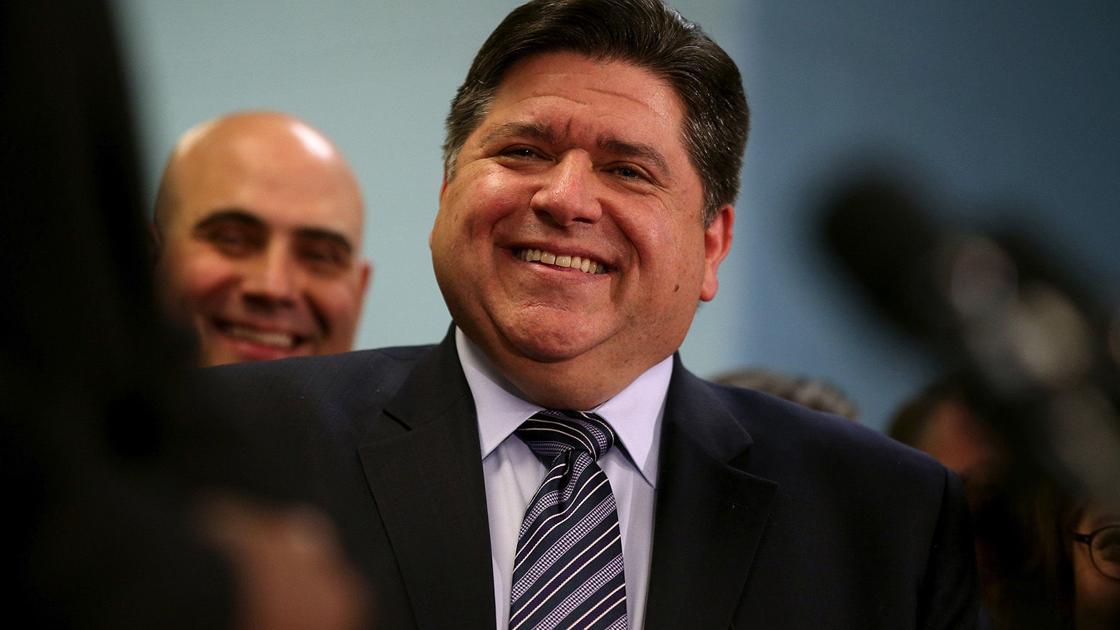 NORMAL — Gov. J.B. Pritzker pleaded his case for the proposed graduated income tax at the Illinois New Broadcasters Association's annual spring convention Saturday evening.
The association welcomed Pritzker to the Bloomington-Normal Marriott Hotel & Conference Center as only the second sitting governor ever to speak at the three-day convention.
"Illinois' current flat-tax system is regressive and it's very unfair to the middle class and to the working poor," Pritzker said. "While the fair tax will provide some tax relief for most taxpayers, it will just as importantly put Illinois on firmer fiscal footing. That's the goal."
Pritzker said this tax plan would balance future budgets, reduce the pension liability and eliminate the multibillion-dollar budget deficit. His proposed budget aims to "serve as a bridge to solving our deficits more permanently with the fair tax."
Based on the scaled tax system, the governor said the graduated tax would mean only those who earn more than $250,000 would pay more in taxes and the other 97 percent of the state would see the same tax bill or a tax cut.
"As I said throughout my campaign, people like me should pay more and people like you should pay less — simple — and that's what the fair tax will do," he said.
Continue reading your article with a digital subscription.
Thanks for being a subscriber.
Sorry, your subscription does not include this content.
Please call 866.735.5912 to upgrade your subscription.
Before turning his attention to his graduated income tax plan, Pritzker voiced his support for the free press and "a First Amendment that thrives."
Subscribe to Breaking News
"Now more than ever it's important that elected office holders remind the public how important journalism is in a healthy democracy," he said.
Pritzker drew applause from the conference room full of journalists representing news organizations from across the state, and later he invited them to ask questions, calling it "the biggest press conference I ever had."
The questions posed included a call for more transparency and access to state departments and agencies, to which Pritzker asked for "one more minute, so to speak" as his administration works through the process of bringing in new people and making adjustments.
"We have undocumented immigrants who live in our state today. They ought to be welcomed; we ought to take care of them," he said.
Subscribe to Breaking News
Contact Kelsey Watznauer at (309) 820-3254. Follow her on Twitter: @kwatznauer.
26-Delivered,01-All No Sub,20-Cover,02-Pol,19-Legal,24-ILGA,16-Econ,HL,HL New,RKPRS HL
Region: Southern,Politics,City: Carbondale,Region: Carbondale
via thesouthern.com – RSS Results in news/local/govt-and-politics of type article http://bit.ly/2ZbNYaw
April 14, 2019 at 04:11AM