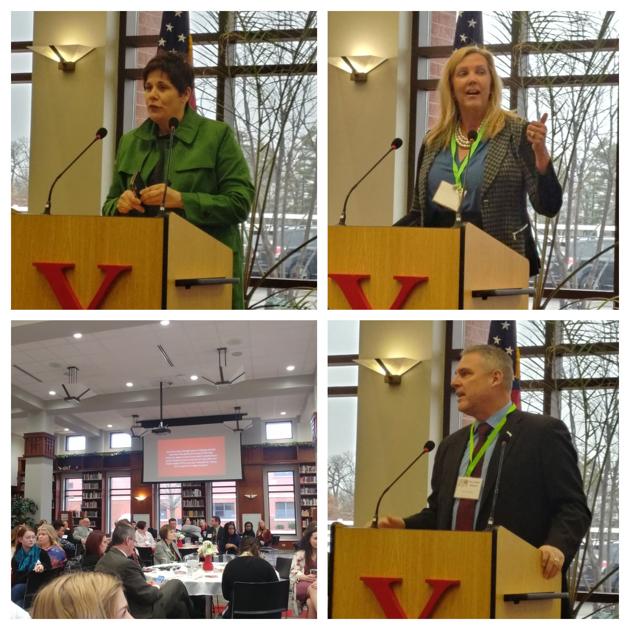 Several state legislators met with education officials and members of the business community at Yorkville High School on Friday to discuss topics impacting local school districts.
Elected officials were asked questions ranging from legislation raising the minimum wage to caps on teachers salaries, incentives for businesses who work with schools and the percentage of special education students in classrooms.
Yorkville School District #115 Director of Human Resources Troy Courtney asked representatives about the raising of minimum wage to $15 per hour by 2025. The question detailed having to raise wages of other employees who earn just above the mark already and how schools who hire teens for summer help will be impacted.
Democratic Sen. Jennifer Bertino-Tarrant of Plainfield, a former teacher and administrator who voted for the bill, says the reality is people are struggling, working two to three minimum wage jobs.
Businesses will be able to pay workers under 18 on the $13 track if they work fewer than 650 hours in a year. Republican Sen. Sue Rezin of Morris and State Rep. Keith Wheeler of Oswego voted against the measure. This was Senator Rezin.
Legislators did say they did not expect a decrease any time soon for annual funding levels under Evidence Based Funding or under the newly appointed state superintendent.
Each of the legislators who spoke also said they were for repealing a three percent cap on teacher salaries and further reviewing ways to address a state teacher's shortage.
Another question dealt with providing incentives to businesses who have long term relationships with districts through internships and job partnering. Rep. Wheeler was among those to respond.
Additionally, legislators fielded questions on defining an instructional day and pending legislation regarding a minimum five-hour day. Republican Rep. David Welter of Morris and Illinois Education Association Executive Director Audrey Soglin also attended. Rep. Lindsay Parkhurst of Kankakee had representation, as well.
01-All No Sub,02-Pol,09-ILSN,XHLSN 3,24-ILGA,26-Delivered,XHLSN All
Local,Region: South Suburbs,Region: Joliet
via http://www.wspynews.com – RSS Results in news/local of type article https://ift.tt/2HulouY
March 15, 2019 at 07:24PM