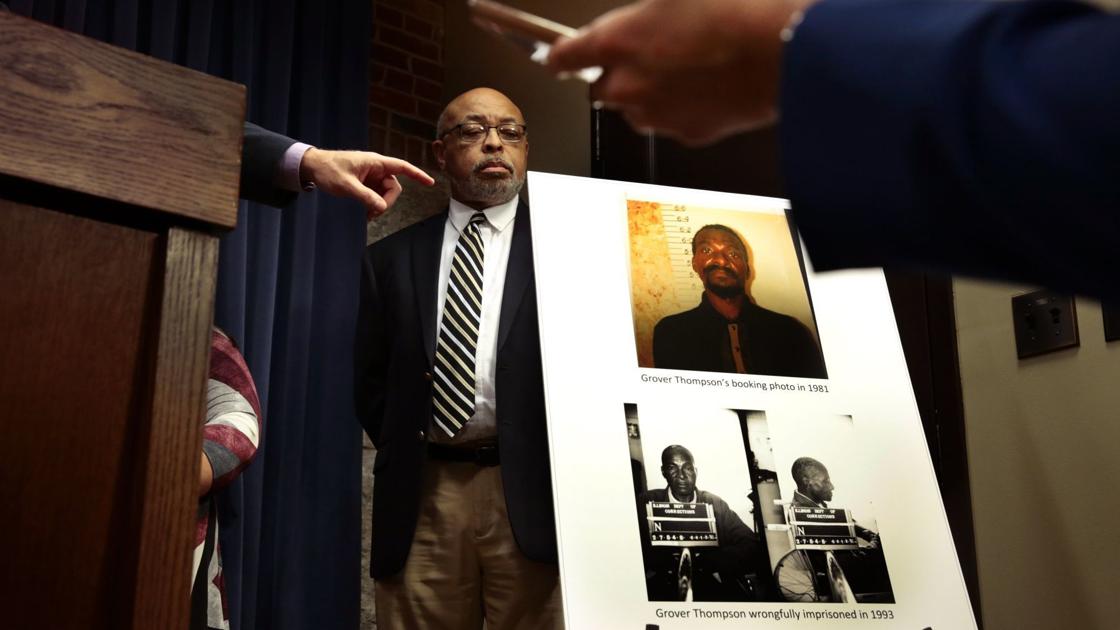 Grover Thompson has finally received a posthumous exoneration more than three decades after his wrongful conviction and imprisonment, but Illinois still declines to make his family whole for the injustice the state inflicted. In 1996, Thompson died in prison at age 60 after serving the first 14 years of a 40-year sentence for a brutal attack and attempted sexual assault of a woman in Mount Vernon, Ill.
In 2007, serial-killer Timothy Krajcir confessed to the attack along with nine murders and additional sexual assaults. Krajcir, who is white, accurately drew and described the victim's apartment from memory during his confession.
Police arrested Thompson, then in his 40s, when they found him sleeping in a post office near the victim's apartment. He was homeless and diagnosed with schizophrenia.
The only "evidence" connecting Thompson to the attack was witness testimony that the victim's assailant had been black. The witness described the attacker as having escaped by climbing out a window and running away. Thompson, permanently disabled after being hit by a car, could barely walk. He was never advised of his right to a lawyer before being subjected to a one-person police lineup.
An all-white jury convicted him in under four hours.
Last month, the Post-Dispatch's Christine Byers reported that outgoing Republican Gov. Bruce Rauner agreed to exonerate Thompson provided that Thompson's nephew, S.T. Jamison, signed away the family's right to sue the state. Rauner had denied an initial clemency request in 2015.
Jamison complied but is understandably disappointed with the state's "remedy" for his uncle's grossly unjust imprisonment.
Thompson's case reveals glaring holes in the recourse offered exonerees. The damage done by sending innocent people to prison is vast and irreversible for both the accused and their families. By forcing exonerees or their families to strike such deals just to clear a person's name is to inflict even more injustice on them.
Over the past decade, some conservative legislators have joined the fight for fair compensation in wrongful-conviction cases. In Texas, the Innocence Project has garnered strong support from conservative state lawmakers who argue that nothing better exemplifies the dangers of government overreach than the unjust taking of an innocent person's freedom. Texas offers generous compensation packages for wrongfully convicted exonerees, whereas Illinois and Missouri create nearly insurmountable obstacles to correct such injustices.
In cases like Thompson's, where hard evidence makes his innocence undeniable, exonerees and their family members deserve full legal recourse to recover at least a portion of what the state robbed from them.
Democrats are now fully in control in Springfield, which gives them an ideal opportunity to address the gross deficiencies in Illinois' wrongful-conviction compensation law. While the governor has pardon authority, lawmakers have the power to ensure that reluctant, half-hearted apologies aren't the only state response to massive miscarriages of justice.
01-All No Sub,02-Pol,19-Legal,22-Talk,26-Delivered,HL,HL New,RKPRS HL
Region: Metro East,Editorial,Opinion,City: St. Louis, MO
via http://www.stltoday.com – RSS Results in opinion/editorial of type article http://bit.ly/2QTzRBD
February 3, 2019 at 06:12PM