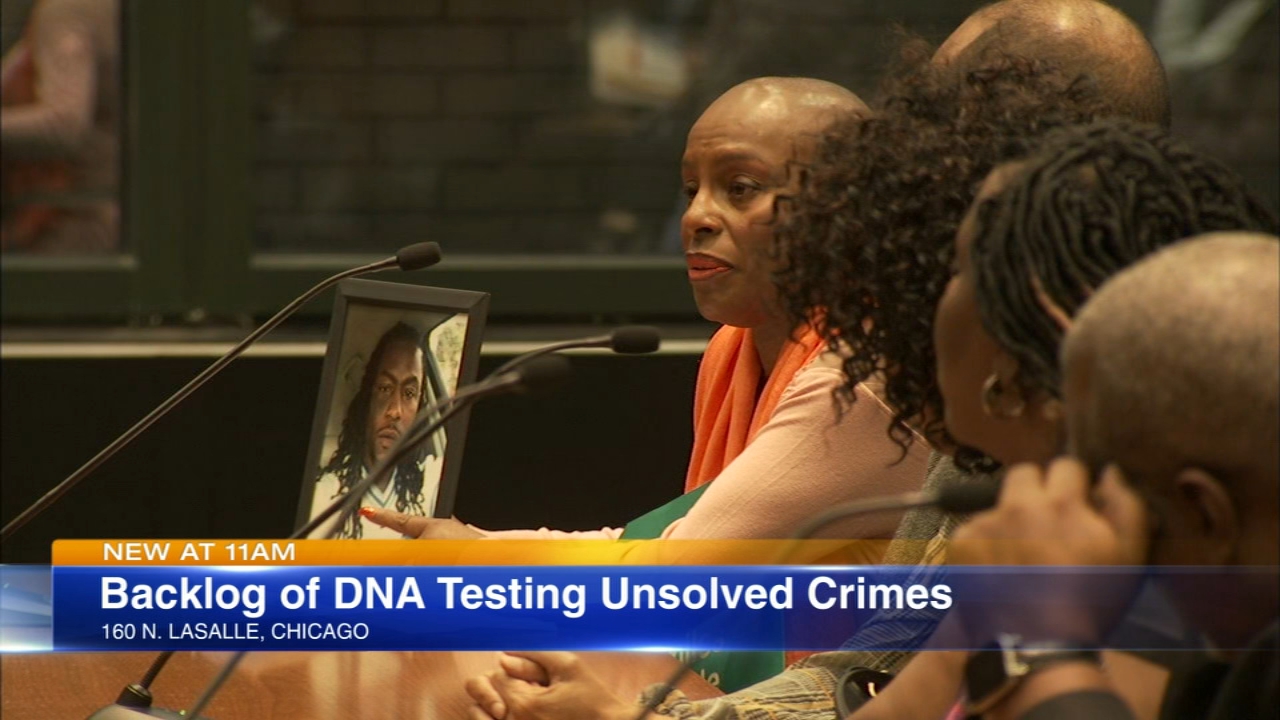 CHICAGO (WLS) —
An Illinois state senator who represents Chicago is seeking to draw attention to the backlog in solving murder cases, specifically when it comes to the state processing DNA evidence.
Sen. Patricia Van Pelt, a Democrat who chairs the Senate Public Health Committee, called a hearing for Monday to hear from families and community activists impacted by the backlog.
The Illinois Forensic Science Lab is still analyzing DNA from more than 750 Chicago murder cases from the last three years, according to a Freedom of Information Act request
and acknowledged by Van Pelt.
Families of murder victims impacted by the backlog and community activists spoke at the hearing at the Bilandic Building in the Loop.
Reginice McBride lost her son, 36-year-old Ronald James, last year. The father of five was shot in the head during a robbery near the United Center while he was in his car.
McBride said she's spent sleepless nights waiting for his case to be solved and has been told that police have DNA evidence on a shirt and a mask that two of the three assailants were possibly wearing.
"It's a feeling of distrust. I don't trust them. I feel like they can get it out and it depends on whose case it is. It's like my son's life or my son's case is not that important to them and a lot of other children. If we're not high-profile cases, then we're nobody," McBride said.
RELATED: Hundreds of Chicago murders may remain unsolved due to DNA processing delays
Illinois State Police officials testified Monday to explain what's causing the delays in DNA processing. They said their main issue is low staffing levels. Right now, they have close to 70 DNA scientists on staff, but they believe they would need 11 more to bring the backlog down to a manageable level.
Funding would be the next challenge. Van Pelt said she plans to be a fierce advocate for that in Springfield. She plans to hold another hearing on the matter in the spring.
"There is a lot of people that are concerned. It's just that, we didn't even know that the analysis was that far behind. We didn't know it was years late. That has come to the light. We're putting it on the front burner so we can change that. Whatever needs to happen, we want to make it happen," Van Pelt said.
(Copyright ©2018 WLS-TV. All Rights Reserved.)
01-All No Sub,02-Pol,19-Legal,26-Delivered,24-ILGA
Feeds,News,State,Politics
via "Illinois Politics" – Google News https://ift.tt/2PLVxE5
December 3, 2018 at 09:04PM