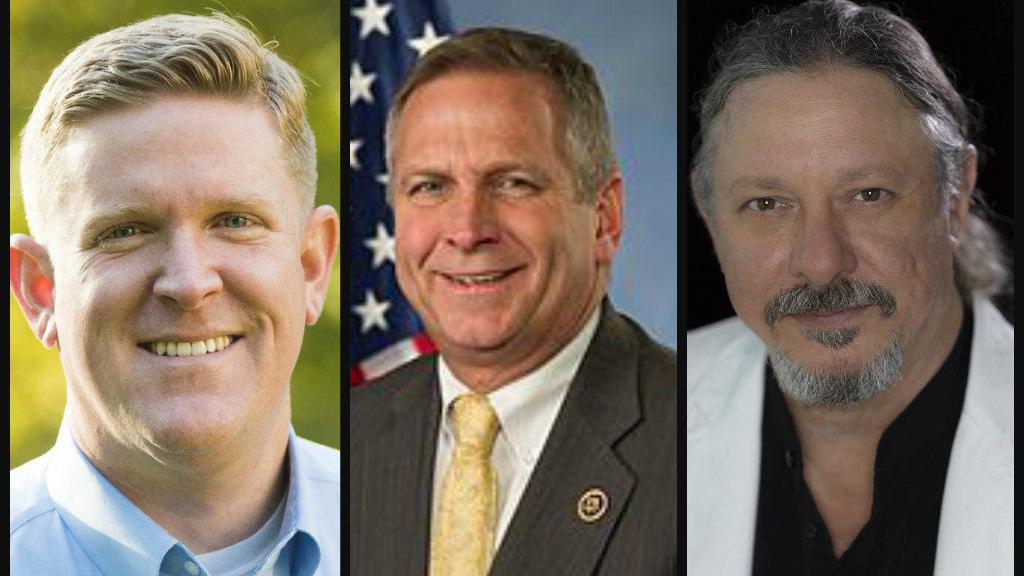 Here are The Southern's endorsements for local seats up for election in the U.S. House:
U.S. House District 12: If the stakes were any lower in this election cycle, what follows would be a full-throated endorsement of Green Party candidate Randy Auxier to serve as the next representative for Illinois' 12th Congressional District. Instead, it is a muted endorsement of Democratic St. Clair County State's Attorney Brendan Kelly. In the last two years, incumbent Republican Mike Bost has consistently refused to listen to the people in his district, and for that, we believe he does not deserve a third term.
Bost has outwardly rejected meeting with his constituents in his second term. He consistently dodged town halls and public meetings because he didn't want to take the heat. When Republicans in Congress were considering votes to repeal the Affordable Care Act last year, many people in the 12th District asked Bost to host a town hall on the topic. He opted for tele-town halls instead.
When we asked him about that decision in February. Here's what he told us: "The amount of time I have at home is minimal, I need to make sure that it's productive … You know the cleansing that the Orientals used to do where you'd put one person out in front and 900 people yell at them? That's not what we need. We need to have meetings with people that are productive." Bost later told the Associated Press his response was "a poor choice of words."
It was also a poor choice of policy. A Congressional representative is someone who is supposed to be a voice for his or her district at the national level. Bost's refusal to have meetings in the face of dissent — and some anger — showed that he could not and would not consider the views of all of his constituents.
In an October 2014 story published in The Southern — when Bost was running for his first term in Congress against then-incumbent Democrat Bill Enyart — Bost called himself a "public servant" who would stay in touch with his constituents.
In a 2014 debate, Bost said: "Maybe that's what voters need to do when someone isn't communicating, when they aren't coming out and talking to you and they aren't touching base with you to figure out what they need to do, maybe they ought to keep them home."
We couldn't have said it better. Judging by his own past words, his behavior during the past two years should preclude him from another term.
The Green Party is active in Jackson County, and as such has run a candidate for Illinois' 12th Congressional District seat each election cycle as long as recent memory serves. Unlike some of the wackier Green Party candidates of past elections, Randy Auxier is a serious candidate who brings fresh ideas — along with some Green Party greatest hits — marked intelligence and much-needed levity to the national stage.
"If I win, it will be international news," Auxier has said on more than one occasion of his unlikely ascent to Congress. That astute observation inspired chuckles from audience members and his opponents in both public debates. Auxier has said that international news could only be a benefit to Illinois' 12th, noting the attention on our region could bring money and power. He has rightly argued that as a congressman, he would be welcome in any municipal office to work with local communities on the issues that most concern them. It's just one example of the way Auxier as a third party candidate has said he would serve the district if he were elected — and, like his other ideas, a creative and logical answer to the constant criticism: He can't win.
As a member of a third party, he would be required to work the aisle — as he has said — to get anything done. Wouldn't that be a breath of fresh air — a truly nonpartisan representative from Southern Illinois? Indeed, Auxier was the candidate who most often repeated the phrase "I agree with my opponent" in the two debates The Southern hosted with its media and community partners.
Alas, an Auxier win is a pipe dream, a fantasy. We respect Auxier's stance on health care, a woman's right to choose and service incentives for young people. But, we all know the hard truth: Auxier won't win, solely because of the "G" behind his name.
If his campaign claims are truthful, Brendan Kelly appears to be a moderate Democrat. He has said he would not support Nancy Pelosi as the next House speaker. Whether that comes to bear or not, it at least demonstrates that he understands the people of Southern Illinois don't feel a career politician like Pelosi represents their interests. It shows that he has the ability to listen to the people of the district and make decisions accordingly.
We appreciate Kelly's moderate stances on many issues, including the Second Amendment, marijuana, health care, higher education and infrastructure. We think his moderation gives him a clean slate on which constituents will be able to project their wishes.
And, from all he has said on the campaign trail, he seems to understand that as a representative, his job will be to listen to the people in the district, and carry out their wishes. We think he should have the chance to do that.
U.S. House District 15: Simply put, both candidates here in this race are very underwhelming.
The incumbent, Republican John Shimkus, has been a member of the U.S. House of Representatives since 1997. You may recall that when Shimkus was first elected to the House, he said he would only serve 12 years — putting a term limit on himself.
We're long past that date, and Shimkus has since walked that comment back.
On the other hand, Shimkus' opponent, Democrat Kevin Gaither, is a relative political newcomer who is an HIV/AIDS health care activist and former Americorps public school educator, who currently runs his own tutoring business for grade school and high school students.
Shimkus has the experience, while Gaither has none. Shimkus has name recognition, while Gaither has none.
We are hesitantly throwing our endorsement to Shimkus, and we'd like to see both parties put forth better candidates in the future for this district. Shimkus has been in office for more than two decades, and his time and ideas are getting stale.
Subscribe to Breaking News
00-Pol RT,010-Inoreader Saves,19-Legal,05-Z,26-Delivered
via The Southern
November 4, 2018 at 10:08AM