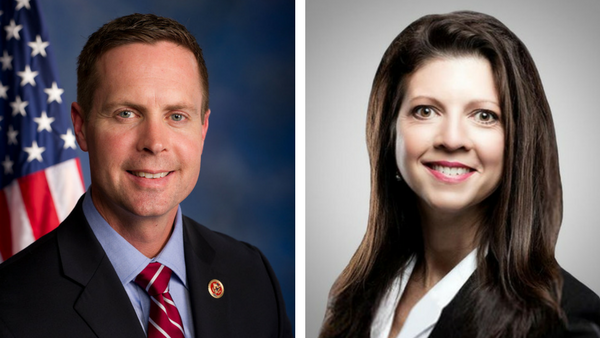 The editor of The Fact Checker, a feature of The Washington Post, on Monday published an analysis that said U.S. Rep. Rodney Davis, R-Taylorville, is among GOP members of Congress who have been misleading voters by "twisting an unrelated fact check" on the issue of insurance coverage of people with pre-existing conditions.
The publication came on the same day that U.S. Rep. Cheri Bustos, D-Moline, appeared with Londrigan at a Springfield news conference saying they would work to protect health care, Social Security, Medicare and Medicaid. Also Monday, U.S. Sen. Marco Rubio, R-Florida, was scheduled to be at a watch party in Normal for Davis when he and Londrigan face off at an evening debate in that city.
In the race for the 13th Congressional District seat, Londrigan has accused Davis of voting repeatedly to gut protection of people with pre-existing conditions as Davis and other Republicans sought to repeal the Affordable Care Act, also known as Obamacare. Davis has said there are layers of protections he has insisted upon to protect people with pre-existing conditions.
The Washington Post notes that in an Oct. 18 debate in Urbana, Davis referred to a previous Fact Checker finding of "Four Pinocchios," which is the level of most falsehood, on the issue of health care.
"The lies about pre-existing condition coverage being taken away have been scored a Four Pinocchio by The Washington Post," Davis said at the debate. "Read the bill. In the bill, it specifically says, 'Nothing in this bill shall allow insurance companies to deny anyone coverage for pre-existing conditions.'"
Kessler wrote Monday that Davis misquoted the bill. That proposed law, the American Health Care Act, actually states: "Nothing in this Act shall be construed as permitting health insurance issuers to limit access to health coverage for individuals with pre-existing conditions."
The bill passed the House with no Democratic votes, but did not pass the Senate and did not become law.
"This sentence was mostly a public-relations exercise, but notice the difference?" Kessler wrote. "It says, 'limit access to health coverage,' not 'deny coverage' as Davis claimed. Everyone has 'access' to buying a Tesla, but it makes a difference whether you can afford to buy it."
Kessler also said the "Four Pinocchios" on the issue was published May 10, 2017, and concerned a tweet from U.S. Sen. Kamala Harris, D-California, after the AHCA passed the House. She had said: "Once again, 129M people with pre-existing conditions could be denied coverage and insurers could charge sick people more money." Most of the fact check was about the number, Kessler says, and the 129 million was "much too high to be credible."
He also wrote that the Congressional Budget Office reported after that fact check was done — and also after the House passed that law on May 4, 2017 — that states that took advantage of certain waivers in the bill "could have blown up their individual insurance markets, resulting in spiraling costs for people with preexisting conditions. Moreover, the agency said, the bill did not provide enough funding for states to aid people who could not afford insurance."
None of the seven lawmakers Kessler found to have used the "Pinocchios" argument wrongly have agreed to withdraw the claim, he reported Monday.
"That's dismaying," he wrote. "These lawmakers have been put on notice that they are peddling a falsehood — and politicians who care about their reputation should acknowledge they made a mistake and offer an apology.
"Instead, they apparently believe it is politically advantageous to continue to deceive the voters in their districts," he wrote. "It is especially galling because many accuse their opponents of spreading lies — and then cry Four Pinocchios."
Ashley Phelps, spokeswoman for Davis, said if the issue is the difference between "deny" and "limit," then, "I don't think that's misleading voters at all." She also again took issue with Londrigan's statements that Davis has voted 11 times to gut protection for people with pre-existing conditions, when, Phelps said, "more than half of those votes were non-binding budget resolutions and partial repeals of Obamacare that had nothing to do with pre-existing condition protections. … It seems the Washington Post is taking issue with Republicans using their fact-check on a Democrat on health care because it does not fit the narrative they want. It's a sad day when fact-checker has become biased, but I think we're there."
Phelps also said there are "multiple layers of protections for people with pre-existing conditions" in what Davis has backed. In the AHCA, she said, if states "choose to apply for waivers from certain federal regulations to help lower costs, insurance companies are still prevented from charging anyone in a waiver state higher premiums based on medical status as long as they choose to remain covered and don't forgo coverage for more than 63 days in a calendar year. And even in that circumstance, increased premiums could only last for one year before going back to standard rates, during which time individuals would receive premium assistance through the waiver state's risk-sharing program."
At Londrigan's campaign headquarters in Springfield Monday, Bustos called the tax cut package passed by the GOP Congress and signed into law by President Donald Trump a "tax scam that gives 83 percent of the benefits to the top 1 percent." She also said, based on a recent statement by Senate Majority Leader Mitch McConnell of Kentucky, that to fight a growing deficit Democrats blame on that tax plan, Republicans "want to go after Medicare, Social Security and Medicaid."
Backed by a group of Londrigan supporters who were mostly seniors, Bustos said she would "fight every day to make sure that the people standing behind us and other seniors will receive the benefits that they've been promised. We need Betsy Dirksen Londrigan to join us out in Washington, D.C., so we will have an additional vote on that."
As Davis said later in his debate with Londrigan, FactCheck.org has called the "83 percent" line a "misleading" talking point. That report said the 83 percent of the benefit would go to the top 1 percent in 2027, but only because most of the tax changes for individuals expire by then. In 2025 — the last year before those changes expire — a quarter of the cuts go to the top 1 percent, PolitiFact said. And in 2018, according to an analysis by the Tax Policy Center, the top 1 percent of income earners would get 20.5 percent of the benefits, the story said.
Davis is among Republicans seeking to make the individual tax cuts permanent.
Republicans had promised that the $1.5 trillion tax law, designed to spur economic growth by cutting individual and corporate tax rates, would pay for itself. But, The Associated Press reported, with federal revenues lagging and deficits climbing, McConnell said two weeks ago that the problem is the entitlement spending that accounts for most federal government outlays.
"It's disappointing, but it's not a Republican problem," McConnell told Bloomberg News. "It's a bipartisan problem: unwillingness to address the real drivers of the debt by doing anything to adjust those programs to the democraphics of America in the future."
Democrats, the AP reported, seized on McConnell's comments as a sign Republicans will put entitlements on the chopping block. It also reported that McConnell has given little indication that entitlement reform is on his to-do list for the next Congress.
Phelps said that on Social Security, "When Democrats get desperate, they turn to scaring seniors."
Londrigan, at her event with Bustos, called the GOP tax plan "a huge giveaway to wealthy people and corporations and special interests."
"And now, they're coming back and they're saying they're going to pay for it by making cuts to earned benefits like Social Security, Medicare and Medicaid," Londrigan said. "I'm going to say it once again: not on my watch."
Subscribe to Breaking News
Davis has touted the tax cut as helping his constituents.
"Rodney Davis cut middle class taxes, saving Illinois families $2,000 a year," a narrator says in a Davis radio ad. "Now, 4 million jobs have been created. Unemployment is at a 50-year low, and working families are getting ahead again."
Londrigan did say that she believes a way to keep Social Security solvent is to remove the cap on income subject to the 6.2 percent tax for the program. The cap for 2018 is at $128,700 of income.
"I don't think we need a cap right now," Londrigan said, saying the "wealthiest people can afford to pay into Social Security. It would be a solution."
That Davis ad also claims that Londirgan is for a "$32 trillion government takeover of healthcare." Londrigan has repeatedly said she does not support such a plan, but said Davis "continues to lie about it."
Before the Bustos appearance in Springfield, Phelps noted that Bustos is a co-chair of the Democratic policy communications committee in the House, and the Democratic caucus is led by Rep. Nancy Pelosi of California.
Bustos said her current leadership position, as well as one she has said she is seeking — assistant Democratic leader, the fourth highest job in the caucus — are chosen by election of her colleagues, not by appointment by the leader.
Phelps said Londrigan should say if she supports Pelosi for speaker.
Londrigan said she doesn't want to play a "hypothetical game," and if elected, will wait to see who's seeking the speakership and confer with her constituents.
Bustos said Republicans attacking Pelosi is "a very, very old playbook. … It's a tired old argument. Betsy has proven that she's an independent thinker. … she will report to all these folks right back here (in the 13th). They will be her bosses."
Londrigan also noted that when Davis appeared Saturday in Murphysboro with Trump, "he spent his time blasting Nancy Pelosi, and he's trying to create her to be some … boogeyman because he can't run on his record."
At the Trump event — mainly designed to help U.S. Rep. Mike Bost, R-Murphysboro — Davis praised Trump's efforts in areas including the economy, cancer research funding and fighting opioids.
"We are on the front lines to make sure Nancy Pelosi never gets the speaker's gavel again," Davis said to the crowd.
Subscribe to Breaking News
00-Pol RT,19-Legal,26-Delivered
Feeds,State
via jg-tc.com – RSS Results in news/state-and-regional https://ift.tt/2r34CsO
October 30, 2018 at 02:17PM