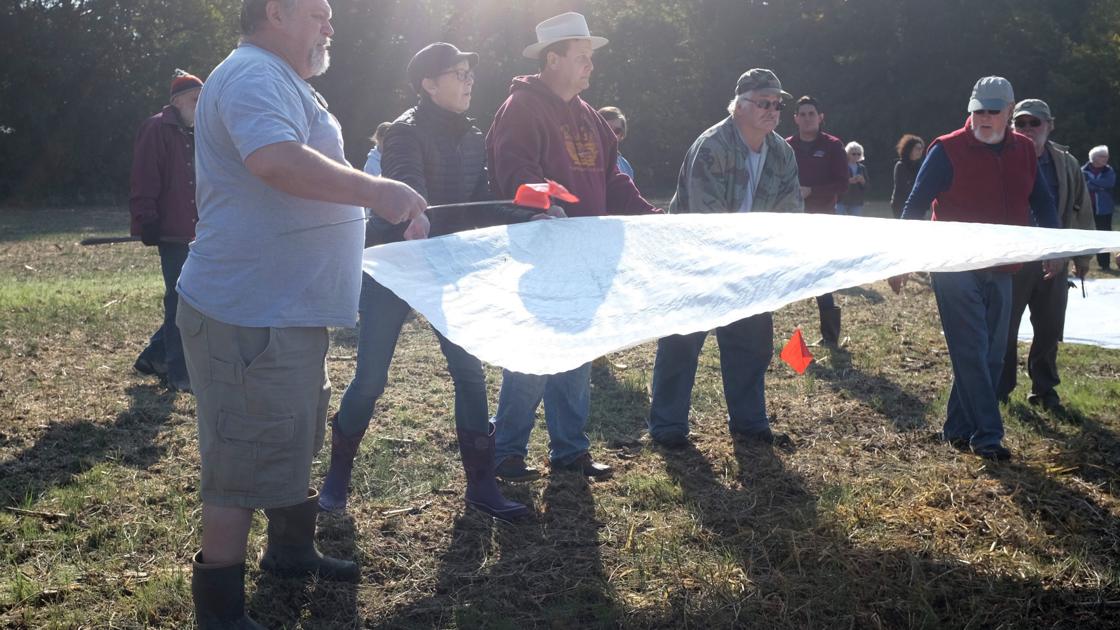 MURPHYSBORO — More than five hours before President Donald Trump was scheduled to land at Southern Illinois Airport, a group of about 20 friends and acquaintances gathered at a house across a road and a couple of farm fields from the runway to construct a special greeting for the president.
It was a four-letter word spelled out across a soybean field — in 40-foot-tall letters made of plastic house wrap, the word "liar," laid out in such grand scale with the hopes that it would be visible from the air as the president made his afternoon landing.
Juli Claussen had the idea for the bold greeting after she had seen a photo of something similar on a hillside in Montana, where Trump held a rally earlier this month.
Claussen owns land, which she rents to a farmer, adjacent to the airport. She said the planes that land at the Jackson County hover over her house and land, and thought, since this season's soybeans had been harvested a week before, her own rather large backyard might make a nice, wide open space for a message.
"We really need leaders who are truthful, and I'm not sure he knows right from wrong," Claussen said.
Claussen posted on Facebook about her idea — she said she thought she'd make the letters about 12 feet tall. In response, her friend, Steve Gough, a Carbondale business owner and river scientist, said he'd like to try to make the letters more than three times bigger.
He spent about $300 on supplies — several rolls of plastic house wrap, typically used as a vapor barrier on the outside of houses under construction, Gough said, and several large staples usually used to anchor erosion control material.
Gough is a river scientist, and spent years using aerial targets for river surveys, so he said the planning process was familiar.
"I never spelled anything, though," he said.
Friends of Gough and Claussen gathered Saturday morning to install the letters. With supplies in hand, they walked past a chicken run, where several hens clucked in the morning sun, and a couple of apple trees, and set to work.
It took about an hour to get it all laid out.
For Gough, the out-of-the-box demonstration of protest was an attempt to speak directly to the president.
"They won't let anybody speak out," he said. "They've got people in a pen over there," he said of the approved demonstration zone outside the rally.
That demonstration zone turned out to be more of a protest pit.
About a quarter mile away from the entrance to the rally, a small area had been roped off in a recently harvested cornfield, muddy from Friday's rain and littered with shelled out corn cobs. It was accessible by way of walking down a muddy ditch.
About two hours before the president was scheduled to speak, a group of 100 or so demonstrators arrived — one in a crude Trump costume, one dressed up like a handmaid from the dystopian book-turned-TV-show "The Handmaid's Tale" — carrying signs and banners.
Carbondale City Councilman Adam Loos, who had last week drafted a resolution he hoped City Council would consider that would have declared Trump unwelcome in Carbondale, was among the demonstrators. When news of Trump's visit was first circulated late last week, it wasn't clear whether the president would make a visit to Carbondale; SIU Arena had been discussed among city leaders as a possible venue for the visit. But, obviously, that didn't pan out.
"This may have been the plan all along," Loos said of the airport as a venue for the rally. "But I did not want the president in town." Loos mentioned Carbondale's Saturday Halloween celebration and the fact that open containers of alcohol were allowed in downtown as potential headaches for the city in combination with a Carbondale Trump rally.
Organizers from the Carbondale Solidarity Network had opted to hold a training for use of the drug naloxone — an antidote to opioid overdose — because, they said, the opioid crisis is affecting everyone, especially in this rural corner of Illinois, regardless of political persuasion.
After a few rounds of call-and-response chants — "When women are under attack, what do we do?" "Stand up, fight back." — a group of about 20 left the demonstration zone and walked down the road to where Trump supporters were lined up to enter the rally.
Nick Smaligo, one of the demonstrators, said to the group before they started the training that it was "a gesture to these people … who are also affected by the opioid crisis."
A Jackson County Sheriff's Deputy asked the group to stay back and return to the demonstration zone, but the group compromised by staying on the grass and leaving the road to Hangar 6 open to those attending the rally.
While the training was underway, another group left the demonstration zone and march toward the Trump supporters lining up outside the rally. The group walked alongside a school bus that was shuttling Trump rally attendees from the parking area to the airport grounds.
Those marchers joined with the demonstrators hosting the naloxone training, and together they marched toward the rally entrance, chanting "black lives matter," "stand up fight back," and "no justice, no peace." They carried banners reading "All Ways Closed to Fascism," a play on Carbondale's slogan "All Ways Open," and "No pharaoh in Little Egypt."
Some Trump supporters giggled and posed for selfies as the protest group passed by, and some chanted "USA," and "all lives matter," to drown out the protester's "black lives matter" refrain. One family heading to the rally stood and spoke with a demonstrator for about 10 minutes.
As the protesters neared the entrance to the rally, they were met by a line of officers from Jackson County Sheriff's Office, Carbondale and SIU Police. Then, a line of Illinois State Police officers decked out in riot gear and carrying clubs, filed in front of the group, blocking the protesters from going any farther.
Face-to-face with officers in shielded helmets and armor, the demonstrators decided it best to leave the rally grounds, and trickled out slowly as Air Force One swooped into Southern Illinois Airport.
Subscribe to Daily Headlines
00-Pol RT,19-Legal,26-Delivered
Feeds,News,State,Politics
via Illinois Politics – Google News https://ift.tt/2RgI832
October 28, 2018 at 03:50AM