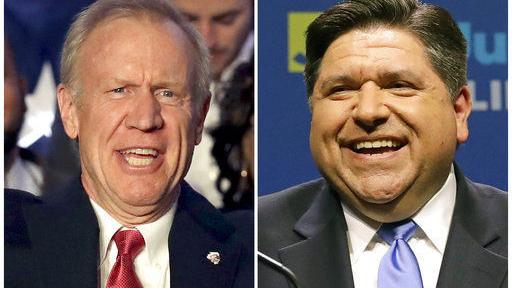 Try as we might, it's impossible to gin up any enthusiasm about Illinois' gubernatorial race.
The race is a textbook study of everything that is wrong with the American electoral system. Conversely, it may someday serve as a prime exhibit for election reform.
The race pits two rich guys — Republican incumbent Bruce Rauner vs. Democrat challenger J.B. Pritzker. While there is nothing inherently wrong with wealthy people running for public office — rich people have their rights — the amount of money being poured into this contest is mind-boggling.
The job of governor pays about $178,000 per year. To date, Rauner and Pritzker have spent a combined $234 million trying to win a job that would pay less than a one-and-a-half million over eight years. That's an interesting situation considering both men come from private business.
A great deal of that money has come from their own pockets. Again, that is their right, but that kind of spending has a chilling effect on the candidacy of well-qualified individuals with shallower pockets.
Then, there are the candidates themselves.
Rauner is basically running against his own record. Since the campaign season began in earnest, he is promising to be a different governor. Suddenly, with the election on the horizon, Rauner has discovered that the Illinois Senate and General Assembly are controlled by Democrats.
While his poll numbers are tanking, the governor now claims to understand the value of compromise. Rauner has begun to admit something every Illinois resident has known for at least a couple years — the two-year budget impasse was a huge mistake that hurt the state. Given the crippling effect the stalemate had on Southern Illinois University and social services, a solid case can be made that the lack of a budge impacted this region more severely than any other part of the state.
Finally, Rauner still offers no plausible immediate solution to get Illinois out of its massive debt.
His economic solution of lowering taxes to promote and attract businesses to Illinois would make sense if Illinois were on solid financial ground. In a recent interview with The Southern Illinoisan, Rauner acknowledged it would take several years for the state to receive economic gains from this approach.
And, when further pressed, Rauner said lowering taxes would have to be done gradually to prevent Illinois from becoming another Kansas.
Pritzker, on the other hand, has troubling issues of his own.
A lawsuit was recently filed against him claiming discrimination against African-Americans in his campaign. Then, there are the nagging ties to imprisoned former Gov. Rod Blagojevich. Pritzker advised Blagojevich on who to appoint to Barack Obama's senate seat when Obama won the presidency.
Pritzker denies any wrongdoing, but the transcripts of the wiretapped conversations are not something anyone would post on their resume.
Finally, there is toilet gate. Pritzker and his wife bought a large house near their home for $3.7 million. After the purchase, they removed the toilets so that it could be classified uninhabitable and reduce the taxes.
As for his run for governor, Pritzker is supporting a graduated state income tax. Raising taxes is never popular, but the proposal acknowledges the state has financial problems that need to be dealt with in real time.
Unfortunately, Pritzker has been less than forthcoming with the specifics of his tax plan.
Pritzker also differs with Rauner on the legalization of marijuana. Pritzker believes the substance should be legalized and taxed. Rauner is opposed.
The bottom line in this election: Does Bruce Rauner deserve another four years?
Rauner wasted two years stubbornly refusing to compromise with the legislature. That refusal to budge on principle crippled state agencies, harmed our schools and set back the state's economic recovery.
For those reasons, we believe J.B. Pritzker is the better choice for Illinois in 2018.
Subscribe to Breaking News
00-Pol RT,19-Legal,22-Talk,26-Delivered
Region: Southern,Editorial,City: Carbondale,Region: Carbondale,Opinion
via thesouthern.com – RSS Results in opinion/editorial of type article https://ift.tt/2L723SH
October 21, 2018 at 01:41PM