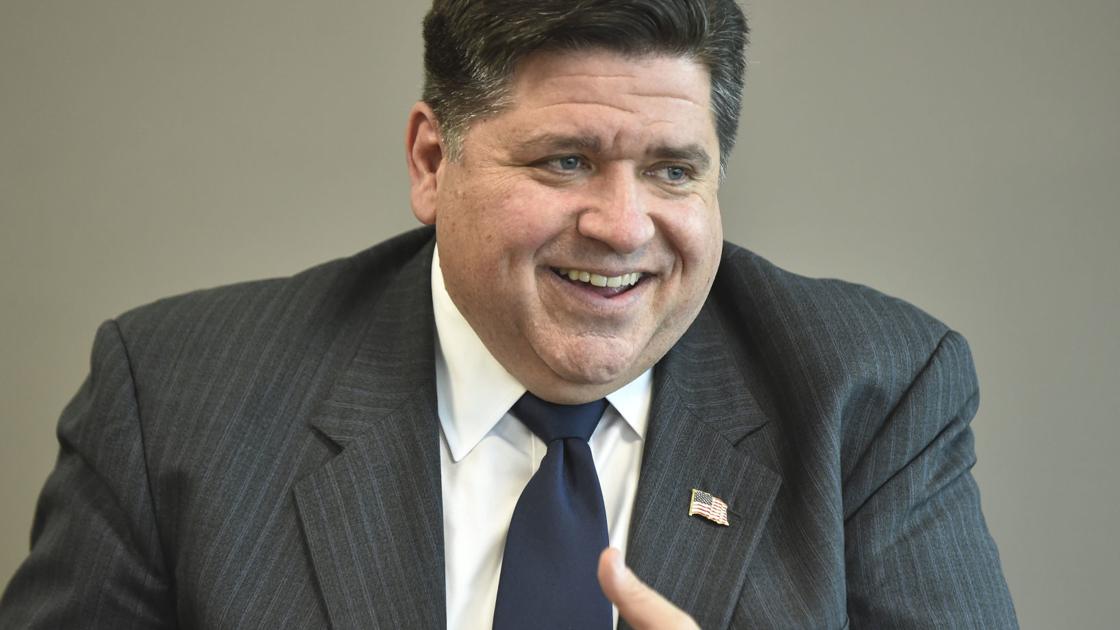 EAST MOLINE — As the Democratic nominee for governor, J.B. Pritzker says he has the public service record, entrepreneurial experience and the plan to turn Illinois around. 
In a meeting Friday with Dispatch-Argus editorial board members, Pritzker said he has been serving the public in some capacity his entire life. 
"This is another way for me to serve at a moment when Illinois needs to put its shoulder to the wheel to solve the really big challenges we face as a state," Pritzker said. "I am somebody who is willing to put political will to work, and who understands the fiscal crisis."
Pritzker will face Gov. Bruce Rauner in the Nov. 6 general election in what has been the most expensive governor's race in the country's history.
Pritzker said that, unlike Rauner, he understands what it means to negotiate and compromise. 
"You can't solve everything at once," Pritzker said. "This is more like turning an aircraft carrier in the right direction; I understand what all the pieces are."
The election of Donald Trump also was a factor in his decision to run for governor. 
"It made me wonder, what more do I need to do?" Pritzker said. "I also looked at the state of Illinois and said, 'Everything I care about is under attack.' People had asked me if I would be interested in running for governor. I had to ask myself a lot of important questions, including, can the state be fixed?"
One of those tasks, he said, is to truly balance the budget. 
"There is a structural deficit that has existed in the budget for some time," he said. "We've got to be real about addressing that problem. Balancing the budget is not just a question of taxes and spending cuts; it's also a question about growth. You can increase revenues in the state by growing the economy. We are in the bottom third of job growth in the nation."
Pritzker, 53, is a billionaire businessman and heir to the Hyatt Hotel fortune. His father died when Pritzker was 7 years old and his mother when he was 17. He has been married to Mary Kathryn (M.K.) for 26 years and they have a 16-year-old daughter, Teddi, and a 14-year-old son, Donny. 
Pritzker graduated from Duke University with a degree in political science and Northwestern University with his law degree. He worked as a legislative aide for Rep. Tom Lantos and U.S. Sens. Terry Sanford and Alan Dixon.
He went on to build his business experience as a venture capitalist and entrepreneur, founding Pritzker Group Venture Capital in 1996. In 1998, at the age of 32, Pritzker ran for Congress, but lost the Democratic primary. 
In 2012, he founded the tech startup 1871 — named for the year of the Chicago fire — which has employed more than 7,000 people, created hundreds of companies, and won numerous awards. 
"I'm a businessman and somebody who has spent his life being involved in activities that I thought would make other people's lives better," Pritzker said. "I grew up in a home where my parents were very involved in social and economic justice. My mother was a Democratic activist who had me knocking on doors as a kid for progressive Democratic candidates."
One of the differences he has made was investing $25 million in early childhood education and supporting school breakfast programs. 
If elected, Pritzker would like to pass a progressive income tax. A constitutional amendment is needed to replace the state's current flat tax.
Pritzker said a fair tax — also called a graduated income tax — will help lower and middle-income families financially and force wealthier residents to pay more of their fair share. Pritzker said 32 states already have a progressive income tax in place. 
"It is not a massive tax increase on everybody," he said. "The purpose of a fair tax system is to lower taxes on people who are overburdened today, and that's the middle class and people striving to get there."
He said another outcome of a progressive tax system is that it will lower property taxes. 
"A fair tax system will let us change the way we fund schools. The vast majority of school funding comes from property taxes. As a result, property taxes are very high. It's very regressive and hurts the middle class.
"I want to change the system and provide for property tax relief and have the state step up."
Pritzker said the bottom tax rate will be lower than the current tax rate of 4.9 percent, but that "it's important to have it negotiated and have a buy-in."
A priority for Pritzker will be to get a capital bill in place so the state can fund infrastructure projects and finish expansion at Western Illinois University. Possible revenue sources needed to fund a capital bill could come from legalizing sports betting, expanding gaming and legalizing recreational marijuana and the sales tax revenue it would bring in, he said. 
Pritzker estimates the state could benefit from as much as $350 million to $700 million per year from marijuana sales, but he would like to have certain regulations in place before legalization. 
Another way to move the Illinois forward, he said, is to expand high-speed internet service to all parts of the state. 
"Businesses won't move to an area without high-speed internet," he said. 
"Illinois has got to be competitive. If you elect me, I understand that well having been a businessperson, creating jobs and attracting people to the state."
010-Inoreader Saves,00-Pol RT,19-Legal,26-Delivered
via Dispatch-Argus-QCOnline
October 13, 2018 at 08:41AM