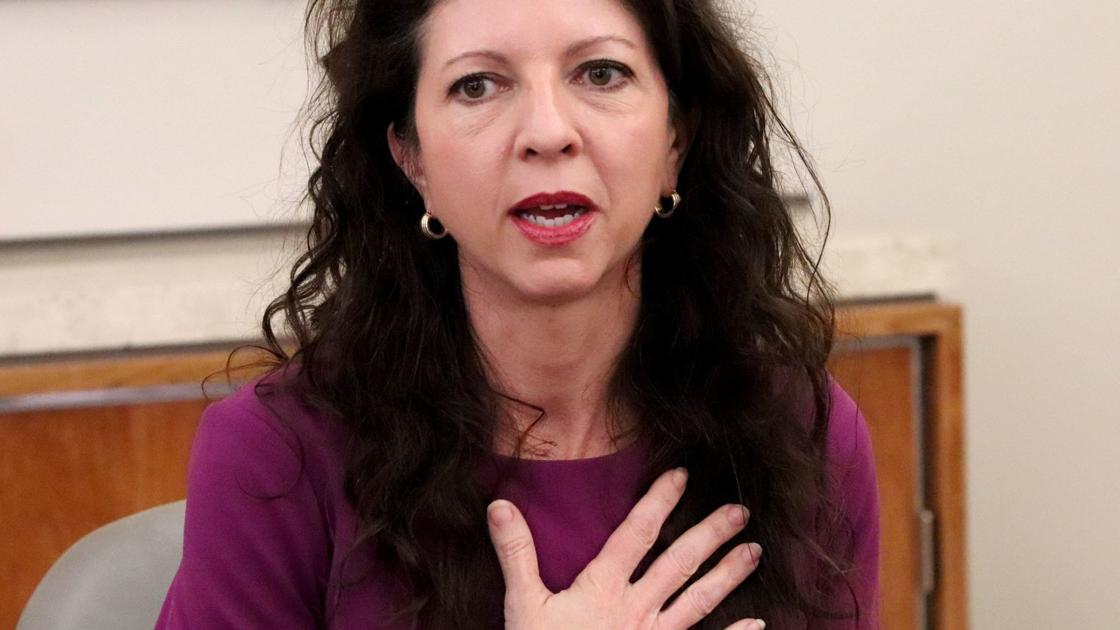 Rep. Rodney Davis, R-Taylorville, whose 13th Congressional District stretches from Central Illinois to the Metro East, is a quintessential mainstream Republican. But in today's GOP, even that bloc of the party is reckless on the deficit, wrong on health care and willing to normalize a dangerously abnormal president.
Both candidates have forceful, assertive personalities. But Davis ultimately emerges as an obedient and unquestioning footsoldier in an army that's marching in the wrong direction. Democrat Betsy Dirksen Londrigan seems more likely to march to her own drummer, and her laser focus on health care is right. She has our endorsement for the 13th District seat.
Davis, in his third term, personifies the GOP's slide from a serious conservative party that adhered to a defined set of principles to one that mortgages its values and accepts the unacceptable from President Donald Trump. Davis' career prior to 2016 suggested some healthy independence from GOP dictates. No longer.
Today, he enthusiastically touts a Republican tax plan that mostly benefits the wealthy while exploding the deficit. He defends the Republican approach to health care, which has been to sabotage Obamacare's reforms while offering tired ideas destined to return us to the bad old days of uninsurable pre-existing conditions.
Londrigan, 47, is a longtime Springfield professional fundraiser whose employers have included Sen. Dick Durbin, D-Ill., who endorsed her early on. When asked why she's running for Congress, Londrigan's answer was unhesitating: "This is where the fight is for health care."
She is realistic about Obamacare's problems and the need to stabilize it, and is conversant on related ideas like offering Medicare as a separate public option and allowing it to negotiate for the lowest drug prices.
Davis was with other congressmen on an Alexandria, Va., baseball field last year when a crazed gunman targeted Republicans, wounding several people. Davis has since been a prominent and admirable voice for political civility. Yet he seems unwilling to apply that standard to the most rhetorically reckless and uncivil president in modern history.
The only example Davis could give us of forcefully rebuking the president's words and behavior was after last year's deadly violence in Charlottesville, Va., when Trump opined that there were "very fine people on both sides" of a conflict driven by white nationalists and neo-Nazis.
That is the lowest of bars. At the same time, Davis repeatedly invoked the baseball field shooting to imply that Democratic criticism of Republican policies was to blame. Talk about irresponsible rhetoric.
Londrigan doesn't automatically toe the Democratic line. She opposes the liberal campaign to abolish the Department of Immigration and Customs Enforcement, favors improved border security and is open to replacing the controversial House Democratic leader, Rep. Nancy Pelosi of California.
Londrigan's serious focus on health care, and Davis' disappointing deference to Trump, both point us to the same conclusion: Voters in Illinois' 13th congressional race should give Londrigan a chance to succeed where Davis has failed.
00-Pol RT,19-Legal,22-Talk,26-Delivered
Region: Metro East,Editorial,Opinion,City: St. Louis, MO
via http://www.stltoday.com – RSS Results in opinion/editorial of type article https://ift.tt/2JsB1VM
October 11, 2018 at 04:27PM