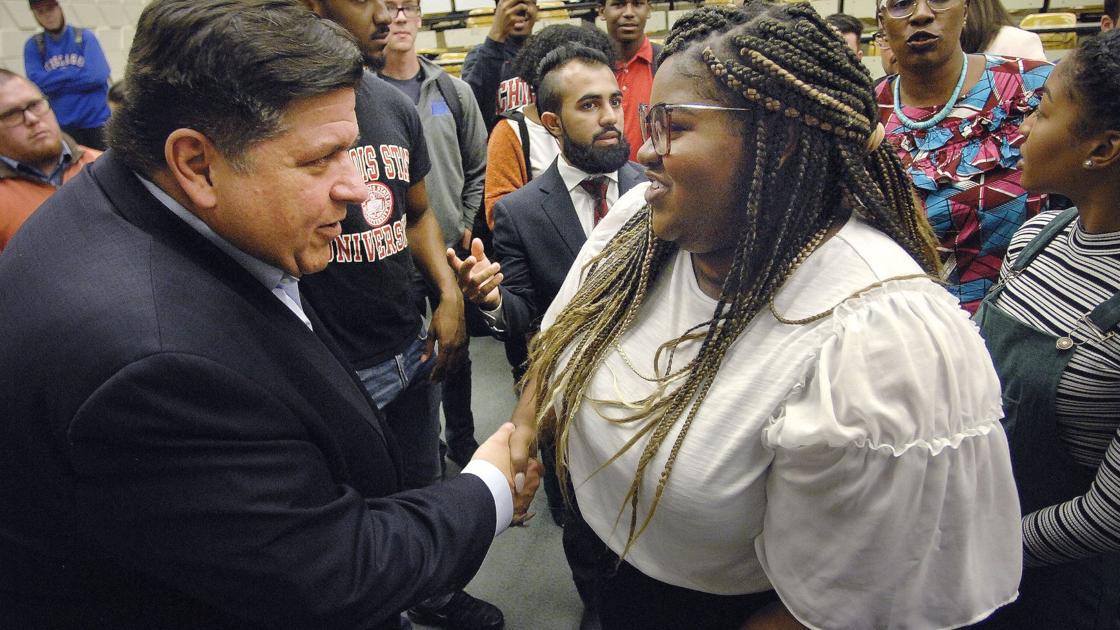 BELLEVILLE — A day after a second debate with Gov. Bruce Rauner, and hours after a news conference where reporters repeatedly dogged him with questions about a property tax break on a mansion he received, Democratic gubernatorial nominee J.B. Pritzker said in Belleville he is working to move on past the issue.
Pritzker has announced he would repay more than $330,000 to Cook County, an amount equivalent to the tax savings he received after a nearly 6,400-square-foot mansion he had purchased was deemed uninhabitable. The toilets were removed in 2015 and there was no functioning kitchen. Pritzker has said he plans to renovate the house someday, the Chicago Sun-Times has reported.
He purchased the mansion next to his house, let it go into disrepair, and his lawyers had argued it was vacant and uninhabitable, leading to a more than $5 million drop in its assessed evaluation, according to the Sun-Times.
The Cook County inspector general reported that Pritzker received more than $331,432 in tax breaks and refunds, and called the removal of the toilets a "scheme to defraud taxpayers."
Pritzker said he's working to move on from the issue.
"Well, we're in the last 33 days of the election, I don't want anybody to be distracted by the real issues that are facing working families, so we thought we would pay that money and keep moving because we've got a lot to do over next 33 days to make sure our message and issues are getting out there," Pritzker said Thursday after speaking to campaign volunteers at his Belleville field office.
Earlier in the day, at a news conference where Pritzker criticized Rauner's handling of the legionnaire's disease issues at the Quincy Veterans Home, reporters repeatedly asked questions about Pritzker's controversial property tax break.
"I wasn't struggling to keep on message, we were focused on what's happened, which is Bruce Rauner's administration is now under a criminal probe for the death, the cover up of what happened at the Quincy veterans home," Pritzker said.
Earlier on Thursday, Rauner, the Republican incumbent, held a news conference of his own, to criticize Pritzker's property tax issues.
The day of competing news conferences in the Chicago-area came after Rauner and Pritzker met in a televised debate where Rauner referred to Pritzker as a "trust-fund baby."
"This is Bruce Rauner, on the attack, desperate in the last month of the campaign," Pritzker said Thursday night before attending the annual St. Clair County Democratic Central Committee Dinner. "He's saying anything, he'll do anything, he'll pretend to be anything in order to win. I don't take it personally. We're moving forward. We're talking to the working families of Illinois."
00-Pol RT,16-Econ,19-Legal,26-Delivered
Region: Bloomington,Feeds,News,City: Bloomington,Region: Central
via http://www.pantagraph.com – RSS Results in news* of type article https://ift.tt/2tNkCR3
October 5, 2018 at 10:11PM