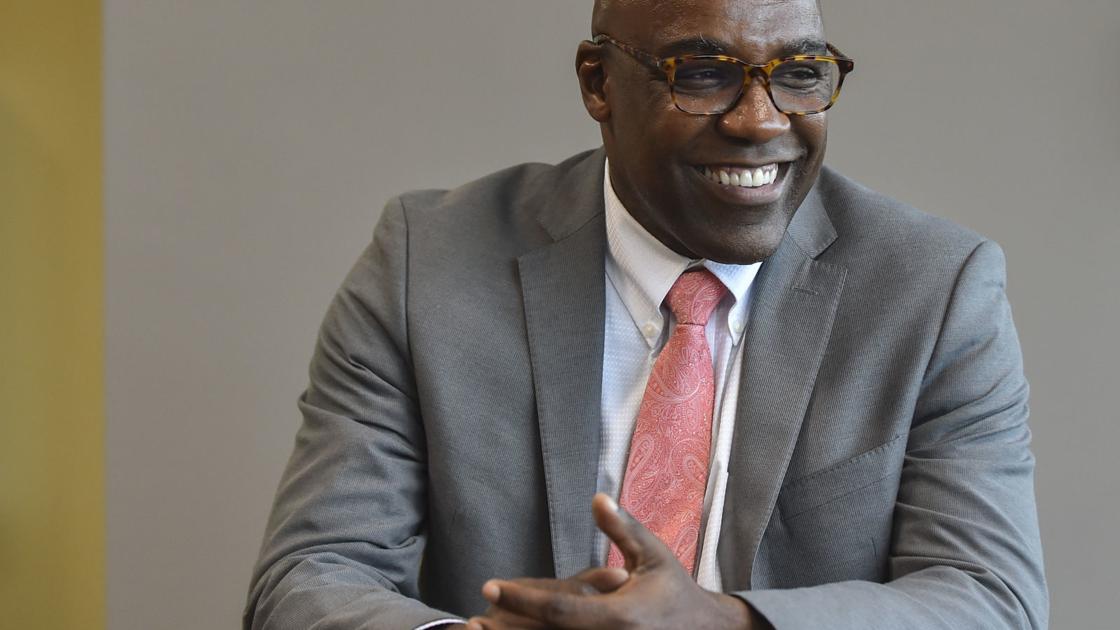 EAST MOLINE — State Sen. Kwame Raoul, D-Chicago, says he has the legal and legislative experience needed to become the state's next attorney general.
With 14 years in the state senate and 25 years practicing law, Raoul said he is the better choice to be the state's top law enforcement official. Longtime attorney general Lisa Madigan announced in September 2017 she would not seek re-election.
Becoming attorney general is the "logical extension of the work I have done both professionally as a lawyer and as a policy maker," Raoul said.
Raoul, 54, will face Republican attorney general candidate Erika Harold in the Nov. 6 general election.
"I am the only candidate in the race who has ever prosecuted a case," Raoul said. "I'm the only candidate who has tried cases both in federal court and the state court, argued cases on appeal and tried cases at the administrative level."
Raoul also lists his experience in negotiating contracts with organized labor, employment discrimination litigation, workers compensation litigation and health law.
"From a professional standpoint, I think there is a vast difference in terms of being a lawyer," he said. "I've been an attorney for 25 years. And my policy experience — I'm the only candidate in this race who's been engaged in policy making. I'm not saying you have to be a legislator, but being a legislator gives me an advantage."
Raoul was appointed to Barack Obama's seat when the former president was elected to the U.S. Senate in 2004. Obama gave Raoul some advice to get him started.
"He said, 'spend time with people from other parts of the state and people on the other side of the aisle. Get to know what you have in common. But more importantly, learn about each other's differences in a way that it doesn't divide you. Allow yourself to have conversations without being offended.'
"So I have taken that approach," Raoul said.
Raoul currently chairs the Senate Judiciary Committee.
The son of Haitian immigrants, Raoul was raised on the south side of Chicago. He earned his bachelor's degree in political science from DePaul University and his law degree from Chicago-Kent College of Law.
He worked as a prosecutor in the Cook County State's Attorney's office before joining the law firm of Quarles and Brady LLP, practicing health law and eventually becoming partner.
A divorced father of two college-age children, he recently became engaged to physician Lisa Moore.
"I think the one experience I have that has aided me in my public policy decision-making the most is being a father," he said. "Having to deal with education and talking to my kids about crime aids in my decision making."
Raoul cites several instances of gun violence in front of his own home in Hyde Park as motivation for working on gun legislation.
He sponsored a bill to ban bump stocks, negotiated a conceal-carry law, created a database for police to check FOID cards (firearm owners identification card) and worked on a gun dealer licensing bill.
"The notion of gun dealer licensing certainly makes sense," he said, noting that physicians, pharmacists, barbers and even hairdressers must be licensed, but not gun dealers.
Recently he unveiled a plan with U.S. Sen. Dick Durbin, D-Ill. to open victim trauma centers across the state to put more focus on psychological healing for victims and witnesses of crime.
Protecting children is a priority for Raoul. One of the functions of the attorney general many people don't know about, he said, is to be chair of the task force for Internet Crimes Against Children.
He said the FBI recently issued a warning about predators who contact children who play video games online through the internet.
"You look at your child in their room or on the living room couch and you think your child is safe because they're under your roof. But they're in a chat room on this device with a predator. That is frightening to me."
One of Raoul's accomplishments as a state senator was his role in creating the public access counselor's office within the attorney general's office in 2009. The public access counselor works to respond to Freedom of Information Act and Open Meetings Act disputes.
"The aim was to create a better sense of transparency about government, as well as to deter public corruption. If eyes are watching you, you are not going to do something bad."
Raoul said the success of the public access counselor's office and the demand for its services has been overwhelming.
"The volume of claims that have hit the public access counselor's office have been much more than we anticipated. We need to direct more resources there."
Raoul also worked to protect consumers by passing legislation making sure employees paid with payroll debit cards aren't assessed excessive fees.
Raoul has been endorsed by Obama, Durbin, Sen. Kamala Harris, D-California, Equality Illinois, Personal PAC, Illinois Federation of Teachers, Illinois Education Association, AFL-CIO, and Planned Parenthood, among others.
"I think my experiences come together quite well for something like attorney general," he said.
010-Inoreader Saves,00-Pol RT,19-Legal,26-Delivered
via Dispatch-Argus-QCOnline
October 2, 2018 at 10:28PM