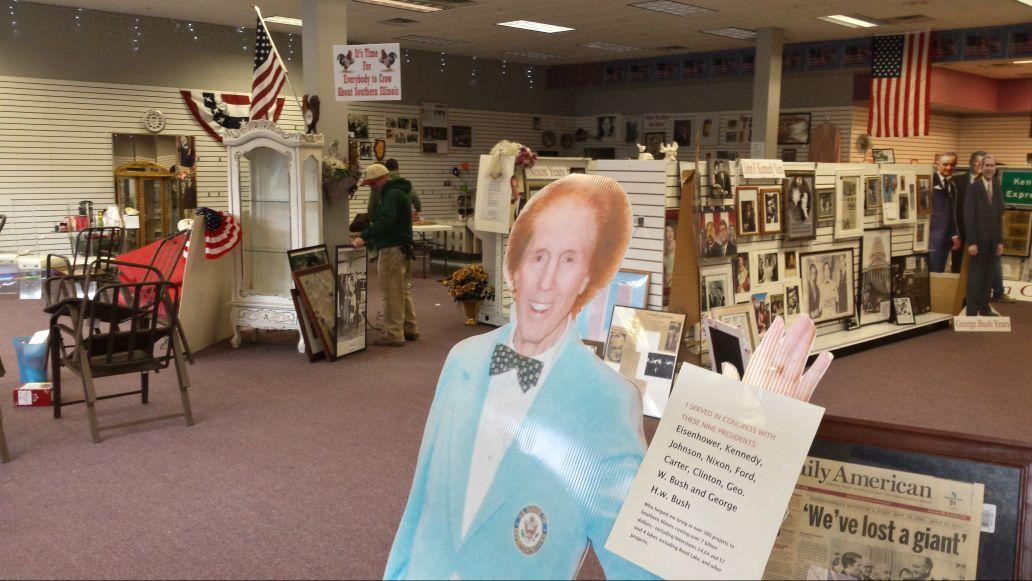 WEST FRANKFORT — No one is really sure where the Ken Gray Collection is.
When the museum dedicated to the senator known as the "Prince of Pork" closed in 2016, the collection was donated to Morthland College. The school displayed some of it in Whitfield Hall, a building on Main Street in West Frankfort.
However, with the school's troubles with The Department of Education followed by foreclosure proceedings on the college's buildings, along with the private college's closure this year, questions began to surface as to what happened with the historic collection that was under the school's care.
WEST FRANKFORT — The Rev. Margaret "Toedy" Holley-Gray, former Congressman Kenneth J. Gray's widow, is happy the museum bearing the congressma…
Ken Gray was a U.S. senator representing Illinois from 1955 to 1974 and again from 1985 to 1989. He was known for his flashy suits and red hair, and nicknamed the Prince of Pork. He was a driving force behind massive infrastructure projects in Illinois, namely Interstate 57, a part of which is named for him, and the development of Rend Lake. The Ken Gray Memorial Presidential Museum featured artifacts from Gray's time in congress as well as personal, historical items that Gray himself collected.
According to Franklin County attorney Aaron Hopkins, who represents Morthland College in several legal matters and has been designated as its media liaison, the building that housed the collection was broken into earlier this year. He said while the school sold two items — the collection's tin knight and brass coal miner statues — some of the collection was stolen in the break-in. However, he did not have a detailed list of what was taken and what was left behind.
The alleged break-in has been hard to verify. When asked to release the incident report, the West Frankfort Police Department said they didn't have it — the FBI did.
Inquiries were initially directed to assistant Chief of Police Shawn Talluto, who said the only evidence he had was an entry on a call sheet indicating that former Executive Vice President of Morthland College Emily Hayes had called to report an incident at one of the school's buildings on Main Street.
He said all the documentation of what was taken and the residual reports had been given to the FBI because of their investigations regarding the college — it was unclear which direction the investigations pointed.
At the time of that interview, the FBI would neither confirm nor deny the investigation. A representative from the bureau declined comment Sept. 18 on a request for information regarding the documents allegedly sent to them by West Frankfort police.
There is one person who has seen some of the collection — Gray's widow, Margaret Holley-Gray.
A new exhibit at Morthland College in West Frankfort will offer a look at how political campaign buttons have evolved over the past century.
Holley-Gray said she spoke with Hayes just before about a specific piece of the collection — Hayes wanted to know if Holley-Gray had gone into one of the Main Street buildings to take Ken Gray's gavel. Hayes asked because she found that Tim Morthland's gavel was missing, Holley-Gray said. 
Holley-Gray said she was under the impression that Hayes thought she had gone into one of the school's buildings looking for her husband's gavel and had taken Morthland's by mistake.
"I don't steal and I had no reason to steal," Holley-Gray told The Southern. "I wasn't here. I was in California."
Holley-Gray said when she told Hayes this, Holley-Gray also asked where Gray's gavel was. She said Hayes told her she was driving it around until she figured out what to do with it — she didn't want anything to happen to it.
It ended up at Hopkins' law office, where it still sits. Hopkins confirmed the gavel is currently in his office.
However, Holley-Gray said she was treated with hostility when she tried to retrieve it.
Just after the incident with the gavel, Holley-Gray said in August she was driving in downtown West Frankfort and noticed men loading things into a truck from the building in which she knew the Gray collection was housed. She said she approached the men and asked if she could go inside to look for her late husband's effects.
The men said this was no problem — they were there doing work for someone who had purchased the building in a foreclosure sale. This was suspicious to Hopkins, though. He said as far as he knew, none of the buildings in foreclosure had been sold.
Holley-Gray was saddened by what she found inside.
"I went in there and I found his bow tie, his passport and a few other things in the garbage," she said. She collected the items and left. As for the rest of it, she has no idea where it could be.
"I don't know where anything is," she said. "It's a mystery."
She's not about to ask, though. Holley-Gray said she did that once and it didn't go well.
"She turned on me like a viper," Holley-Gray said of her conversation with Hayes. "You'd think I was their biggest enemy because I asked them a question." She said that she at one time considered Hayes one of her best friends.
Inquiries to state museums and national political memorabilia collector associations yielded no hits for anything related to the collection — no one had tried to sell pieces to any of the organizations, nor were they aware of any pending or recent sales beyond those Hopkins disclosed to the newspaper.
The sudden shift in attitude of people she once considered good friends was upsetting, Holley-Gray said, as was the fact that she doesn't know where her husband's collection is. That said, she's not holding any grudges or anger toward the Morthland camp.
"The Lord has delivered me of that," she said. She added that she would help any of them if they came to her today.
Subscribe to Daily Headlines
618-351-5823
On Twitter: @ismithreports
00-Pol RT,26-Delivered
Feeds,Carb,Region: Southern,Local,City: Carbondale,Region: Carbondale
via thesouthern.com – RSS Results in news/local of type article https://ift.tt/2OcFmdy
September 27, 2018 at 06:07AM