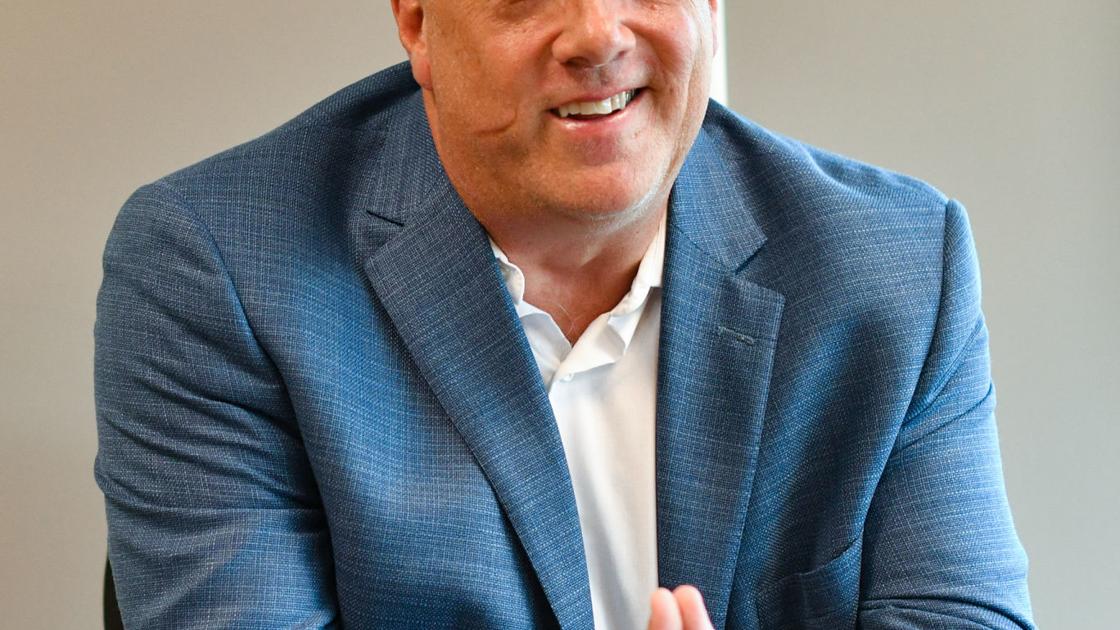 EAST MOLINE — Gregg Johnson said he has the values and leadership skills necessary to rebuild the economy and population of western Illinois. 
"We have to start investing in our schools and our workplace development in order to create opportunities," Johnson said. 
"I want to make sure that anybody who wants to build their life here can do that. I feel like those opportunities are slipping away. The two-year budget impasse was really catastrophic. There is still a lot of uncertainty."
Johnson, 54, is the Democratic candidate for the 36th District of the Illinois state Senate. He will face incumbent state Sen. Neil Anderson, R-Andalusia, in the Nov. 6 general election. The 36th District includes portions of Rock Island, Henry, Whiteside and Carroll counties. 
In a meeting Tuesday with Dispatch-Argus editorial board members, Johnson said he was inspired to run for office so he could advocate for working families. 
"I'm a strong labor person and (Gov.) Bruce Rauner really scared me with his vision of Illinois; I don't feel that he is supportive of working families," Johnson said. "I got in the race because I believe in our community. I think there are a lot of people being left behind. 
"I'm disappointed; I had hoped Senator Anderson would stand up against the governor on a lot of these issues. I don't feel he has been assertive enough in pushing our values. Even when (Anderson) ends up on the right side of an issue, a lot of times it takes him until the second vote to do it or during the (veto) override."
One such example, Johnson said, was a bill sponsored by Illinois Comptroller Susana Mendoza called the Debt Transparency Act. The legislation, which became law after both houses overrode Rauner's veto in November, directs all state agencies to reveal an accounting of debt and its age each month. 
"It took Senator Anderson until the override to support that," Johnson said. "I'll say the same with the Equal Rights Amendment. Senator Anderson voted against it. I feel that was a very poor vote."
As a lifetime resident of the district he hopes to represent, Johnson grew up in Rock Island and moved to Rockridge, where he graduated from high school. He currently lives in East Moline with his wife and 7-year-old daughter. 
Johnson worked as a correctional officer and supervisor at the East Moline Correctional Center from 1983 to 1997, and as a supply officer until 2014, when he retired from the Illinois Department of Corrections.
He served as president of AFSCME Local 46 for the past five years and as AFSCME's political chair for the Illinois Quad Cities. 
"I've had to lead and negotiate with both sides," Johnson said. "I hold the values needed to prioritize working families again here in the district."
If elected, Johnson wants to focus on preventing population loss in the state. 
"I'm committed to building the world I grew up in; I'm committed to making sure parents and grandparents don't have to keep saying goodbye to their kids. If they leave (Illinois) to seek other opportunities, there is a 75 percent chance they're never coming back," Johnson said. 
"It's not just about my kid; it's about everybody's kid. I think if you're someone who wants to work hard and you want your piece of the American dream, why shouldn't you be able to get it right here in the 36th District? There's no better place." 
Johnson said repopulation begins by recruiting businesses and building a strong infrastructure to support them. A capital bill is needed, he said, to provide funding for roads, bridges and waterways. 
"I can't believe that we still don't have the Amtrak station," he said. "Every year that goes by without that station, it loses value in what it could bring to our community. 
"I think our downtown (areas) are very unique on this side of the river, but we can do better with historic preservation."
Johnson said other necessities include better funding for schools and expanding access to broadband internet.
He supports a progressive income tax for the state, which would require a constitutional amendment to replace the current flat tax. 
"The reason why I support a progressive tax on the wealthy is because we have the fourth most regressive tax structure in the nation. We can't expect people to pay more in property taxes. 
"We need to do better. I've seen services cut on mental health programs. I really believe Illinois can go from laughing stock to leader by simply investing in opportunities."
Johnson agrees that legalizing recreational marijuana could be an added source of revenue for the state, but only if it's regulated. He believes legalization also would help alleviate the opioid crisis. 
"I have some reservations because I come from a law enforcement background. I want to make sure there are safeguards in place," he said. "Just like we don't want people driving under the influence of alcohol, we don't want someone under the influence of marijuana as well."
Pension reform also is needed, Johnson said. But to do that, growing the tax base is necessary through repopulation and by making wealthy residents pay more. 
As for gun control, Johnson said he supports the Second Amendment, but he does not agree with arming school teachers. 
"My daughter is not going to be surrounded by guns," he said. "Last year there was an active-shooter drill at her school and I was in tears because I didn't think my daughter should have to go through an active-shooter drill. I have no problem with school resource officers, but I do have a problem with arming school teachers."
Johnson said prioritizing mental health treatment should go hand-in-hand with gun legislation. 
"I never wanted to be a politician, but I'm worried about the world we live in," he said. "You need to be a voice for people who don't have a voice. I've always had to figure out a way to get things done.
"I'm very positive about our future here in Illinois. I think the possibilities are endless."
00-Pol RT,19-Legal,26-Delivered
Feeds,News,State,Politics
via Illinois Politics – Google News https://ift.tt/2p8ZqG0
September 25, 2018 at 10:06PM