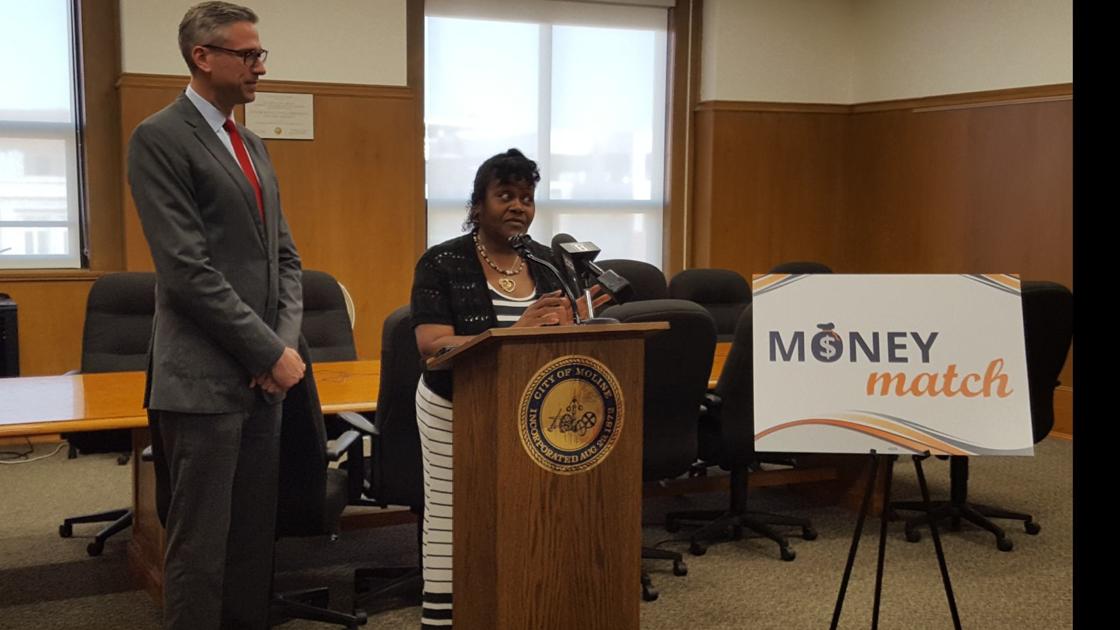 MOLINE — If you are missing money, state Treasurer Michael Frerichs has made it easier for you to get it back.
Lost and unclaimed money will now find its way to Illinois residents faster thanks to Money Match, a new program launched by Frerichs.
Money Match will find Illinois taxpayers who are owed $2,000 or less and send them checks automatically, without them having to file a claim or fill out paperwork. 
"It's nice when we can announce good news," Frerichs said during a meeting Wednesday morning at Moline City Hall. "We are returning money to people in the state of Illinois. We are making it easier so they have more in their pockets, more to spend, and more to put back into our local economy.
"I'm in charge of unclaimed property for the state of Illinois. It's my job to return money to Illinois residents, and we've done a good job of that. In the last three years, we have broken records for the amount of money returned to people in the state of Illinois."
Frerichs said a record-breaking $180 million in forgotten cash and stocks was returned to residents and employers during the 2017-2018 fiscal year in claims that were initiated by the owner. With Money Match, the treasurer's office will initiate the claim. 
Frerichs said the program will send out about $12 million to more than 63,000 residents across the state. In Rock Island County alone, he estimates 485 residents will receive $82,460 in unclaimed cash.
Frerichs said the Money Match program was only possible after passing new legislation allowing the Department of Revenue to communicate with the treasurer's office and share data. 
House Bill 1808 passed in 2017 with unanimous approval by both houses. 
"Money Match allows us to coordinate with the Department of Revenue and find a list of taxpayers in the state and their addresses," Frerichs said. "We can run that list against our database of unclaimed property. If we find a match we can just send them a check."
Frerichs said residents who are owed money will first receive a letter in the mail notifying them a check will be coming. 
"We do that for two purposes," Frerichs said. "One, to let them know the check is not a scam and to cash it. Two, if the letter gets returned to us as undeliverable, then we understand they have probably moved and we won't send them a check."
Frerichs said the first round of letters have already been sent out.
East Moline resident Pam Tatum said she was able to claim lost money through the state's ICASH online program. Tatum lives on a fixed monthly pension and said she was elated when she was able to file a claim easily through the site. 
Subscribe to Daily Headlines
Get a daily summary of the news every morning
"I took the check to the bank and I told everybody that day about ICASH because it really worked," Tatum said. 
Frerichs said he wants people to know the state never charges a fee for returning money.
"If you get a letter in the mail saying, 'for a low, low commission of 30 percent,' that does not come from the treasurer's office. That would be a scam.
"Why do we go to all this effort? Because it's the right thing to do," Frerichs said. 
People with claims higher than $2,000 or those with jointly owned properties are encouraged to visit illinoistreasurer.gov/ICASH to claim lost money. 
00-Pol RT,16-Econ,19-Legal,26-Delivered
Feeds,News,State,Politics
via Illinois Politics – Google News https://ift.tt/2p8ZqG0
September 12, 2018 at 08:04PM